BWW Review: MTW's NICE WORK IF YOU CAN GET IT Is a Gem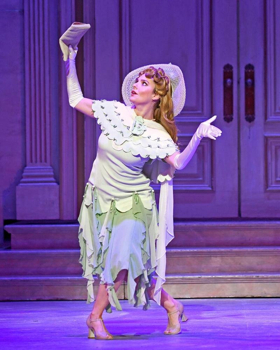 Nice Work If You Can Get It/book by Joe DiPietro/music and lyrics by George and Ira Gershwin/directed by Larry Raben/MTW at the Carpenter Center for the Performing Arts, Long Beach/choreography by Peggy Hickey/music director: Dennis Castellano/through April 22
The Gershwins' Nice Work If You Can Get It is such a smooth entertainment and a joy to watch where and whenever it plays...if the director and cast are top notch and up to a myriad of challenges. You cannot pull off farcical material unless actors are atuned to split timing and can sing and dance up a storm. You must have triple threat performers. No problem at MTW, whose "S'Wonderful" production keeps the audience consistently applauding for more. Dependably resourceful director Larry Raben, splendid choreographer Peggy Hickey and a stellar ensemble create real "Fascinating Rhythm" through April 22.
As I watched, I recalled the amazing mistaken identity scene in Crazy For You, another Gershwin musical with nonstop silly shenanigans. The characters pretend to be who they are not, to save their skins from the cops or any authorites that stand in their way and end up falling in love with the least likely candidates...all for the sake of satire, or is it all for the sake of LOVE? In this case - 1927 during Prohibition - our bootlegger friends Cookie (Jason Graae), Billie (Kelley Dorney) and Duke (Matt Merchant) hide 400 cases of gin in the baement of wealthy Jimmy Winter's (Eric Sciotto) summer estate. He's drunk when Billie steals his wallet, so sober, when he encounters her walking around his house, he doesn't remember ever meeting her. He's attracted, but he's supposed to marry socialite Eileen Evergreen (Melinda Kalomas), daughter of Senator Max Evergreen (Doug Carfrae). Eileen is an infamous interpretive dancer that no one understands (see top photo). Meantime Max's sister Duchess Estonia Dulworth (Kathy Fitzgerald), who protests the evil of the drink "Demon Rum", falls head over heels for Cookie, and Duke for pretty Jeannie Muldoon (Maryella Maloney), who thinks the dumb schmuck's related to the royal family. Chief Berry (Andrew Metzger) is after the trio of bootleggers...and, a tried and true skirt chaser, he falls for just about any woman he sees. Get the picture? It's lunacy from top to bottom.
There is a dinner scene prior to Jimmy's wedding that could be straight out of The Addams Family or for that matter Bye, Bye Birdie. Dancers pop out from under the table, Cookie, Billie and Duke as servants literally race through the food serving routine at lightning speed ... and Estonia gets drunk, climbs on top of the table and swings from the chandelier. What a hoot!
Before the wedding can commence, in walks Jimmy's mother (Gloria Loring) who puts a few things straight about Jimmy and Eileen and her relationship with Eileen's father Max. These final scenes are hilarious and ... political jokes about the Republican Senate take off and fly. 1927 never before seemed as close to 2018!
This entire ensemble are simply delightful under Larry Raben's astute direction. The pace is fast, fast, fast and no one stands out over anyone else. Comic brilliance abounds! Peggy Hickey's choreography is over the moon. Derek McLane is responsible for the neat and functional scenic design and Martin Pakledinaz, for the nifty period costumes.
Don't miss this rare treat of a musical at MTW through April 22! The drive to Long Beach is worth it. It's another feather in MTW's cap. Who can resist those gorgeous Gershwin tunes!?
(Photo Credit: Caught in the Moment Photography)