Review: FUN HOME Is Hauntingly Beautiful at Salt Lake Acting Company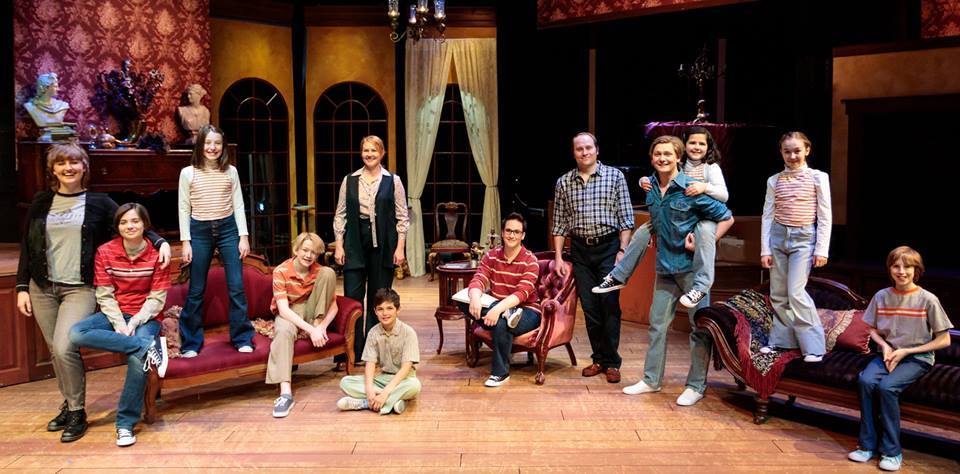 "Welcome to our house on Maple Avenue / See how we polish, how we shine," sung with cynicism by the repressed wife, Helen Bechdel.
The Bechdel family is just like any other family -- if dad is a closeted homosexual regularly having sexual dalliances with young men, including underage boys, and attempting to stifle his daughter's recognition that she is a lesbian.
FUN HOME, a Tony winner for Best Musical, is the first musical to feature a lesbian as its central character, and, with "Next to Normal," expanded what topics could staged musically.
But the beauty of FUN HOME is that it is the story of a typical family with a parent and child discovering their own true identities, finding "a rare moment of perfect balance," and a struggle to love.
Salt Lake Acting Company stages a spectacular FUN HOME, with stirring performances under the expert direction of Jason Bowcutt, who guides the cast from melancholy to zany in a heartbeat to make the show hauntingly moving. It is a must-see not only for musical-theater lovers but those with a beating heart.
Bowcutt was able to observe the development of FUN HOME as an associate of Lyricist/Book Writer Lisa Kron in the off-off-Broadway community, where they both began their careers. The show's creation included a workshop performance at Utah's Sundance Theatre Lab with Maggie Gyllenhaal, David Hyde Pierce and Judy Kuhn, who would be Tony-nominated for creating the mother role.
In the SLAC production, Hailee Olenberger is utterly astonishing in the pivotal role of Medium Alison, perfectly capturing the awkward joy of first love and discovery of her sexuality. The song "Changing My Major" is a winsome ode, and the audience melts at her believable charm.
FUN HOME -- "fun" is the kids' mockery of "funeral"; their home is also a funeral home -- is based on the widely hailed autobiographical graphic novel/memoir of cartoonist Alison Bechdel. The stage role is split into three characters: Small Alison, Medium Alison and Alison as an adult (Shawnee Kennington) who observes her childhood while writing captions for her published work, occasionally inserting a comma or question mark into the spoken dialogue.
As adult Alison's lover, Mary-Helen Pitman is correctly unshowy. The penultimate scene of Kennington's "Telephone Wire" that leads into "Edges of the World," by Benjamin Henderson as Bruce Bechdel, is heartwrenching. (Henderson makes the WTF moments not only plausible but relatable.) But first the audience is deeply impacted by Ashley Wilkinson as Helen Bechdel in a dramatic tour de force when she devastatingly sings "Days and Days." And our heart is beautifully broken by the three Alisons in "Flying Away."
The band, assuredly led by David Evanoff (with Wilson Hicken, the doubly talented Ginger Bess, Davin Taylor and Mark Maxson), soars. The multi-level set by Dennis Hassan is outstanding, along with costume design by Nancy Hills.
FUN HOME is a rare beauty, lovingly and beautifully staged by SLAC.