BWW Review: TheatreWorks Brings the Passion of THE BRIDGES OF MADISON COUNTY to the Stage and Into Your Heart
The Bridges of Madison County - first a book, then a movie and now a Broadway musical - is, at its heart, a deeply moving love story about crossings and the decisions involved in making them. In another book/movie called "Eat, Pray, Love" by Elizabeth Gilbert, we learn that the Italian word for "crossings" or "crossing over" is "attraversiamo." It's used mundanely by Italians to say, "let's cross over to the other side," for example. But in TheatreWorks Silicon Valley's production of The Bridges of Madison County, "crossing over" is anything but mundane for Francesca, an Italian-born Iowa housewife and devoted mom. Her chance encounter with roving National Geographic photographer Robert Kincaid leads them both to make heart-pounding, life-altering decisions. Brilliant in its simplicity, epic in its scope and poignant in its delivery, The Bridges of Madison County will capture your heart and leave you wondering about the journeys that you've made, the bridges you've crossed and perhaps the road not taken.
Joan Hess brings an eloquence and a stirring passion to the part of the immigrant Francesca who, 18 years before, made the life-saving decision to leave war-ravaged Italy with her "soldier from the states." She is now wife to Bud (Timothy Gulan) and mother to teenagers Carolyn (Jessia Hoffman) and Michael (Matt Herrero). She's proud of the home she's built but we hear the wistful pull to her past in Jason Robert Brown's richly hued music and lyrics. A plaintive cello, evocative of the operatic cadence of Italy, surrounds Hess's soaring soprano as her Francesca tells us the sad story of leaving Naples and crossing over the ocean and then the country for the security of an Iowa farm.
We meet her husband and the kids as they are preparing to leave for the 1965 Iowa State Fair and it's their story that serves as the main counterpoint to Francesca and Robert's eventual romance. Bud, the kids, and neighbors Marge (Maureen McVerry is perfect in this role) and her affable husband Charlie (the delightful Martin Rojas Dietrich) are windows into the solid and stable heartland that is Iowa.
As her family departs for the Fair, Francesca has the unknown luxury of four days to herself. But instead of sleeping in and spending her time relaxing, she opens the door to photographer Robert Kincaid who is lost and in need of directions to one of the covered bridges of Madison County.
Kincaid, played and sung superbly by Rob Richardson, is something of a cowboy hippie (born in Texas but living in Seattle; remember this is 1965). Brown gives Robert songs that enhance his subtle drawl bringing a sensualness to the unexpected encounter with Francesca. In "Temporarily Lost" he tells her, "I've been looking for something / At every bridge that I cross / And sometimes you can feel / Like time becomes unreal / When you're temporarily lost." Unaccountably, Robert finds himself thrown off-kilter by her. Or perhaps he's finally found his center.
The chemistry between them is present almost from the moment they meet as Francesca offers to drive with him to the bridge then later invites him into her home for a meal. Kincaid has traveled all over the world and it's his travels to Naples that first intrigue Francesca.
Director Robert Kelley lovingly navigates Pulitzer Prize-winning playwright Marsha Norman's script by slowly simmering the attraction between Francesca and Robert. Kelley sprinkles in small moments of laughter and cameos of country life, all the while leading us inexorably to the moment when Francesca and Robert cross over the line and into each other's arms, drinking in a love that they didn't know they were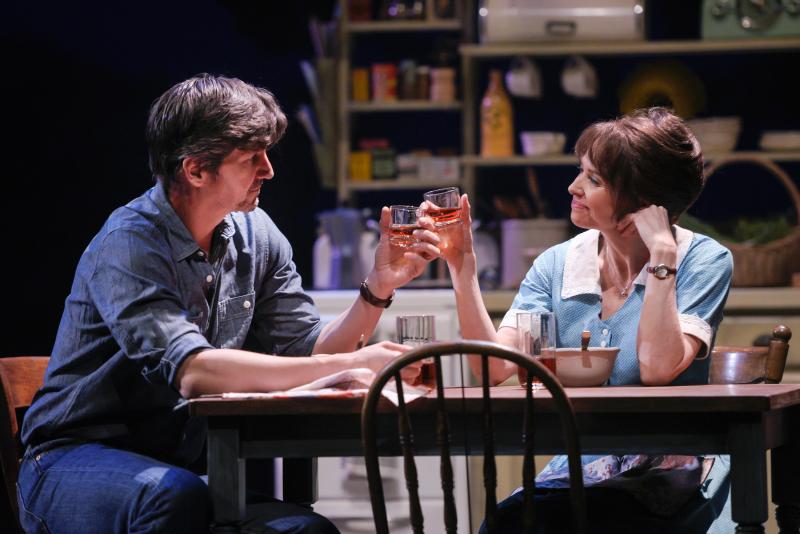 even thirsty for.
It's a masterful feat when all the elements of stagecraft and artistry come together as they do in this production of The Bridges of Madison County. Scenic Design (Wilson Chin), costume design (Fumiko Bielefeldt), lighting (Pamila Z. Gray) and sound (Jeff Mockus) are superb, as is the entire ensemble. Together, they coalesce to tell the story of Francesca and Robert and what happens when their paths cross in a plain Iowa country kitchen. It's a beautifully wrought story of sweeping and intense discovery and passion - all taking place in four short days carved out of time that will end up being the timeless centerpiece of both of their lives.
THE BRIDGES OF MADISON COUNTY
Presented by TheatreWorks Silicon Valley
Book by Marsha Norman
Music & Lyrics by Jason Robert Brown
Through April 29
www.theatreworks.org
Photo courtesy of Kevin Berne
Related Articles View More San Francisco

Stories

Shows