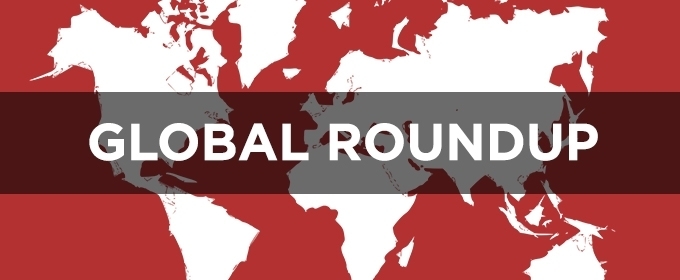 Regional Roundup: Top New Features This Week Around Our Broadway World 5/26 - DIRTY DANCING, LES MIS, WICKED, and More!
BroadwayWorld presents a comprehensive weekly roundup of regional stories around our Broadway World, which include videos, editor spotlights, regional reviews and more. This week, we feature DIRTY DANCING, LES MISERABLES, WICKED and More!
Check out our top features from around the BroadwayWorld below!
---
Pittgsburgh: Contributor Dylan Shaffer reviews DIRTY DANCING... He writes "Mr. Tierney's cool and suave demeanor is consistently overdone throughout the performance, but his true talent lies in his footwork. His ability to move across the stage and lift other dancers is nothing short of impressive. With some dance breaks lasting nearly five minutes, my lower back began to ache just watching him lift, catch, and place other dancers as if they were feather-stuffed pillows. His dance partner, Penny (Jennifer Mealani Jones), dominates the stage in presence, posture, and poise, but an unforeseen incident leaves Johnny without her for an upcoming performance. Baby volunteers and is transformed on stage from an awkward, noodle-armEd Mannequin to a smooth, rhythmic dancer. The kinesthetic relationship between Mr. Tierney and Ms. Boone is palpable and climaxes during their iconic lift in "(I've Had) The Time of My Life."
---
Australia: Contributor Victoria Beal reviews CLOC's LES MISERABLES... She writes "Shaun Kingma unequivocally delivers the standout performance of the show. Playing the fixated and obsessed rival of Valjean, Kingma brought the production to the most professional level. A sincerely masterful and commanding portrayal with a stunning voice to match. His end of act one moment "Stars" was the ultimate highlight of the show."
---
Long Island: Contributor Melissa Giodano reviews RENT at The Gateway... She writes "Running through June 3rd, The Gateway's ensemble cast, excellently Directed by Matt Karris, includes Gateway vets Jeremy Greenbaum and Anthony Festa as longtime friends Mark Cohen and Roger Davis, respectively. Mark is a struggling, independent videographer and also serves as the story's narrator. Mr. Greenbaum is a fine choice to portray the adorkable Mark. A great voice makes him a natural for the role. Mr. Greenbaum and Mr. Festa make a great team particularly with their rendition of audience favorite "What You Own" in Act II. Mark is roommates with Roger, a once successful musician but is now struggling to cope with life with AIDS and is a recovering drug addict. Mr. Festa is also a smart choice for the role of Roger. Another audience favorite is his heartbreaking rendition of the hit "One Song, Glory" where he tells about wanting to leave a meaningful song after he dies."
---
Florida: Contributor John Lariviere reviews MAMMA MIA! He Writes "I loved the energetic dancing in this production, and thought the ensemble was especially strong. The orchestra sometimes overpowers the singers just a bit, and disappointingly, it appears that the ensemble is singing on top of pre-recorded vocal tracks in some of the scenes. I am not sure if the Broward Center was having lighting problems, but I don't recall this show generally being under-lit in so many scenes, making it hard to sometimes see the actors' faces, and leaving a dark spot down-stage just right of center. The spot light operator also had a bit of a shaky hand throughout the show. What can I say? I love the music to Mamma Mia!, and I always will. While this is still a good production, I expected more from this Farewell Tour of Mamma Mia! More joy, more exuberance, and more commitment than that which I saw on the night attended."
---
Buffalo: Contributor Michael Rabice reviews WICKED! He writes "Headlining this spectacularly realized production is Jessica Vosk as Elphaba, the green skinned witch that won Idina Menzel the TONY Award for best actress. She inhabits the role fully while imbuing it with her own idsiosyncratic nuances. Faced with sometime near impossible vocal writing, Ms. Vosk's rock solid voice can be pared down to a whisper and then modulate to full on belting when required. Her Act One closer "Defying Gravity" was spine tingling, as she soared above the stage selling this power ballad, the type that Schwartz writes so well."
---
Detroit: Contributor Katie Laban reviews SWEET CHARITY. She writes "One aspect that can be said about this production of Sweet Charity is that is a well-oiled machine and as an audience member you will enjoy yourself because each moment flows into the next of vivid colors and sounds. A perfect example of this the "Rich Man's Frug" number, which the cast performs together so well and really make you feel like you are transported back to a night club in that era. The entire cast works together making each scene come to life, whether it be something small with two people or a large-scale group number, never failing to emit a positive energy as they Engage the audience on the journey that is whimsical, comedic, and even tragic in its own way."
---
Regional Editor Spotlight:
Joseph Harrison
Connecticut Senior Editor
Joseph Harrison has been involved with the theatre in some form or fashion all his life. He holds a Journalism degree from the University of Georgia, but his true love is the theatre which he has been involved in as a spectator as well as an actor for the last 25+ years. He has performed in a variety of musicals over the years including FIDDLER ON THE ROOF, PIPPIN, CITY OF ANGELS, 1776, WORKING, LITTLE WOMEN, GODSPELL (Jesus) and JOSEPH AND THE AMAZING Technicolor DREAMCOAT (Joseph) just to name a few. Joseph was the founding editor for Broadway World Atlanta and is now very proud to serve as the Senior Editor for Connecticut where he covers a wide variety of professional, touring, and community theatre. He currently resides in West Hartford, CT with his wife, Shannon and their two children.
"I love writing for Broadway World because I get to be a small part of the fabulous world of live theatre. In my eight years of writing for BWW, I have witnessed some absolutely amazing theatre (and some not-so-amazing), met talented actors and creatives who bring it all to life, and used my skills (and passion) to inform and build the community of readers who love the theatrical world just as much as I do. It has been the perfect outlet for a self-proclaimed theatre geek like me."
---
This week we welcome Kevin Douglas and Zoe Solis in Houston, summer bloggers Meggie Cansler and Jessica Coffman, student blogger Emma Suttell, and Joao Abbade in Brazil!
---
Join Team BroadwayWorld! Interested in joining our team, but not exactly sure what we do? All of your questions are answered, along with every open position from guest and student bloggers, Regional Editors, and more! Find out where we have open positions available here!