Joseph Harrison
Joseph Harrison has been involved with the theatre in some form or fashion all his life. He holds a Journalism degree from the University of Georgia, but his true love is the theatre which he has been involved in as a spectator as well as an actor for the last 30+ years. He has performed in a variety of musicals over the years including FIDDLER ON THE ROOF, PIPPIN, CITY OF ANGELS, 1776, LITTLE WOMEN, WORKING, GODSPELL (Jesus) and JOSEPH..DREAMCOAT (Joseph) just to name a few. Joseph joined the Broadway World family in 2009 as the very first local editor for BWW Atlanta. He served as Senior BWW Editor for Connecticut from 2014 - 2020 and now resides in Orlando, FL and writes for BWW Orlando.
MOST POPULAR ARTICLES
LAST 30 DAYS
Photos: GUYS AND DOLLS at Theater at St. Luke's - Running through October 3 at St. Luke's UMC
Posted: Oct. 1, 2021


LAST 365 DAYS
BWW Review:LITTLE SHOP OF HORRORS by Orlando Shakes is a must-see, fresh take on the classic musical
Posted: May. 9, 2021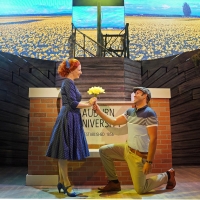 BWW Review: BIG FISH at Titusville Playhouse
Posted: Apr. 25, 2021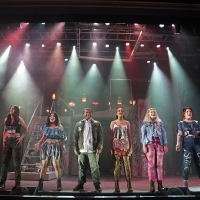 Titusville Playhouse' BKLYN is a powerhouse production of this lesser-known gem of a musical
Posted: May. 30, 2021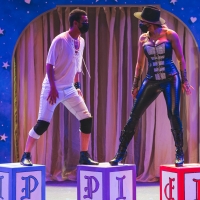 BWW Review: PIPPIN at Osceola Arts delivers a magical performance with more than a few "twists"
Posted: Apr. 11, 2021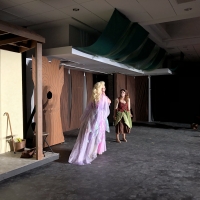 BWW Review: CINDERELLA - An Enchanting and entertaining performance at CFCArts
Posted: Apr. 24, 2021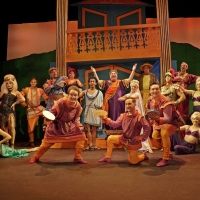 BWW Review: A FUNNY THING HAPPENED ON THE WAY TO THE FORUM at Titusville Playhouse
Posted: Aug. 1, 2021


BWW Review: SIDE SHOW at The Henegar Center

October 17, 2021

In today's society, when someone is born with a birth defect, has an unusual look or is simply unlike most others, we use our understanding of science and a myriad of protections and laws to ensure those individuals receive equal treatment. They have the opportunity (and right) to live their life in the same way as those born without disability or disfigurement. But that has not always been the case. People born in eras past with even minor physical or mental deformities were labeled "freaks" and consigned to live in the shadows, or in many cases, in the spotlight of the circus side show. But underneath the bearded lady's beard or the wolf boy's "fur" was always a living, breathing human being, with real emotions, needs, and dreams. And many of their stories have been lost to history. But not so for the story of the Hilton sisters, as told in Bill Russell and Henry Krieger's musical SIDE SHOW, currently playing at The Henegar Center in Melbourne, FL.
---
Photos: GUYS AND DOLLS at Theater at St. Luke's

October 1, 2021

Theater at St. Luke's is welcoming back audiences for GUYS AND DOLLS, its first onstage production since 2019. Theatergoers will meet an all-star cast of gamblers, gangsters, and showgirls based on a story and characters by Damon Runyon. Under the neon lights of New York City and the charm of old Havana, this high-energy musical comedy has all the heart and hustle you'd expect from a nine-time Tony Award-winning Broadway production.
---
BWW Review: WIT by The Ensemble Company

September 12, 2021

Sometimes the theatre is the perfect place to explore some of life's toughest questions. Playwrights and actors for thousands of years have been using the stage to help audiences grasp the core tenets of philosophy, religion, and metaphysical concepts. So, it is apt that the most recent production of The Ensemble Company (in residence at Penguin Point Productions) is Margaret Edson's Pulitzer Prize-winning play, WIT (or W;T) – a bold and intimate exploration of one woman's struggle to understand the meaning of her own mortality.
---
BWW Review: THE GREAT AMERICAN TRAILER PARK MUSICAL at Titusville Playhouse

September 11, 2021

It's always exciting to get to be the first to experience something. From the first person in line to buy the newest iPhone, to the first guests to board a new theme park ride, there is a special thrill in being there when something great begins. That was my experience last night at the very first performance in Titusville Playhouse's new venue, the Shuler Stage. It was especially exciting that the first show in that space also happened to be a favorite of mine, one guaranteed to bring hearty laughs and a huge smile – THE GREAT AMERICAN TRAILER PARK MUSICAL. And if the rest of the performances that will follow in this new space are anything like what came to life under the Shuler tent last night for the first time – then Titusville theatregoers have quite a thrilling adventure ahead of them.
---
BWW Review: THE WHO'S TOMMY at Titusville Playhouse

September 6, 2021

With one of the more memorable rock and roll scores of the 20th century, THE WHO'S TOMMY has been entertaining, exciting, confounding, and stimulating listeners for over 50 years. And with its current production of this iconic score (now full-fledged musical), Titusville Playhouse thrills, challenges and delivers an electric and energetic two hours of theatrical magic that simply rocks.
---
BWW Review: NEWSIES at The Henegar Center

August 29, 2021

Everyone loves to cheer for the underdog, especially when they are standing up for something that needs to change – injustice, cruelty, unfairness, or lack of voice. And in many ways, it is easy to relate to those struggling to be heard - the lone, but loud, voices of reason cutting through the noise, or the brave souls willing to stand up for what's right. These stories have been told throughout time and in countless mediums – but there is something about musical theatre that gives a story like that extra passion, energy, and urgency. So it is with NEWSIES, the opening production of The Henegar Center's 31st season, which brings the classic Disney musical to vivid life in Melbourne with an exciting and highly polished production that shares the story of how a few young men 'seized the day' and made a real impact.
---
BWW Review: A FUNNY THING HAPPENED ON THE WAY TO THE FORUM at Titusville Playhouse

August 1, 2021

"Something familiar, something peculiar, something for everyone a comedy tonight!" As the lyrics in the opening number of the classic musical, A FUNNY THING HAPPENED ON THE WAY TO THE FORUM, convey – it is a comedy with a little something for everyone. And in the hands of the talented, nimble, and hilarious cast at Titusville Playhouse, this musical is not only something "familiar" but a musical that feels fresh, entertaining, and fantastically funny.
---
BWW Review: A GENTLEMAN'S GUIDE TO LOVE AND MURDER at Osceola Arts

July 18, 2021

A musical about love? Nothing new there – from Broadway classics to modern musicals, love is often a prevailing theme for a night at the theatre. But love and murder? Well, now you are talking about something unique. And something uniquely thrilling is what you get with Robert L. Freedman and Steven Lutvak's hilarious musical comedy in A GENTLEMAN'S GUIDE TO LOVE AND MURDER, which is currently playing at Osceola Arts in Kissimmee.  
---
BWW Interview: Michael Rodgers And Adonus Mabry of HEAD OVER HEELS at Encore! Performing Arts

June 6, 2021

What happens when you take a 16th-century prose romance and turn it into a musical with a score by the most successful all-female rock band in history, The Go Go's? You get HEAD OVER HEELS, a musical that took Broadway by storm in 2018 and that will have its Central Florida premiere June 10 – 13th by Encore! Performing Arts at the John and Rita Lowndes Shakespeare Center in Orlando. Directing this production is Encore's Creative Director, Michael Rodgers, and Choreographing the production is Adonus Mabry. I had the pleasure of sitting down with both Michael and Adonus to talk about the show, what it's like creating a musical during a pandemic, and what audiences can expect from this exciting and new theatrical experience.
---
BWW Review: BKLYN THE MUSICAL at Titusville Playhouse

May 30, 2021

Has anyone ever read you a fairytale? So goes the opening line of "Once Upon A Time" the best-known song from BKLYN THE MUSICAL, a show that you might not have heard of before (it played on Broadway in 2004) but one that, in the hands of the stellar team of performers and creatives at the Titusville Playhouse, shines so brightly it just might become your new favorite. This story of love, loss, fame, faith and fate is one of those hidden gems that is performed so well and brought to life so flawlessly that it makes you want to leave the theatre and shout from the rooftops so others can experience the magic for themselves. Trust me – you need this musical in your life.
---
BWW Review: LITTLE SHOP OF HORRORS at Orlando Shakes

May 9, 2021

In the world of musical theatre, there are some shows that feel fresh and new, no matter how many times you see them. These are the musicals you drop everything to experience even if it may be your fortieth time. For musicals like that, the thrill of seeing what a different theatre, director, designer, or actor may do with a favorite piece can often be just as thrilling as sitting in an audience for opening night of a world premiere musical. For me, this is the case with Alan Menken and Howard Ashman's LITTLE SHOP OF HORRORS – a cautionary tale of what lengths some may take for love, fame and success all wrapped up in a colorful, fun, and nearly perfect book with catchy songs and memorable characters. A frequent choice when asked what my favorite musical may be (and I have seen/heard/performed in many), LITTLE SHOP OF HORRORS is the perfect mix of comedy, horror, camp and love story all rolled into one. So, imagine my thrill sitting outside (without a mask based on the new CDC rules!) at the Walt Disney Amphitheatre in Lake Eola Park on opening night of Orlando Shakes latest production as the chords of the opening number began. Excitement, anticipation, and curiosity - and I am here to tell you 100 minutes later (without intermission) my expectations were not only met, but exceeded.
---
BWW Review: THE 25TH ANNUAL PUTNAM COUNTY SPELLING BEE at Celebration Theatre Company

May 2, 2021

Settings for musicals range from the rather ordinary to the extraordinary. Audiences can be transported to the pre-war Austrian countryside or the magical world of Oz, or in the case of THE 25th ANNUAL PUTNAM COUNTY SPELLING BEE, Celebration Theatre Company's latest production at Dr. Phillips Center, a county spelling bee. And though this may not sound like the most exciting of places to set a musical, this show is filled with quirky (but lovable) characters, a compelling story and great music – making for a fun couple hours of theatrical magic that is both touching and funny, and which also illustrates some of the challenges facing young people today – parental approval, pressure to excel, first crushes and the intense need to fit in.
---
BWW Review: BIG FISH at Titusville Playhouse

April 25, 2021

Stories have an amazing way of bringing to life experiences and concepts that otherwise might be too complex, too unfamiliar, or too uninteresting. And, while some might write off storytelling as something reserved only for childhood, it is, in fact, one of the most common ways we humans have passed along the oral histories of our lives for generations. So, if given the ability to tell the stories of your own life – would you be the hero? What about when others hear and interpret it? This is the case for Edward Bloom, the larger than life "hero" of the story of BIG FISH – now onstage (and streaming) at the Titusville Playhouse in Titusville, Florida.
---
BWW Review: CINDERELLA at Central Florida Community Arts

April 24, 2021

There are few stories that you can safely assume everyone around you has heard before. That is especially the case with the story of Cinderella, and that goes double for all of us here in Orlando, seeing as we live in the shadow of her very famous castle. But even the familiar can be given new life and taken in new and exciting directions. This is the case with the latest production from Central Florida Community Arts (CFC Arts) of Rodgers and Hammerstein's CINDERELLA, a musical originally created for television in 1957, but given new life over the last 60+ years, most recently in a successful Broadway run with an updated book. The production, which is being staged in the old Express storefront at the Fashion Square Mall, is a strong offering of the Rodgers and Hammerstein classic.
---
BWW Review: PIPPIN at Osceola Arts

April 11, 2021

"Everything has its season, everything has its time.." So goes one of the more recognizable songs, "Corner of the Sky" from Steven Schwartz' musical, PIPPIN, which is currently playing through April 25th at Osceola Arts. This lyric illustrates well the solid, entertaining and quite unique production – one which serves, as the director, J. Marie Bailey notes in the program, as a "social mirror" to reflect back on the community.
---
BWW Review: A MIDSUMMER NIGHT'S DREAM by Orlando Shakes

April 10, 2021

In William Shakespeare's beloved comedy, A MIDSUMMER NIGHT'S DREAM, a motley cast of characters find themselves in an idyllic forest filled with magic and wonder. So, it is quite apropos that Orlando Shakes' current production of this timeless classic is being offered outdoors, at a park (Lake Eola Park) in a beautiful setting by the water. And like the young lovers and the "Mechanicals" who enter the woods not knowing how their lives will change before the night is through, audiences seated in the Walt Disney Amphitheatre are in for an evening of magic and merriment – one that, I must say, is long overdue.
---
BWW Interview: Cliff Price, Orlando Theatrical Scenic Designer

October 3, 2020

As those of us who spend significant time in the theatre know, the last six months have been very difficult. With canceled productions, performers out of work, and audiences without the live entertainment that enlightens and enriches their lives, there has been much uncertainty, on top of all the concerns for our own health and well-being. As someone who used to be in the audience reviewing productions almost every week pre-pandemic, I have missed the regular cadence of seeing, and writing about theatre. So, while we wait for things to get back to normal (or a new normal), I wanted to take a moment to spotlight some of the local creative professionals here in Orlando who bring theatrical magic to life on stage. To start, I sat down with Cliff Price, the creative designer behind some of the beautiful and creative scenic designs that audiences have seen in theaters across Central Florida over the last twenty years. Cliff shared with me his creative process, his perspective on the importance of good design and some of his favorite past designs.
---
BWW Review: THE AUNTIE NETWORK presented by The Studio Theatre Tierra Del Sol

August 16, 2020

With COVID-19 still raging around the world, and cases still quite high here in Central Florida, one might believe that it will be some time before enjoying the thrill of live theatre once again. But as theaters face the unique challenges the virus poses to performers and audiences alike, many companies are considering unique ways to bring theatre to life for audiences at home. One example of this is the Staged Play Reading Series currently being offered by The Studio Theatre Tierra Del Sol in The Villages, FL, which brings partially staged, script-in-hand performances to its audiences at home (or wherever one might be quarantined). Their latest offering, a staged reading of Elenna Stauffera??s THE AUNTIE NETWORK, creatively tells the story of two women and the significant impact helping a young, pregnant mother has on their lives.
---
BWW Review: THE CURIOUS INCIDENT OF THE DOG IN THE NIGHT-TIME at CT Repertory Theatre

March 1, 2020

Theatre has a way of translating human emotion and experience into a tangible, relatable, and collective experience in a way no other medium can. Audiences shed tears during emotional moments and cheer when the hero defeats the villain. But rarely do theatre-goers have the opportunity to share emotions that they themselves, may never personally experience, and in turn better understand some of the mysteries of life. Such is the case with THE CURIOUS INCIDENT OF THE DOG IN THE NIGHT-TIME, the current production of the Connecticut Repertory Theatre at UConn in Storrs, CT. 
---
BWW Review: JANE EYRE at Hartford Stage

February 23, 2020

There are certain stories that strike an emotional chord regardless of the format or venue. One such story is the Charlotte Bronte classic JANE EYRE, which is now playing at Hartford Stage in a brand new adaptation by Associate Artistic Director, Elizabeth Williamson (who also directs). The story - equal parts Victorian epic and Gothic horror, holds up extremely well in this production - providing a sweeping narrative, delivered by a talented cast and supported by strong technical design.
---