Joseph Harrison
Joseph Harrison has been involved with the theatre in some form or fashion all his life. He holds a Journalism degree from the University of Georgia, but his true love is the theatre which he has been involved in as a spectator as well as an actor for the last 25+ years. He has performed in a variety of musicals over the years including FIDDLER ON THE ROOF, PIPPIN, CITY OF ANGELS, 1776, WORKING, LITTLE WOMEN, WORKING, GODSPELL (Jesus) and JOSEPH..DR
EAMCOAT (Joseph) just to name a few. He currently resides in West Hartford, CT with his wife, Shannon and their two children.

MOST POPULAR ARTICLES
LAST 30 DAYS
BWW Review: QUIXOTE NUEVO at Hartford Stage
Posted: Sep. 29, 2019


BWW Review: BILLY ELLIOT at Goodspeed Musicals
Posted: Oct. 5, 2019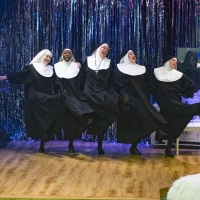 BWW Review: NUNSENSE at Playhouse On Park
Posted: Sep. 22, 2019


LAST 365 DAYS

BWW Spotlight/Review: SWEET CHARITY at The Hartt School Of The University Of Hartford
Posted: Oct. 22, 2018


BWW Review: THE FLAMINGO KID at Hartford Stage
Posted: May. 26, 2019


BWW Review: QUIXOTE NUEVO at Hartford Stage
Posted: Sep. 29, 2019


BWW Review: BILLY ELLIOT at Goodspeed Musicals
Posted: Oct. 5, 2019



BWW Review: The Opera House Players' A FUNNY THING HAPPENED ON THE WAY TO THE FORUM
Posted: Feb. 10, 2019



BWW Review: A GENTLEMAN'S GUIDE TO LOVE AND MURDER at Warner Theatre
Posted: Feb. 4, 2019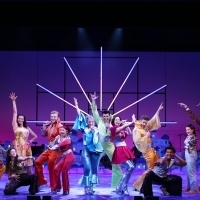 BWW Review: MAMMA MIA! at Connecticut Repertory Theatre
Posted: Jun. 9, 2019


BWW Review: BILLY ELLIOT at Goodspeed Musicals

October 5, 2019

Sometimes, being unafraid to be yourself can be the key to unlocking your true potential. Never has that been truer than in the story of BILLY ELLIOT, currently playing (through November 24) at the Goodspeed Opera House. In this, its final production of the season, Goodspeed brings to life the hit musical (with music by Elton John and book/lyrics by Lee Hall) about a young boy in a coal-mining town in northern England in the 1980's, as he discovers a love (and gift) for dance. The result is an exciting, touching, and thrilling experience filled with stellar performances, inspired staging, and a pitch perfect interpretation of the trying times in which the play is set.
---
BWW Review: QUIXOTE NUEVO at Hartford Stage

September 29, 2019

There are some stories that have a timeless quality, speaking to the aches and the joys of modern life regardless of the era in which they are told. Such is the classic tale of Don Quixote, a story that, when Miguel de Cervantes published it in 1605, took on a certain meaning and century after century has been seen through an evolving lens, from comic novel to tragic statement against nobility. But in Octavio Solis' new play QUIXOTE NUEVO, which opens Hartford Stage's 2019/2020 season, the infamous Spanish Knight of La Mancha has become the Latino Knight of La Plancha (Texas) battling border surveillance drones instead of windmills and fighting for the undocumented versus the poor citizens of war-ravaged Spain.
---
BWW Review: NUNSENSE at Playhouse On Park

September 22, 2019

There's a quote from Bennet Cerf that says, a?oeThe person who can bring the spirit of laughter into a room is indeed blessed.a?? I am not sure I could find a better way of describing the refreshingly funny, exciting, and entertaining opening show of Playhouse on Park's 11th season, NUNSENSE. The classic musical is a madcap romp with a simple, yet hilarious premise that still finds a way to keep audiences gasping for breath almost 35 years after its premiere off-Broadway. And, by selecting this feel-good musical as its opening show, Playhouse on Park in West Ha
---
BWW Review: The Opera House Players' BRIGHT STAR

September 14, 2019

Alice Murphy, the protagonist in the musical, BRIGHT STAR (now on stage at the Enfield Annex, produced by the Opera House Players) sings in her opening number, a?oeIf you knew my story, you'd have a good story to tella?? and the musical that follows those words is just that, a good story a?" one with toe-tapping songs and a captivating story (both by Steve Martin and Edie Brickell) and a few surprises along the way. The production is solid, the story heartwarming, the songs entertaining, and the overall show completely worth the trip to Enfield, CT.
---
BWW Review: FULLY COMMITTED at TheaterWorks

August 11, 2019

Sometimes a peek behind the proverbial curtain can be a thrilling affair. Whether it is a look at the inner workings of a complicated machine or a sneak peek a?oebehind the scenesa?? of the latest summer blockbuster, people have been fascinated with understanding what it takes to a?oemake the sausagea?? for years. And sometimes, that insight can be hilarious. In Becky Mode's FULLY COMMITTED, the latest play from TheaterWorks in Hartford, audiences get to witness a day in the life of Manhattan's #1 restaurant told through the eyes of Sam, an out-of-work actor who answers the reservation line (and does whatever else the egotistical chef demands.) The twist? All 33 characters in the play are played by one actor (Jamison Stern) in a hilarious, tour-de-force performance that thrills and delights.
---
BWW Review: BECAUSE OF WINN DIXIE at GoodspeedOpera House

July 19, 2019

There's an old saying from W.C. Fields that says 'Never work with animals or children'. This quote is often assumed to mean that a performer should avoid this, as children and animals can be quite unpredictable and/or unreliable. But based on what I saw on stage during Goodspeed Musicals' latest production of the new musical BECAUSE OF WINN DIXIE, I think W.C. Fields may have issued this warning because said animals and children just might steal the show right out from under you. In its second production of the season, Goodspeed has opted to mount a relatively new work and introduce audiences to the heartwarming story of two 'Strays', a girl and her dog, on the very same stage where another girl and her dog (ANNIE) premiered 43 years ago. The result? A touching musical that delivers an important message delivered by a strong cast led (yes, led) by an extremely loveable (and talented) canine.
---
BWW Review: THE SCOTTSBORO BOYS at Playhouse On Park

July 14, 2019

Live theatre creates a connection with the audience in a way unlike any other medium. Sometimes this connection builds excitement, sometimes it sparks compassion, and on other occasions, it forces you to confront something uncomfortable or difficult to create greater awareness and understanding. The creative team of John Kander and Fred Ebb did this with many of their musicals over their career together. In CABARET they illustrated the rise of Nazi Germany, and in CHICAGO brought attention to the role the media plays in sensationalizing criminals. But in one of their last collaborations together, THE SCOTTSBORO BOYS, Kander and Ebb not only approached a difficult subject matter (9 young African-American men in Alabama falsely accused of rape in the 1930's), but they did so using one of the most distasteful artforms in American history, the minstrel show. So, it is a bold move for West Hartford's Playhouse on Park to offer this difficult production as the final performance in its tenth season.
---
BWW Review: CABARET at Connecticut Repertory Theatre

July 6, 2019

When the world outside is challenging, political tensions are escalating, uncertainty is in the air and pressures are building to the breaking point, what can you do? If you lived in Berlin in the early 1930's you might have found yourself escaping from the rise of Nazism by visiting an avant-garde performance at one of many cabarets in the city. If, instead, it is 2019 and you are also looking for a bit of escapism of your own, you might head to the University of Connecticut to take in the latest production in the CT Repertory Theatre's 2019 Nutmeg Summer Series, CABARET.
---
BWW Review: MAMMA MIA! at Connecticut Repertory Theatre

June 9, 2019

What happens if you take the upbeat and danceable pop music of a Swedish supergroup, place it in a beautiful sun-drenched setting, add in a dash of comedy, some athletic dancing, and a pinch of bright colors, and wrap it all in a simple, but entertaining, story? You get MAMMA MIA!, the hit musical featuring the music of ABBA, which is the first musical offering in the 2019 Nutmeg Summer Series at the Connecticut Repertory Theatre (CRT) at the University of Connecticut. The CT Rep, once again under the artistic direction of Terrence Mann (who also serves as the director of this production), is offering MAMMA MIA! as one of only two shows this summer season (down from the typical three) in order to give more people the opportunity to see each production.
---
BWW Review: CITY OF ANGELS at THE ARTS AT ANGELORIA'S

June 2, 2019

It never ceases to amaze me how prolific and creative the theatrical community is here in Connecticut. With 80 + theatrical companies (at my last count) in the state, you don't have to go far to take in some amazing theatre. From professional, equity houses to community theatres, the variety, and unique offerings from each company is truly amazing. And speaking of unique offerings, I had the pleasure of attending my first performance at The Arts at Angeloria's in Southington for their production of Larry Gelbart, Cy Coleman, and David Zippel's musical CITY OF ANGELS, which also served as the premiere production in their new 100-seat "Art Barn." For those familiar with the musical, you will know that this is not an easy show to mount, especially in a smaller theatrical space. But for the company who performed THE WHO'S TOMMY in their small 50-seat black box space, if anyone was up to it, they were. As for CITY OF ANGELS? It is a valiant attempt with some high points that mostly overshadow any challenges that come from the limitations of the space.
---
BWW Review: THE FLAMINGO KID at Hartford Stage

May 26, 2019

World premiere musicals don't come around every day, so when given the opportunity to be the first patrons to experience the thrill of a new show, I will always recommend you jump at that chance. Even better when the show is one like Hartford Stage's final production of the season, THE FLAMINGO KID, which also marks the final show for Darko Tresnjak, its award winning artistic director. THE FLAMINGO KID has a lot going for it - the aforementioned direction by Mr. Tresnjak, a score by Tony award winners Robert L. Freedman (Books and Lyrics) and Scott Frankel (Music), a familiar subject matter, a stellar cast, bright and energetic staging, and a story that is simply fun to watch. Suffice to say - THE FLAMINGO KID delivers on all of those in spades and is simply not one to miss.
---
BWW Interview: Scott Gilmour And Claire McKenzie, creators of HI, MY NAME IS BEN at Goodspeed's Terris Theatre

May 13, 2019

What impact can one man who has lost the ability to speak have on those he encounters every day? If you are Ben, the central character in the new musical HI, MY NAME IS BEN, which opens this week at the Goodspeed's Norma Terris Theatre in Chester, CT the impact is greater than you might imagine. I had the chance to sit down with the duo behind the show, book writer Scott Gilmour and composer and lyricist, Claire McKenzie who shared a little about their creative process, their journey writing the show, and how they work effectively together to bring a musical like HI, MY NAME IS BEN to life.
---
BWW Review: THE MUSIC MAN at Goodspeed Opera House

May 12, 2019

There are some musicals that simply epitomize the genre. You know the ones - the shows where you have lost count how many times you have seen them, either on Broadway, on tour, or at your local theatre. They are like a part of the family - the favorite uncle or aunt that you are happy to see whenever you are together. One of these shows for me is Meredith Willson's THE MUSIC MAN, the classic that serves as a near-perfect representation of American Musical Theatre. So, it is with excitement, and a bit of trepidation (how will this production fare with all the others in my memory?) that I went to see Goodspeed Musicals latest production. I am thrilled to say that the play feels as fresh as the day it premiered, is as lovely as the "bells on the hill" that feature in one of its most iconic songs, and serves as a brilliant opening to the new season at the Goodspeed Opera House.
---
BWW Review: MY NAME IS ASHER LEV at Playhouse On Park

April 29, 2019

What makes someone a true artist? Does it have to do with skill? Passion? A unique eye? Or is it about letting go of earthly things and embracing the traditions set forth by generations of artists before them? And what happens when the path to artistic enlightenment leads to a deep-seated conflict with one's values, religion, and family expectations? Such are the conflicts at the heart of Aaron Posner's MY NAME IS ASHER LEV, based on the book by Chaim Potok, which is now playing at Playhouse on Park in West Hartford, CT.
---
BWW Review: GIRLFRIEND from TheaterWorks (at the Wadsworth)

April 6, 2019

Summer 1993 was an eventful year for this reviewer. I had just graduated from High School and was preparing for the next chapter in my life - college in Athens, Georgia. Like so many young people before me and so many after, it was a time in between, one that was both thrilling and completely terrifying. But it was also the beginning of a journey of self-discovery and an opportunity to redefine who I was and who I would be as a newly minted adult. So, it was particularly poignant to see the newest production from TheaterWorks (performed at the Wadsworth due to their current remodel), the musical GIRLFRIEND, with a book by Todd Almond and music by 90's rocker, Matthew Sweet.
---
BWW Review: JEEVES & WOOSTER IN 'PERFECT NONSENSE' at Hartford Stage

April 5, 2019

Sometimes the best cure for a sour mood or a gray day is a bit of nonsense. Whether that is achieved by laughing at some absurd meme your friend posted on Twitter, a mindless show you binge watch on Netflix, or a podcast with a comedian you love - frivolity can take many forms. This is true even in the theatre. Take Hartford Stage's latest production of the Olivier Award winning JEEVES & WOOSTER IN "PERFECT NONSENSE" by the Goodale Brothers based on the works of P.G. Wodehouse. This production provides a theatrical escape from whatever ails you and provides audiences with a hilarious romp told by three actors with a penchant for sight gags, impressions, and a whole lot of whimsy.
---
BWW Review: REEL TO REAL BY STOP/TIME DANCE THEATER at Playhouse On Park

March 31, 2019

Everyone loves going to the movies. The darkened theater, the anticipation of a dramatic/funny/thrilling/scary adventure, and the escapism that only a couple hours with a bucket of popcorn and a good film can bring. It is that feeling that comes to life in vivid color during REEL TO REAL, this year's annual production by stop/time dance theater at Playhouse on Park in West Hartford. Once again, founder/director Darlene Zoller and her fabulous troupe of performers show off their high energy moves, enthusiastic performances, and show stopping production numbers to make for a thoroughly entertaining evening.
---
Sounds of Broadway - a new 24/7 online Broadway radio station launches today

March 18, 2019

This week a 24/7 online Broadway music radio station - 'Sounds of Broadway' (www.SoundsofBroadway.com) - makes its debut. 'Sounds of Broadway' offers the most wide-ranging listing of music from the Off-Broadway, Broadway, and London stages. Thousands of songs from hundreds of cast recordings are in rotation, with dozens of new shows being added weekly.
---
BWW Review: THE MYSTERY OF EDWIN DROOD at Connecticut Repertory Theatre

March 10, 2019

n today's world, entertainment is all about personalization, customization, and influence. From television shows that allow you to choose the direction of the plot (e.g., BLACK MIRROR: BANDERSNATCH) to the numerous on demand books, podcasts, and films that are ready whenever the mood strikes, audiences today are used to having choices. But what about the theatre? How often does the gathered crowd have the opportunity to impact the outcome of the story unfolding in front of them? Well, with Connecticut Repertory Theatre's latest production THE MYSTERY OF EDWIN DROOD, Rupert Holmes' Tony Award winning musical, that happens every performance - making for a wild, wacky, and wonderful experience for everyone.
---
BWW Review: THE REVOLUTIONISTS at Playhouse On Park

February 24, 2019

"Every revolution starts with a story, of who we are and who we can become." These words from Sarah Hartmann, the director of Playhouse on Park's current production of THE REVOLUTIONISTS perfectly illustrate the heart of Lauren Gunderson's play. By telling the stories of four iconic women who were brave enough to stand up during the Reign of Terror, one of the darkest moments in history, and fight for freedom and equality, THE REVOLUTIONISTS informs, excites, entertains, and most importantly, inspires.
---
...
1