Plans Emerge for NATASHA, PIERRE, AND THE GREAT COMET OF 1812 to Gain a New Life in Countries Across the World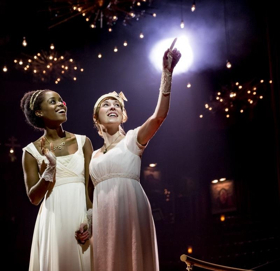 Natasha, Pierre, and the Great Comet of 1812, while very well loved, had a run that many believed to be far too short. But the producers aren't ready to give up on this show yet. What do we know about what's next for Great Comet?
According to Variety, multiple productions are in the works, including one in Tokyo, opening in 2019. A sit-down run is being planned for a U.S. city, as well as a run in London. Other countries eying the show are China and the Philippines.
The Tokyo production will be in Japanese and will star Yoshio Inoue, a star on the Japan stage. The plan is to run the show, not in the round as it was on Broadway, but at the Tokyo Metropolitan Theater, a proscenium playhouse with less than 850 seats. If the show is successful there, it may be brought back annually.
By later this spring, fans should know what to expect for Great Comet in London, according to Howard Kagan, the show's lead commercial producer. If not on the West End, the show will head into a more non-traditional space. It is expected to look more like the Broadway production than the Tokyo production will.
In lieu of a U.S. tour, Great Comet is planning to do a series of sit-down runs across the country, beginning early next year.
Read more here.
Created by three-time Tony nominee Dave Malloy (Ghost Quartet, Preludes) and directed by Tony nominee Rachel Chavkin (Hadestown, Artistic Director of The TEAM), THE GREAT COMET began previews at Broadway's Imperial Theatre (249 West 45th Street) on October 18, and officially opened Monday, November 14, 2016.
THE GREAT COMET features a thrilling mix of rock, pop, soul, electronic dance music and classic Broadway. Inspired by a 70-page slice of War And Peace, the immersive staging of this unforgettable epic story brings audiences just inches from the performers as they light up Broadway in an experience like no other. THE GREAT COMET was nominated for 12 Tony Awards, including Best Musical, Outstanding Leading Actor in a Musical (Josh Groban), Outstanding Leading Actress in a Musical (Denée Benton), Outstanding Featured Actor in a Musical (Lucas Steele), Outstanding Direction (Rachel Chavkin), Outstanding Original Score (Dave Malloy), Outstanding Book (Dave Malloy), Outstanding Orchestrations (Dave Malloy), Outstanding Choreography (Sam Pinkleton), and Outstanding Costume Design (Paloma Young). THE GREAT COMET received two 2017 Tony Awards for Outstanding Scenic Design (Mimi Lien) and Outstanding Lighting Design (Bradley King).