Click Here for More Articles on WICKED
Photos: Winners Announced for 2014 WICKED Young Writers' Awards
The Wicked Young Writers' Award today announced its winners for 2014 at a prestigious ceremony at the Apollo Victoria Theatre, home of the award-winning musical Wicked. Scroll down for photos!
The winning and highly commended entries included stories and poems about bullying, love, dementia and memory loss and the traumatic effects of war. This year the award received over 5000 entries from individuals and schools all across the UK and Northern Ireland.
The ceremony was hosted by Savannah Stevenson who stars as Glinda, and prizes were presented by Michael Morpurgo, best-selling author of War Horse and Chair Judge of the Award. The Award's judges, Michael McCabe, Executive Producer of Wicked, and performance poet and writer Dean Atta,also attended the ceremony. HRH The Duchess of Cornwall is Patron of the Award.
In addition to performing musical numbers from the hit show, Wicked cast members also performed readings of the winning entries, revealed as: Liya Khan, age 6 from Birmingham, joint-winners Susanna Tredinnick, age 10 from Harpenden and Caitlin Wilkins, age 10 from Windlesham, Surrey, Rhian Hutchings, age 14 from Pontardawe, and joint-winners Freya Carter, age 15 from Sheffield, Zainab Abbass, age 15 from Sheffield, and, Chris Pritchard, age 23 from Gloucester.
The Award judges chose the winners from over 5000 entries from individuals and schools across the country, revealing a wide range of different voices and themes. In the younger categories, the entries were funny, scary and surprisingly complex: an alien helps a lonely little girl with cerebral palsy make new friends; a bully is given a dose of his own medicine; a happy, greedy Venus flytrap devours the world; and a surprisingly funny and mature poem about Albert Einstein. The older age categories' entries ranging from 11-17 year-olds, peopled with characters ranging from soldiers suffering with PTS to unwed teenage mothers, used sophisticated imagery and language to explore alienation, death, self-harm and struggling to conform without losing one's identity. The eldest 18-25 year old category was surprisingly mature, unselfconscious and insightful, providing a first look at the emerging voices of a new generation: moving, dark and sometimes playful themes comprised of repressed sexuality, love, murder and dementia. This is writing directly from the heart, trying to make sense of a complicated world.
During the ceremony, Dean Atta led an interactive literacy workshop titled "My Wicked Poem"; prompted by the show's theme of friendship, the audience of 100 shortlisted finalists and their guests created a brand new piece of creative writing in just 20mins.
The long-running West End show launched the Award in 2010 to recognise excellence in writing, encourage creativity and help develop writing talent in young people between 5 and 25 years of age from across all backgrounds and areas of the UK.
Michael Morpurgo said of this year's Award. "All these talented young writers have allowed their imagination to live and breathe. They haven't been afraid to tell their stories and speak their poems down and to express themselves with originality and flair."
Wicked's Executive Producer Michael McCabe said: "We've been inspired and excited by the creative skills and extraordinary pieces that we've received this year. Congratulations to our 2014 winners, and we now look forward to encouraging even more young people across the country to express themselves through writing."
The shortlisted finalist entries from the 5-17 year old age-categories have been published in an anthology celebrating the 2014 Wicked Young Writers' Award. The shortlisted entries from the 18-25 year old age category have been published in an e-anthology downloadable from the Wicked Young Writers' Award website (www.wickedyoungwriters.com).
The Wicked Young Writers' Award has also been working with the National Literacy Trust for two years on a programme of joint events at literary festivals and conferences to highlight both reading and writing skills amongst young people.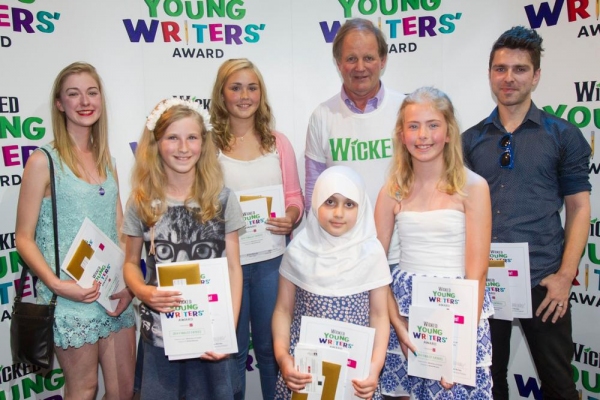 Winners: Freya Carter, Susanna Tredinnick, Rhian Hutchings, Liya Khan, Michael Morpurgo, Caitlin Wilkins and Chris Pritchard.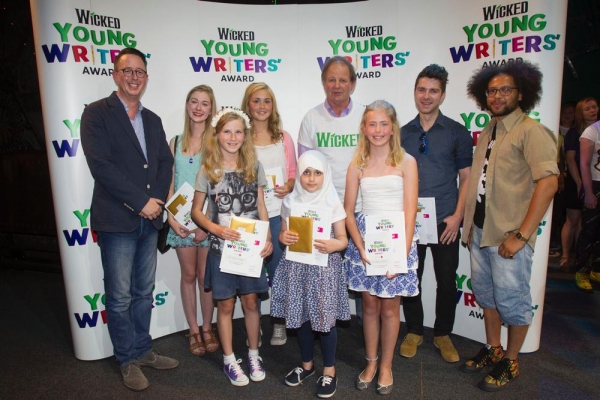 Michael McCabe (UK Executive Producer of Wicked) winners: Freya Carter, Susanna Tredinnick, Rhian Hutchings, Liya Khan, Michael Morpurgo, Caitlin Wilkins, Chris Pritchard and Dean Atta.

All finalists with Michael Morpurgo and the cast of Wicked.