Photo Flash: Student Photography on Display at IN FOCUS, a 2014 Usdan Center Exhibit
Usdan Center for the Creative and Performing Arts (www.usdan.com), the nationally acclaimed summer arts day camp once again named a "Best Camp for 2013" by TimeOutNY/Kids, will present In Focus, a month-long exhibit of student photography now through Friday, April 4th, 2014 in the lobby gallery of 430 Park Avenue, New York, NY 10022. Scroll down to check out some photos of students with their photography!
The exhibit is curated by Rochelle Morgan, Chair of Usdan Center's Visual Arts Department. The images chosen for the show were all taken last summer by 16 Photography students, grades 4-12, in Usdan's celebrated Visual Arts Department. Four of Usdan Center's teachers worked with the students over the course of the summer to prepare the work being displayed in the exhibit. They included Daniel Gosnell, Melissa Johnides, Dena Mortell, and Lori Sklar.
The students, from Long Island and New York City, are: Rebecca Agurto, from Douglaston; Diya Chadha, from Woodbury; Aidan Dunlap, New York City; Allison Elkowitz, Roslyn Heights; Nicole Fegan, Merrick; Emma Gaedie, Stony Brook; Emily Halper, Dix Hills; Sydni Harris, New York City; Rebecca Karpen, New York City; Elizabeth Kunkov, Woodbury; Lillian Molesky, Glenwood Landing; Haley Mortell, Huntington; Natan Oster, New York City; Gabrielle Picard, Plainview; Alexa Pisano, Commack; and Caroline Vance, Stony Brook. Usdan Center for the Creative and Performing Arts, whose alumni include
Natalie Portman
,
Mariah Carey
and
Jane Monheit
, is now entering its 47th season, and has introduced the arts to more than 60,000 Tri-State Area children since its founding in 1968. The Center is open to all young people from age 6 to 18. Usdan's program features more than 40 four and seven-week programs in music, dance, theater, visual arts, writing, nature & ecology, and chess. No audition is needed for most programs - rather, admission is based on an expression of interest in the arts. Each summer, 1,600 students are transported to the Center in air-conditioned buses each day. One-third of Usdan's students attend on scholarship. Although the mission of the Center is for every child to establish a relationship with the arts, the unique stimulation of the Center has caused many to go on to arts careers. Alumni include members of Broadway shows and major music, theater, and dance ensembles such as the Boston Pops and the New York City Ballet. In addition to its regular programs, Usdan offers opportunities for advanced high school- age performing and visual artists. These include Music Staff Internships, a Summer Ballet Intensive, and a program of immersion in the visual arts. Usdan is an agency of the UJA-Federation of New York. Usdan Center is currently holding Open Houses for its 2014 season, which begins June 30. For information, call (631) 643-7900, write to
i
nfo@usdan.com, or visit
www.usdan.com
.
Photo Credit: Usdan Center

8th Grader Rebecca Karpen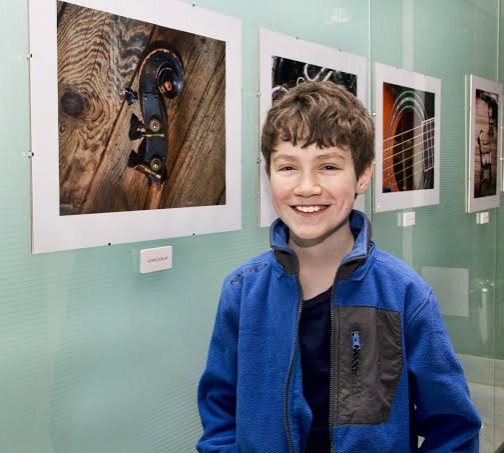 7th Grader Aidan Dunlap