Photos: Broadway Kids Care Makes Peace Bracelets
Last Wednesday March 5th 2008, the Broadway Kids Care organization got together to make Peace Bracelets for the troops in Iraq and for the Nyumbani Orphanage in Kenya.

Founded earlier this year by Kelly Gonda, President of East of Doheny Productions, BKC brings together the children from current and past Broadway shows, affording them the opportunity to perform community service and, in the process, instill a strong philanthropic sensibility and foster a sense of community among the young actors and their families.
 
During its brief history, BKC's members have participated in a variety of charitable works.  They have hosted Halloween and Easter events where they assembled gifts for the children of Freedom House.  Their gifts continue with the presentation of the scarves from "The Knitting Project" and holiday stockings.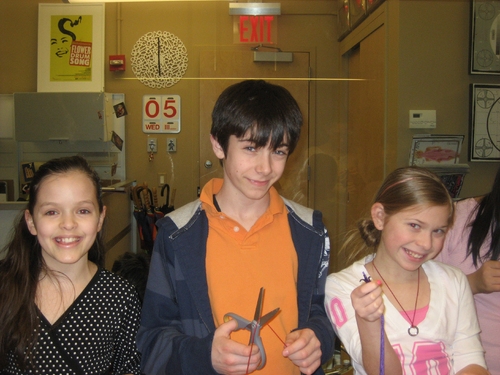 Kelsey Fowler (Sunday in the Park), Henry Hodges (Mary Poppins) and Gabby Malek (Chitty Chitty Bang Bang) make bracelets to send to the troops in Iraq and the Nyumbani Orphanage in Africa.

Here's what they look like!

Members of Broadway Kids Care hard at work!

Andy Richardson (Gypsy) and Zach Rand (Les Miserables)