Orhan Pamuk's SNOW To Have Staged Reading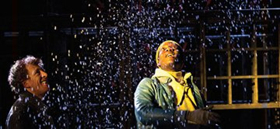 Come to a staged reading of Snow by Orhan Pamuk, who was awarded the 2006 Nobel Prize in Literature. Orhan Pamuk called Snow "my first and last political novel." Set in the small city of Kars in northeastern Turkey, it tells a story of violence and tension between political Islamists, soldiers, secularists, and Kurdish and Turkish nationalists. An international sensation, the novel has been adapted for the stage in France by Blandine Savetier and Waddah Saab. After the American Premiere staged reading, translated by Taylor Gaines, Pamuk joins in conversation with Frank Hentschker, Executive Director of the Martin E. Segal Theatre Center.
Orhan Pamuk, born 1952, is a Turkish novelist, screenwriter, and academic. One of Turkey's most prominent novelists, his work has sold over thirteen million books in sixty-three languages, making him the country's best-selling writer. Pamuk is the author of Silent House, The Black Book, The New Life, My Name is Red, The Museum of Innocence, and A Strangeness in my Mind, among others. He is also the Robert Yik-Fong Tam Professor in the Humanities at Columbia University, where he teaches writing and comparative literature. He was elected to the American Philosophical Society in 2018.
Presented by the Martin E. Segal Theatre Center, Cultural Services of the French Embassy, New York, and CUNY Graduate Center Public Programs, with additional support by FACE Contemporary Theater. Co-produced by Taylor Gaines in collaboration with the Segal Center.
Wednesday, October 24 6:30pm
Reading + Discussion
Elebash Recital Hall
Seating Extremely Limited. Please Arrive Early.
FREE + Open to the public
First come, first served
The Graduate Center, CUNY, 365 Fifth Avenue at 34th Street