Click Here for More Articles on COMPANY West End
Marianne Elliott Talks Gender-Swapped COMPANY, Her Debates With Sondheim, and More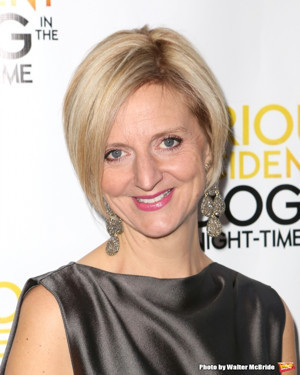 The upcoming production of Company in the West End features non-traditional casting in terms of gender. The protagonist, usually Bobby, a man afraid of marriage, is now Bobbie, a woman.
The production's director, Marianne Elliott, chatted with The Guardian about the decisions made in the show, working with Sondheim, and more.
"This man, sleeping around with all these women, he's not really interested in them," Elliott said. "He's trying to get them into bed. After #MeToo, it might feel a bit... odd."
The idea to make Bobby a woman was not actually Elliott's, but that of her business partner, Chris Harper.
"He was in America - his surrogate twins had been born prematurely - and he was walking to and from the hospital listening to Company," Elliott said. "One day, he rang and said: why don't you make him a woman?"
Elliott went to the home of Stephen Sondheim, whom she had previously know, for dinner to discuss the idea. It wasn't immediately well-received.
"He's so specific," she said. "Everything he writes supports the character's psychology. And when we first talked, he wasn't sure. He'd previously been involved in a workshop in which all the characters had become gay men, and he had said no, then. He didn't think it worked."
Eventually, he agreed to a workshop.
"He'll be there at the dress rehearsal, and at the first preview," Elliott said. "We've had some healthy debates already, but to be fair, he has also said: 'Marianne, I am a man, and I am 88, and you have to guide me. I don't necessarily see the world in the way you do.'"
At this stage, she is feeling confident in what the production can accomplish.
"It's a 3D art form," she said. You never know what something is going to be like properly until you get it fully up on its feet. But everything I've seen is so exciting. The music is amazing. The scenes are very funny. I've got the most fantastic cast."
Read more on The Guardian.
Company opens at the Gielgud Theatre from 26 September 2018.
The complete cast for Company is: Rosalie Craig as Bobbie, Patti LuPone as Joanne, Mel Giedroyc as Sarah, Jonathan Bailey as Jamie, George Blagdenas PJ,Ashley Campbell as Peter, Richard Fleeshman as Andy, Alex Gaumond as Paul, Richard Henders as David, Ben Lewis as Larry, Daisy Maywood as Susan, Jennifer Saayeng as Jenny, Matthew Seadon-Young as Theo and Gavin Spokes as Harry. Joining them are: Michael Colbourne, Francesca Ellis, Ewan Gillies, Grant Neal and Jaimie Pruden.