MADONNATHON Will Dance Through Halloween at the Highline Ballroom!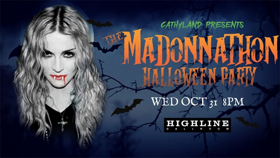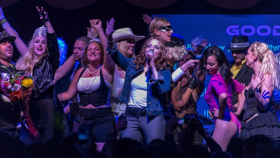 MADONNATHON, the largest Madonna tribute show and dance party in the world, is entering its 15th landmark year with a very special Halloween celebration performance at the Highline Ballroom on October 31.
Produced by Cathyland Productions, the annual MADONNATHON event features live performances from New York City's hottest entertainers, collaborating to bring their very best interpretations of Madonna's ever-growing repertoire. MADONNATHON was launched in New York City in 2003 by Cathy Cervenka, host and emcee of the annual show.
Attendees are encouraged to "Get Together" and pay homage not only to the Material Girl's amazing music, but also to her ever-evolving looks and influence on pop culture. Prizes will be awarded for both the best Madonna-inspired look and the best Halloween look, so "Express Yourself" in your best Madge-influenced attire on the dance floor. Between show sets, DJ Chauncey D will provide deeper cuts and remixes of the Queen's classic tracks.
This year's all-star cast features performances Broadway and cabaret alumni including: Tammy Faye Starlite, Amber Martin, Brian Charles Rooney, The Love Show, Zoe Friedman, Shannon Conley, Daryl Glenn, Bridget Barkan, Ki Ki Hawkins, Travis Moser, Yana Chupenko, Cathy Cervenka, Emily Greene Strigl, Mike Greko, Emma Craig, Tess, Jack Fuller, Lane Moore, Danielle Tyler, Echo of the Ghost, Erin Hill & her Psychedelic Harp, The Rhythm Knights Dance Troupe, La Diva Ciconne and many more, yet to be announced. Special Guests include The Williamsburg Salsa Orchestra.
All performances will be backed by the Material Band: Mark Christopher, Matt Lindsey, Alan Camlet, Mike Greco, Guy Finley, Jesse Kraków, Ki Ki Hawkins, Jack Fuller, and Tess & Claudia Chopek.
MADONNATHON will be presented on October 31st at 8:30pm at the Highline Ballroom (431 W. 16th Street between 9th & 10th Ave.).
Tickets are $25 - $50 and can be purchased HERE. VIP seating and package discounts for groups of 10 or more can be arranged in advance, subject to availability.
For more information, visit madonnathon.com or call 212.414.5995.