DIXON PLACE Proudly Presents TOE PICK an Entirely Transcribed Play from the Real Life Story of Tonya Harding and Nancy Kerrigan Ice Wars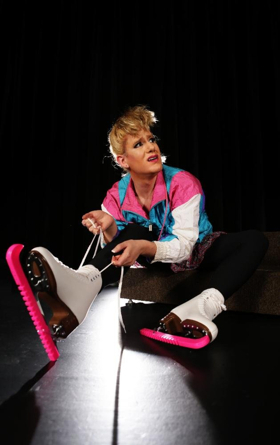 Dixon Place (Ellie Covan, Founder and Artistic Director) is pleased to present Toe Pick, an entirely transcribed play by Zackary Grady, for three weeks in February, running concurrently with the 2018 Winter Olympics. Toe Pick, which relives the 1994 icecapades of NANCY KERRIGAN and Tonya Harding, opens Friday, February 9, and runs Fridays and Saturdays through February 24 at Dixon Place, 161A Chrystie Street (between Rivington and Delancey Streets). Advance tickets are $20 for adults, and $17 for seniors, students, and idNYC holders. Walkup tickets are $25 for adults, and $19 for seniors, students, and idNYC holders. Tickets can be purchased by visiting www.dixonplace.org or by calling 866-811-4111.
In 1994, one whack propelled figure skaters NANCY KERRIGAN and Tonya Harding into a tabloid frenzy that still captivates over twenty years later. Highlighting how the feverish media pitted the two women against each other, Toe Pick tells the story of how truth can get lost when sensationalized headlines take precedence.
Transcribed entirely from actual events surrounding the infamous scandal Connie Chung called "Shakespearean," and featuring over 30 different characters from Scott Hamilton to Jane Pauley, the Toe Pick production coincides with this year's Winter Olympics. In a recent interview, the popular culture website VULTURE identified Toe Pic creator Zackary Grady as 'The Artist' of the cult of Tonya Harding.
Written by Grady, directed by Christopher Murrah and choreographed by Adam Fleming, the play features the following cast: Cathy Ang, Holly Ann Butler, Kevin Cahoon*, Brennan Caldwell*, Deidre Goodwin*, Zackary Grady*, Jenn Harris*, Preston Martin, Isaac Oliver, Arielle Siegel*, Nicole Spiezio*. Tyler M. Holland designs the costumes, lighting design by is by Paige Seber and the set is designed by Dan Daly. (*AEA Members)
In conjunction with this production, the THNK1994 Museum, which is dedicated to Harding and Kerrigan's story, will display unique art and artifacts in the Dixon Place Gallery throughout the run of Toe Pick.
"Captivating" - The Advocate
Zackary Grady (writer/performer) who portrays Tonya Harding in Toe Pick, is a writer, director, and actor whose work has been produced in NYC, Boston, and Beijing China. His work ranges from scripted plays, film and television, to site-specific immersive productions and experiences including multi-course fine dining. He has a degree from NYU and was recently named one of The Advocate's 'People to Watch'. After college Zackary was William H. Macy's assistant during his run in Speed the Plow on Broadway as well as for Broadway director Nicholas Martin. He originated the role of 'B' in David Mamet's In A Linguistics Class at the Atlantic Theater Company. Regionally, Zackary appeared in She Stoops to Conquer at the McCarter Theater and spent three seasons with the Williamstown Theater Festival performing in A Funny Thing Happened on the Way to the Forum, Our Town, and The Front Page.
Christopher Murrah (Director) Christopher is a theatre and opera director. In 2016 joined the faculty of Yale University School of Music's Opera department where he directs and teaches acting and movement. Also on adjunct faculty at New York University, he was the recipient of the honored Princess Grace Theater Award Honorarium in 2014 and was previously honored by the Shubert Foundation through Columbia University. His work in theatre and opera has been seen around the world, including the 2015 production of Verdi's La Traviata at the Mariinsky Opera House in St. Petersburg. Yale Opera credits as movement and fight director include Britten's A Midsummer Night's Dream and Massenet's Don Quichotte. Other works include Man of La Mancha, The Crucible, Pericles and Hamlet, Into the Woods, Children of Eden, and The Three Sisters. New plays and collaborations have included Peter Pan or the Boy Who Hated Mothers (Michael Lluberes), Alphabetical (Tingying Ma), The Sounds of My People (Tabia Lau) and development of works by Matthew Minnicino, Daaimah Mubashshir, and David Kimple.
An artistic incubator since 1986, Dixon Place is a non-profit institution committed to supporting the creative process by presenting original works of theater, dance, music, puppetry, circus arts, literature and visual art at all stages of development. Presenting over 1000 creators a year, this local haven inspires and encourages diverse artists of all stripes and callings to take risks, generate new ideas and consummate new practices. Many artists, such as Blue Man Group, John Leguizamo, Lisa Kron, David Drake, Deb Margolin and Reno, began their careers at DP. In addition to emerging artists, Dixon Place has been privileged to present established artists such as Mac Wellman, Holly Hughes, Justin Bond, Karen Finley, Kate Clinton and Martha Wainwright. After spawning a salon in her Paris apartment in '85, founding Artistic Director Ellie Covan pioneered the institution in her NYC living room. She was a recipient of a Bessie, a New York Dance and Performance Award and a Bax10 Award for her service to the community. Dixon Place received two Obie Awards, and an Edwin Booth Award for Excellence in Theater. Dixon Place has organically developed and expanded into a leading professional, state-of-the-art facility for artistic expression.
The Dixon Place Cocktail Lounge is open before and after the show. Proceeds from the bar directly support Dixon Place's mission to support artists and their new work.
Dixon Place is located at 161A Chrystie Street (between Rivington and Delancey) in Manhattan. (By subway: B/D to Grand, F to 2nd Ave, J/Z to Bowery, 6 to Spring St, M to Essex St).
Photo credit: Peter Yesley