Brief 2/19: Meet DEAR EVAN HANSEN's Taylor Trensch, Sneak Peek of Heidi Blickenstaff in FREAKY FRIDAY, and More!
Good morning, BroadwayWorld! Because we know all our readers eat, sleep and breathe Broadway, what could be better than waking up to it? Scroll down for the latest news. Want our morning reports delivered via email? Subscribe here!


1)
Lin-Manuel Miranda's TeeRico Partners With Entertainment Earth to Launch Toy and Collectible Line
by Stephanie Wild - February 18, 2018
Lin-Manuel Miranda's clothing and merchandise company TeeRico has announced a partnership with Entertainment Earth, a popular worldwide toys and collectibles destination, to create a line of toys and collectibles. The first product that has been announced is Pin Mates wooden figurines of Miranda and his tog Tobi.. (more...)
---
2)

BWW TV Exclusive: Rachel Bloom Brings Her Crazy Ex-citing Musical Comedy to the American Songbook Series!
by BroadwayWorld TV - February 18, 2018
Musical comedy is alive and well and on network television thanks to the exuberant genius of Rachel Bloom, the Golden Globe-winning star and writer of The CW's Crazy Ex-Girlfriend. An NYU Tisch and Upright Citizens Brigade alum, Bloom burst onto the scene in 2010 with several viral YouTube videos-including the Hugo-nominated "Fuck Me, Ray Bradbury"-that established her as a one-woman sketch comedy act and opened the door to television writing.. (more...)
---
3)

In The Spotlight: Up Close and Personal with the Company of ESCAPE TO MARGARITAVILLE
by Walter McBride - February 18, 2018
On Friday night, previews officially began at the Marquis Theatre for Escape to Margaritaville, the musical comedy featuring both original songs and the most-loved Jimmy Buffett classics. BroadwayWorld met with the company earlier this week and we are taking you up-close and behind the scenes with the cast and creative team!. (more...)
---
4)
BWW Review: THE YORK REALIST, Donmar Warehouse
by Rona Kelly - February 18, 2018
In the Donmar Warehouse's last season, Knives in Hens split opinion in a highly stylised and surreal production. As the title may suggest, Peter Gill's 2001 play The York Realist could not be further from this. Grounded in naturalism both in script and vision, Robert Hastie's production of The York Realist finds an ideal leading man in the remarkable Ben Batt.. (more...)
---
5)
Broadway at the Cabaret: Ben Fankhauser, Alice Ripley & More This Week!
by BWW News Desk - February 18, 2018
What good is sitting alone in your room this week? If you don't already have plans to see a Broadway show, come out to see your favorite Broadway stars in a cabaret act instead. Highlights this week include:. (more...)
---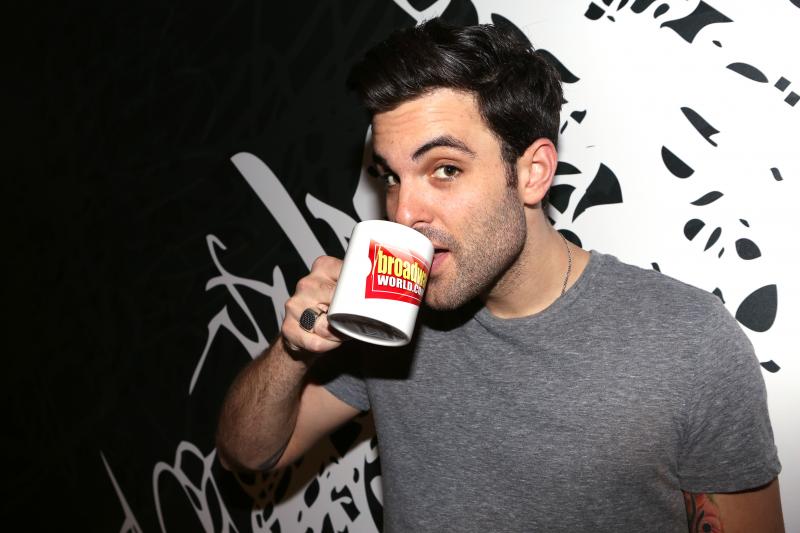 ---
Today's Call Sheet:
-Drunken Shakespeare presents LOVE HANGOVER tonight at Bar 9!
-Cindy Marinangel stars in the world premiere of MARLENE at Winterfest 2018! Her first of three performances is tonight!
---
BWW Exclusive: Meet the new star of DEAR EVAN HANSEN, Taylor Trensch, on the latest episode of Backstage with Richard Ridge!
---
What we're geeking out over: Maury Yeston reveals how he made TITANIC sail on!
---
What we're watching: Watch Heidi Blickenstaff and Cozi Zuehlsdorff in the new teaser trailer for the upcoming FREAKY FRIDAY Disney Channel musical film!
---
Social Butterfly: Watch Mandy Gonzalez and more HAMILTON cast members sing in support of March For Our Lives, a march organized in the wake of the recent school shooting in Florida to end gun violence.
---
And a Happy Birthday shout-out to Hugh Panaro, who turns 54 today!
Hugh Panaro has been described as "the leader of Broadway's dwindling supply of great leading men." Critically lauded and adored by fans, he demonstrates versatility, charisma, tremendous vocal talent, and, in the words of one former costar, movie star good looks.
Moving to New York City immediately after graduation, Hugh quickly found a role in I Have Found Home. He played a German immigrant in the show which took place on a ferry to the Statue of Liberty. He later obtained his Equity card with the role of Mary Sunshine in regional production of Chicago. In 1988, Hugh originated the role of Marius Pontmercy in the first national touring production of Les Misérables, moving up to the Broadway company several months later. He was then cast by Hal Prince as Raoul de Chagny, the romantic young hero in Sir Andrew Lloyd Webber's hit musical The Phantom of the Opera. His next role was as Julian Craster in Jules Styne's final musical, the ill-fated The Red Shoes in 1993. Subsequent roles included Gaylord Ravenal in Show Boat (Broadway, Toronto, and London), Buddy Foster in the original production of Side Show, and David in the independent film, Broadway Damage.
In 1999, Hugh returned to the Majestic Theatre, this time to don the iconic mask in The Phantom of the Opera. Six months later, he originated the title role in the U.S. tour of Martin Guerre. Following the tour, Hugh drew praise for performances in Gentleman Prefer Blondes and Merrily We Roll Along in Los Angeles and as Anthony Hope in the Kennedy Center's 2002 production of Sweeney Todd.
After an off-Broadway run in LaChiusa's Little Fish, Hugh returned to play The Phantom in 2003. One of the most popular actors to fill the role, he remained with the show until October 2005, leaving to play the seductive, conflicted vampire Lestat in the Elton John musical based on Anne Rice's successful novels.
In autumn 2006, Hugh was invited to play Bobby in the 5th Avenue Theater (Seattle) production of Sondheim's pivotal musical, Company. His performance was praised as "exquisitely accomplished." Following Company, Hugh has appeared in a number of concerts, including benefit shows at Joe's Pub, Birdland Jazz Club, and City Center.
In 2008, he starred as Jean Valjean in the Walnut Street Theatre's outstanding production of Les Misérables, a role which earned him praise from audiences and reviewers alike, as well as the Barrymore award. The following spring, he played the title role in the 5th Avenue Theatre's production of Sunday In The Park With George. He then starred in Oliver!, again at The Walnut in his native Philly, and also maintained an active concert schedule performing with symphonies around the world.
On September 7, 2010, Hugh returned to Broadway's Majestic Theatre to again play the iconic Phantom and led the show's historic 25th anniversary performance.
In 2012, he was the recipient of the prestigious Edwin Forrest Award.
During an extended break from Phantom in 2013, he was again seen as Jean Valjean in The Muny's summer production of Les Misérables (opposite friend and Side Show costar Norm Lewis). He left the role of The Phantom in May of 2014. His debut album is in the works at last.
Hugh currently stars in Sweeney Todd Off-Broadway.
---
See you bright and early tomorrow, BroadwayWorld!
Related Articles