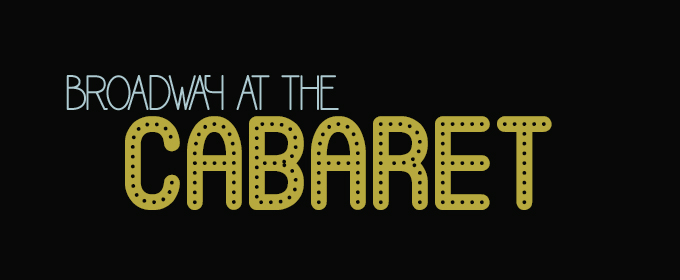 Click Here for More Articles on Broadway at the Cabaret
Broadway at the Cabaret: Ben Fankhauser, Alice Ripley & More This Week!
What good is sitting alone in your room this week? If you don't already have plans to see a Broadway show, come out to see your favorite Broadway stars in a cabaret act instead. After Broadway orchestras begin their overtures, ensemble members take their dance breaks, and performers belt out their eleven o'clock numbers, the party continues at various cabaret venues throughout New York City.
Below, BroadwayWorld brings you our top Broadway acts that can't be missed this week, February 18-24, 2018. Come hear the music play!
---
54 Celebrates The Music Box Theatre
February 19 at Feinstein's/54 Below- BUY TICKETS!
Those four musicals, plus many others, all made their Broadway debut on West 45th Street at the historic Music Box Theatre. Now, in its 97th year of bringing memorable stories and life changing performances to audiences, Feinstein's/54 Below will be celebrating the Music Box's rich, legendary history with an all-star musical celebration. Join us for an evening of songs and stories, performed by the legends themselves who were lucky enough to grace the Music Box stage! Expect some of the Music Box's favorite artists to make an appearance and take a musical stroll down memory lane.
---
At This Performance...
February 19 at Green Room 42- BUY TICKETS!
Stephen DeAngelis continues his ongoing salute to Broadway and Off-Broadway Standbys, Understudies and Alternates with its next edition of AT THIS PERFORMANCE...™ Hosted by series Producing Artistic Director and Casting Director Stephen DeAngelis, the popular series allows performers to showcase their versatility and share anecdotes about their experiences. Performers scheduled for February 19thth are Stefanie Brown (Cruel Intentions), Billy Bustamante (Miss Saigon), Pomme Koch (The Band's Visit), Blaine Krauss (Kinky Boots), Amy Hillner Larsen (The Marvelous Wonderettes), Nick Sacks (Dear Evan Hansen), Travis J. Shuler (Cruel Intentions) and Matt Wood (SpongeBob SquarePants).
---
John Lloyd Young: Heart to Heart
February 20-24 at Cafe Carlyle- BUY TICKETS!
How you know him: Jersey Boys
Having won critical praise for his previous residencies, Tony Award-winner John Lloyd Young returns to Café Carlyle with an all-new show, Heart to Heart. Stephen Holden of The New York Times has written that Young "has a disciplined one-in-a-million high tenor shading into falsetto that he can direct through the stratosphere."
---
Ben Fankhauser
February 22 and 25 at Feinstein's/54 Below- BUY TICKETS!
How you know him: Newsies, Spring Awakening, Beautiful
Ben Fankhauser reimagines Broadway standards and pop hits with brand Fankin' new arrangements like you've never heard before. Join Ben and the Fank 5 for an unforgettable evening of your favorite songs, all Fanked up. The evening will feature the signature big band sound and musical direction of Charlie Rosen, and will include a special guest appearance by Natalie Weiss (Wicked, Everyday Rapture).
---
Alice Ripley: Ripley Prescription
February 24 at Green Room 42- BUY TICKETS!
How you know her: Next To Normal, Side Show, Sunset Boulevard, American Psycho
Alice Ripley, Tony Award Winning star of Next To Normal, Sunset Boulevard, American Psycho, The Who's Tommy, Rocky Horror..., and more returns to The Green Room 42 in her brand new show, "Ripley Prescription." Featuring everything from pop/rock hits to musical theatre standards, Ripley takes the audience on an evening of storytelling and song. A show like this is hard to come by, so don't miss out on seeing this Broadway legend!
Related Articles
More Hot Stories For You