Click Here for More Articles on LIN-MANUEL MIRANDA
Lin-Manuel Miranda's TeeRico Partners With Entertainment Earth to Launch Toy and Collectible Line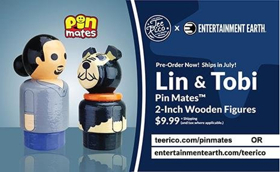 Lin-Manuel Miranda's clothing and merchandise company TeeRico has announced a partnership with Entertainment Earth to create a line of toys and collectibles. The first product that has been announced is Pin Mates™ wooden figurines of Miranda and his tog Tobi.
"We are extremely happy to partner with such an inspirational talent," commented Jason Labowitz, Entertainment Earth co-founder and president. "The birth of this extension to our Pin Mates™ line was a passion project for our staff, and we couldn't be more excited about working on an innovative product line with Lin-Manuel."
Set to hit shelves in July 2018, the Lin-Manuel and Tobi Pin Mates™ recently debuted at the TeeRico by Lin-Manuel Miranda booth at BroadwayCon 2018 and will be introduced to the toy industry at the Entertainment Earth booth (#5471) during New York Toy Fair, held at the Jacob. K Javits Convention Center February 17 - 20, 2018.
Pin Mates™ debuted with one wooden character at Toy Fair 2016 and has grown into a line offering almost 200 uniquely numbered characters that range from 1 to 6-inches tall, spanning multiple licenses and delighting fans everywhere.
"The future possibilities between Lin-Manuel Miranda and Entertainment Earth are endless," continued Labowitz. "We look forward to working together to create products that spread joy, are great for families, are affordable and have a charitable component."
A portion of every sale in this collection will be donated to charity.
To pre-order Lin-Manuel Miranda and Tobi Pin Mates™, visit entertainmentearth.com/teerico.