Click Here for More Articles on NEW YORK CITY
Blake Allen's THE SHARDS OF AN HONOR CODE JUNKIE Moves to Metro Baptist Church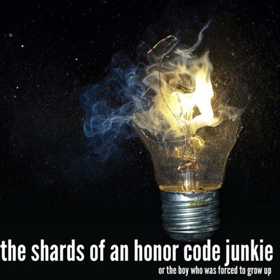 Blake Allen, known for his innovative bridging of contemporary music and theater through composition, performance, and advocacy, presents the world premiere of the autobiographical musical the shards of an honor code junkie, December 4, 2017.
Originally slated for The Tillary Hotel in Brooklyn, New York, the show has been moved to the Metro Baptist Church, located in midtown, Manhattan.
Produced by Isaac Dayley in loving memory of Alan Taylor, who committed suicide ten years ago on December 4, the cast will include Tony nominee Alison Fraser, Teal Wicks (Wicked), downtown rocker Kenyon Phillips, Virginia Preston (On the Town), operatic soprano Cree Carrico, cabaret artist Tori Scott, actress Laura Shoop (She Loves Me) and Josh Tolle (Kinky Boots).
The evening, hosted by Marti Gould Cummings and MAC award winner Michelle Dowdy will raise money for the Trevor Project, an emergency suicide hotline for LGBTQ youth.
The autobiographical story of a homosexual Mormon boy portrayed through eight different scenes, shards is a dark and intriguing musical that shines light on the inner struggle of being raised in an extremely religious household under a parent's watchful eye. While attending the staunch Brigham Young University and a required commitment to their 8 Honor Code Rules, the Boy's world slowly begins to fall apart, unhinging demons of drugs, sex, and suicide in a coming of age story.
"I wrote this show in the name of advocacy, therapy, and connectivity," explains Allen. "While mostly everything in this story actually happened, members of the LDS faith or not can relate to the similar struggles of relearning about who you are. It is a message that love and friendship can be a powerful tool to claw your way out of the shackles of despair. It is an honest look at the LGBTQ community, at suicide, and the idea that we are all, in our own way, Lost Children of God."The first draft of this work was conceived during Allen's residence at the Banff Centre in Alberta, Canada, with an AEA reading in 2015, followed by a concert of excerpts at 54 Below shortly after. A realized work with a choir, full band under the direction of Ryan Shirar and larger cast, directed by Zi Alikhan, the evening will also feature Hannah Rose DeFlumeri, Michael Lowney, Andre Jordan, and Brita Filter along with other local drag talents.
Proceeds from ticket sales, private contributions, and auctioned items will be donated to the Trevor Project, the nation's leading organization providing crisis intervention and suicide prevention services to lesbian, gay, bisexual, transgender and questioning (LGBTQ) young people ages 13-24.
The Shards of an Honor Code Junkie will premiere on December 4, 2017, at 7:00 p.m. There will be a VIP pre-performance at 7:00 p.m., with a post-show talk back at 9:45 p.m. and closing with an after party at 10:15 p.m.
VIP tickets are priced at $200, general admission, $125, and student tickets, $75. Limited partial view seats have been released for $25. Tickets are available online at dayleyschmiedl.ticketleap.com/shards.
The performance space at the Metro Baptist Church is located at 410 W 40th Street, between 9th and 10th avenues, and accessible by A, C, E, 1, 2, 3, N, R, 7 to Times Square 42nd Street
Blake Allen (music/book/lyrics) is a multifaceted composer and musician who is currently a PhD candidate at NYU. A published poet at age 7, Blake made his classical composition debut at the Metropolitan Museum of Art. Shows include Folk Wandering (Off-Broadway 2018), the shards of an honor code junkie (concert Dec 2017); Boston|Nebraska; HOCKET. Other credits: Ring Them Bells! (PBS); ...Very Marti Christmas (54 Below); Selections from the Truth Triptych (54 Below); Carnivorous (Magic Future Box); Rob Fisher music assistant for 5 years. Upcoming: And the Angels in the Nighttime, a modern oratorio; To the Lighthouse; 7Swans, a ballet. As a violist, Blake has served as principal of Little Orchestra Society and Gemini Orchestra, been a featured soloist with El Paso Symphony Orchestra and Choral Chameleon, and subs with the New York Pops. Learn more at www.blakeallenmusic.net.