Click Here for More Articles on PRINCE OF BROADWAY
BWW Exclusive: Celebrating the Unsung Musicals of Hal Prince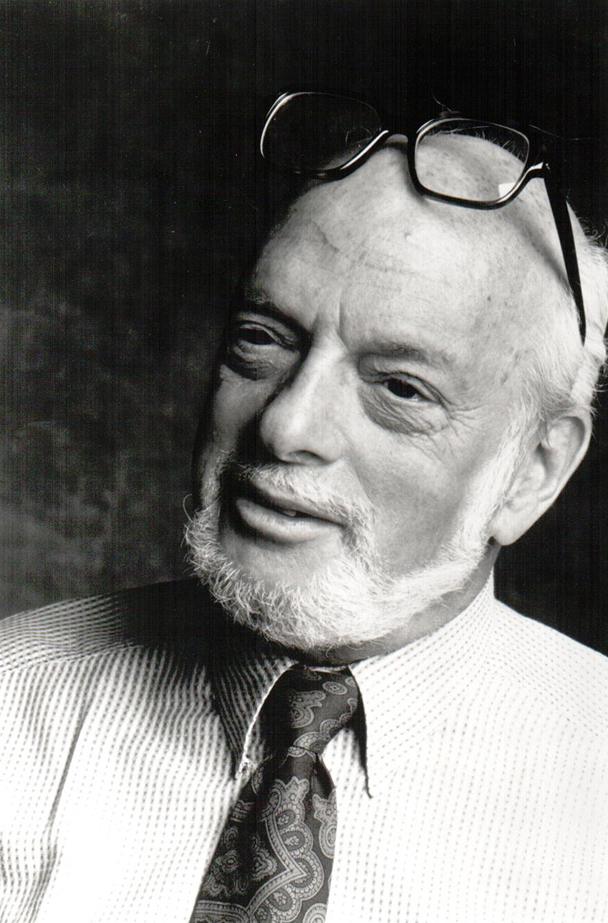 FIDDLER ON THE ROOF, SWEENEY TODD, THE PHANTOM OF THE OPERA, COMPANY, CABARET, FOLLIES.
Each was directed and/or produced by Broadway legend Harold Prince. Each contributed to his record-high pile of Tony awards, and has been received popular and critical acclaim across the world.
Also among Prince's repertoire, however, lay some rarer treasures - ones that shuttered quickly, never hit Broadway, or simply don't receive much recognition today.
With Prince of Broadway, a celebration of Prince's most excellent works, currently in previews at theManhattan Theatre Club's Samuel J. Friedman Theatre on Broadway, we looked back at some of the unsung treasures of the Broadway legend's repertoire.
---
A FAMILY AFFAIR (1962)
Prince's first directing credit, A FAMILY AFFAIR, had its first turn in Philadelphia, helmed not by Prince, but by THE FANTASTICKS' Word Baker. For its Broadway transfer, Prince was brought in to replace Baker, and the musical ran for just over two months at the Billy Rose Theatre.
Written by James Goldman, Wiliam Goldman and John Kander, the short-lived musical tells the story of a young couple's wedding planning fiasco. When the bride's Uncle Alfie and the groom's mother Tillie clash, pre-wedding chaos erupts and the affair is nearly ruined.
Despite its brief run, A FAMILY AFFAIR did release a cast recording, featuring stars Shelley Berman and Eileen Heckart, and has enjoyed regional and community productions across the country.
---
BAKER STREET (1965)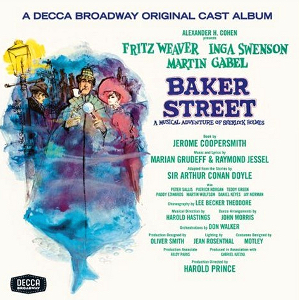 Opening just three years after Prince's directing debut, BAKER STREET, with book by Jerome Coopersmith and score by Marian Grudeff and Raymond Jessel, enjoyed a respectable run, playing 311 performances in 1965.
The musical, set in 1897 London, follows the famous fictional detective Sherlock Holmes who, with the help of his girlfriend Irene, sets out to recover some jewels from the villainous Professor Moriarty.
BAKER STREET received a Tony Award for Oliver Smith's scenic design, as well as three more nominations for its book, costume design and leading actress Inga Swenson. However, it has mostly faded from the popular theatrical consciousness.
---
"IT'S A BIRD...IT'S A PLANE...IT'S SUPERMAN" (1966)
IT'S A BIRD...IT'S A PLANE...IT'S SUPERMAN opened at the Alvin Theatre in March 1966. A collaboration between David Newman, Robert Benton, Charles Strouse and Lee Adams, the musical is loosely based on the comic strip "Superman," and tells of the hero's attempts to defeat bitter scientist Dr. Abner Sedgwick, win over the reporter Lois Lane, and stop gossip columnist Max Mencken from revealing his identity to the world.
Though the Broadway production ran for just four months, the show has enjoyed a healthy afterlife, especially in the past decade.
New York City Center's 2013 Encores! production starred Edward Watts, Jenny Powers, David Pittu and Will Swenson. A year later, the show had its UK premiere, which transferred to the West End for a limited run in 2014.
Additionally, SUPERMAN is the subject of a 1975 TV special of the same name, starring David Wilson as Superman/Clark Kent.
---
ZORBA (1968)
The original production of Kander and Ebb's ZORBA ran for just under a year at the Imperial Theatre. A relative success, the musical earned eight Tony nominations, including one for Best Musical and for Prince's direction.
Adapted from the 1952 novel "Zorba the Greek," and a 1964 film of the same name, ZORBA takes place on the island of Crete, and follows the friendship of Zorba, a young writer, and Nikos, a boisterous working man, as well as their respective romances.
The Broadway production closed in 1969, then quickly went on the road, with Chita Rivera and John Raitt as its stars.
ZORBA's only Broadway revival opened in 1983, and again ran for just short of one year. Anthony Quinn and Lila Kedrova lead the cast, reprising their roles from the 1964 film on which the musical is based.
In May 2015, New York City Center took on the musical, staging it as part of the Encores! series. The production was directed by Walter Bobbie, and featured a cast including John Turturro, Zoe Wanamaker, Santino Fontana and Marin Mazzie.
ZORBA at the 1969 Tony Awards:
---
MERRILY WE ROLL ALONG (1981)
With book by George Furth and music and lyrics by Stephen Sondheim, MERRILY WE ROLL ALONG opened at the Alvin Theatre Monday, Nov. 16, 1981, and closed just 12 days later, making it one of the most beloved flops in Broadway history.
Based on Kaufman and Hart's play of the same name, the musical tells, in reverse chronological order, the professional and personal journey of composer/producer Franklin Shepard, and of his two estranged friends Charley and Mary.
Though MERRILY's run was brief, the score has become one of Sondheim's most beloved, earning the production its only Tony nomination, and the show has received a generous number of subsequeNT Productions.
With gradual revisions to both the score and book, the musical first reappeared at La Jolla Playhouse in 1985, then D.C.'s Arena Stage in 1990, the Off-Broadway York Theatre in 1994, and London's Donmar Warehouse in 2000.
More recently, New York City Center staged MERRILY WE ROLL ALONG as part of its Encores! series, starring Colin Donnell as Frank, Celia Keenan-Bolger as Mary and Lin-Manuel Miranda as Charley.
---
A DOLL'S LIFE (1982)
Written by Betty Comden, Adolph Green and Larry Grossman, A DOLL'S LIFE only called the Mark Hellinger Theatre home for two weeks, playing just 18 previews and five regular performances.
Deemed by Prince as "ahead of its time," the musical follows the journey of Nora Helmer, the heroine of Ibsen's A DOLLS HOUSE, after she slammed the door on her husband and set out to build a new life in 19th century Norway.
The short-lived production picked up three Tony nominations - one for its book, one for its score, and one for actor George Hearn - and released an original cast recording.
With some reworking of the script and score, the York Theatre Company produced a revival of A DOLL'S LIFE in 1994. The show was presented in a stripped-down concert version, and ran for about a month Off-Broadway.
Despite a similar premise, the musical bares no relation to the current Broadway production, A DOLL'S HOUSE, PART 2.
---
GRIND (1985)
GRIND, which ran for just short of three months at the Mark Hellinger Theatre, features a book by Fay Kanin, music by Larry Grossman and lyrics by Ellen Fitzhugh.
Set in a 1933 Chicago burlesque house, the musical follows the journeys of a black comic, the stripper he's in love with, a blind comedian and an Irish ex-terrorist, among racial tensions and physical violence on and offstage.
GRIND'S abbreviated run did not stop it from picking up eight Tony nominations, including ones for Best Musical and for Prince's direction. Featured actress Leilani Jones fared particularly well during awards season, earning Tony, Drama Desk and Theatre World awards for her performance.
The musical did release a cast recording, featuring Jones, Ben Vereen, Timothy Molen and Stubby Kaye, but has yet to see a major revival.
GRIND at the 1985 Tony Awards:
---
ROZA (1987)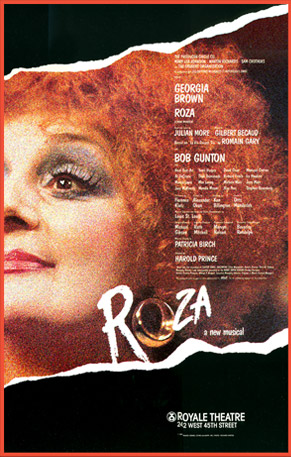 After out-of-town stints at Baltimore's Center Stage and L.A.'s Mark Taper Forum, ROZA began its month-long Broadway run in September 1987.
The musical, adapted from Romain Gary's novel "The Life Before Us," as well as the 1977 film MADAME ROZA, starred Georgia Brown as Madame Roza, a Polish-born former prostitute who, in an immigrant quarter of Paris, opens a temporary home for the children of other prostitutes.
The collaboration between Julian More and Gilbert Becaud played just 20 previews and 12 performances before closing at the Royale Theatre.
ROZA was not preserved with a cast recording and, like GRIND, has not yet received a major revival.
---
WHISTLE DOWN THE WIND (1996)
Andrew Lloyd Webber's WHISTLE DOWN THE WIND premiered in 1996 at D.C.'s National Theatre. Prince reunited with ALW eight years after they took Broadway by storm with PHANTOM.
Drawing inspiration from the 1961 film of the same name, the musical tells of a Southern preteen who find a mysterious fugitive in her barn. Believing him to be Jesus, she attempts to hide the man from the older townspeople, stirring two and a half hours of conflict between young and old.
WHISTLE DOWN THE WIND never made it to Broadway, canceling its 1997 opening night, and Prince's involvement ended after its D.C. run. The show did, however, enjoy a West End production shortly after, and toured the US in 2007.
Feinstein's/54 Below presented its New York City premiere in January 2016.
---
BOUNCE/ROAD SHOW (2003)
Like WHISTLE DOWN THE WIND, Stephen Sondheim and John Weidman's ROAD SHOW - once titled WISE GUYS, BOUNCE and at one point GOLD! - has yet to make it to Broadway.
Then titled WISE GUYS, the musical premiered at the New York Theatre Workshop in 1999. Prince joined the team for the 2003 Chicago production, when the show assumed the title BOUNCE, and stayed on board through its Kennedy Center run later that year.
His involvement ended there, but the musical continued to be rewritten and reworked, and premiered at The Public Theater in 2008, under its latest title ROAD SHOW. The production earned Sondheim an Obie Award for Music and Lyrics, as well as a Drama Desk for Outstanding Lyrics.
ROAD SHOW's plot revolves around Addison and Wilson Mizner, the real-life brothers who ventured across America throughout the early 20th century.
---
For more information on Prince of Broadway, opening Thursday, Aug. 24 at the Samuel J. Friedman Theatre, visit https://www.manhattantheatreclub.com.
Related Articles