Click Here for More Articles on NEW YORK CITY
Ariana DeBose, Jessica Vosk, Ali Stroker and More to Star in WOMEN OF NOTE and HOW THE LIGHT GETS IN at NYMF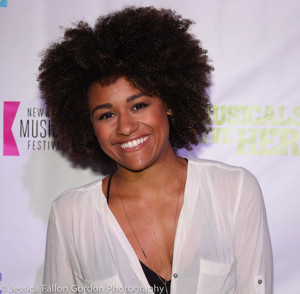 The New York Musical Festival (NYMF) has announced the performer lineup for two of their concert events: Women of Note, and How The Light Gets In; and a new panel discussion with Honest Accomplice Theatre, titled Expanding Representations of Gender Identity and Sexuality on Stage.
Women of Note celebrates female, queer and trans* artists who are changing the landscape of musical theater. Featuring dynamic sounds and incredible performers, this one-night-only concert event will showcase over 30 artists in two back-to-back performances. Women of Note will take place at Peter Jay Sharp Theater (416 W. 42nd Street) on Monday, July 24 with two separate lineups at 6:30 pm and 9:30 pm. The Women of Note concert series is curated by Karen Azenberg with staging by Shea Sullivan and Jess Glover serves as musical director, and is made possible in part by the generous support of the Mayor's Office of Media and Entertainment. Rachel Abrams line produces.
The Women of Note lineup for the 6:30 PM concert includes performances by Ariana DeBose, MJ Rodriguez, Courtney Bassett, Jessica Vosk, Ryann Redmond, Elizabeth A. Davis, Katie Thompson, Lynnette McCollum, Rachel Covey, Katerina Papacostas, Susie McCollum, , Luke Holloway, Hana Slevin, Sam Heldt, Britney Coleman, Sean Green, Jr., Cole Burden, Jane Bruce and more, singing the music of Jill Abramovitz, Brad Alexander, Barbara Anselmi, Scotty Arnold, Maggie-Kate Coleman, Elizabeth A. Davis, Ty Defoe, Mindi Dickstein, Zina Goldrich, Amanda Green, Marcy Heisler, Anna K. Jacobs, Sukari Jones, Kait Kerrigan, Tom Kitt, Ben Krauss, Erato A. Kremmyda, Melissa Li, Brian Lowdermilk, Lauren Marcus, Lauren Pritchard, Zoe Sarnak, Tidtaya Sinutoke, Jenny Stafford, Georgia Stitt, and Kit Yan.
The lineup for the second concert includes performances by Erin Davie, Samantha Massell, Kate Ferber, Aya Aziz, Grace Wall, Barrie Kreinik, Lizzie Klemperer, Samia Mounts, Janelle McDermoth, Jean Rohe, Amanda Savan, Zonya Love Johnson, Arica Jackson, Kenita Miller and more, singing the music of Aya Aziz, Lynn Ahrens, Simone Allen, Masi Asare, Carmel Dean, Tina deVaron, Kate Douglas, Jonathan Fadner, Kate Ferber, Stephen Flaherty, Ellen McLaughlin, Madeline Myers, Janet Noh, Diana Oh, Jean Rohe, Rona Siddiqui, Shaina Taub, Sarah Taylor Ellis, and Kathleen Wrinn.
How The Light Gets In is a new concert presentation of micro-musicals - 30 minutes or less - underwritten by NYMF in response to relevant text prompts, in an effort to create more space for arts-based civic engagement in our Festival. Directed by Jonathan McCrory (National Black Theatre) and co-curated by Zhailon Levingston (Broadway Advocacy Coalition), participating artists include: Ty Defoe and Tidtaya Sinutoke with WATER IS LIFE; Lelund Durond Thompson and Jason Michael Webb with ILATHI: THE GIFT; and Ryan Scott Oliver and Nessie Nankivell with OTHERBODY. A moderated conversation with artists discussing the process of developing their micro-musicals will follow the concert. How The Light Gets In will take place at Peter Jay Sharp Theater (416 W. 42nd Street) on Monday, July 31 at 8:00pm. How The Light Gets In is made possible in part by the generous support of The ASCAP Foundation and Jan Brandt.
Performers for How The Light Gets In include Carmen Jackson, Jack Fuller, Carlton Taylor, Jr., Juliana Desai Parsons, Abena Mensah Bonsu, Kenneth Lopez, Sean Green, Jr., Bethany Perkins, Miles Josephson, Ali Stroker, and Jada Temple.
NYMF also partners with Honest Accomplice Theatre to facilitate a panel discussion entitled Expanding Representations of Gender Identity and Sexuality on Stage. The conversation will explore where past musical productions' representations of gender and sexuality have been successful, what boundaries are still in place, and how we can continue to challenge the status quo in our storytelling. Moderated by Honest Accomplice co-founders Maggie Keenan-Bolger and Rachel Sullivan. Panelists will include casting director Rebecca Feldman, composer Brin Solomon, writer and performer EllaRose Chary, Stage & Candor founder Michelle Tse, playwright and composer Ty Defoe and actress Aneesh Sheth, with more to be announced. The panel will take place on Sunday, July 23rd at 1 PM. Tickets are $10.
Tickets for both concert events and the panel discussion are now on sale in addition to NYMF Passes. NYMF Passes offer discounted tickets, early ticket booking, and priority seating. Visit nymf.org/tickets for more information on both individual tickets and NYMF Passes.
The previously announced lineup of productions, readings, concerts and events for the 2017 NYMF includes A WALL APART; BACKBEARD: A NEW MUSICAL; THE BODY POLITIC; THE FOURTH MESSENGER; FREEDOM RIDERS: THE CIVIL RIGHTS MUSICAL; GENERATION ME; GEORAMA: AN AMERICAN PANORAMA TOLD ON 3 MILES OF CANVAS; PLAY LIKE A WINNER; TEMPLE OF THE SOULS; THE GOREE ALL-GIRL STRING BAND; BEN, VIRGINIA AND ME (THE LIBERACE MUSICAL); MOTHERFREAKINGHOOD! (MATERNAL DISCRETION ADVISED); ERROL AND FIDEL; NIGHT TIDE; NUMBERS NERDS; MISS BLANCHE TELLS IT ALL; MY DEAR WATSON; THE TIME MACHINE; ECO; FIREFLY IN THE NIGHT; KILLER WIGS FROM OUTER SPACE; PAINTING FAYE SALVEZ; PEDRO PAN; THE HOUSE OF Edgar Allen POE; WOODY - A NEW FAIRY TALE; THE CADAVER SYNOD: A POPE MUSICAL; PEACE, LOVE AND CUPCAKES; 2000 NICKELS: A VIETNAM LEGACY; CHRISTMAS IN HELL; FORA; #BLACKGIRLJOY: STAR JOHNSON IN CONCERT; CAMP WANATACHI: IN CONCERT; HAPPILY: THE MUSICAL; HOW THE LIGHT GETS IN: AN EVENING OF NEW AMERICAN MICRO-MUSICALS WORKS; QING CHENG/DARK CITY; THE LIGHT RAIL; THE SHAKESPEAREAN JAZZ SHOW; UNITED WE STAND (STUDENT LEADERSHIP PROGRAM); WOMEN OF NOTE; DORIan Gray; I AM, I WILL, I DO; THE DEMISE, Matthew McConaughey VS. THE DEVIL: AN AMERICAN MYTH and more.
For a full list of productions, events, and concerts, visit NYMF.org.
In 2017, The Village Voice joined as an Elite Level Sponsor, and NYMF partnered with Sobieski Rye Vodka as Official Liquor Sponsor, and Finca Hispana as Official Wine Sponsor of the 2017 Festival. NYMF is also working with Treehaus MiMA (470 W 42nd St, New York, NY 10036), as the Ticket Services and Audience Hub for the 2017 Festival.
Show-Score.com, a new website for audiences to discover live theater in New York City, will continue its partnership with NYMF in 2017, presenting the Show-Score "Best of Fest" Audience Prize, an award determined by audience vote. Show-Score.com is joined by returning award sponsor Play-By-Play.
In 2016, the Mayor's Office of Media and Entertainment joined as Partner, joining Elite Festival Sponsors, PRG, TheaterMania and Clear Channel Outdoor. In addition, global brand experience agency Jack Morton Worldwide partnered with NYMF in 2016 to provide pro bono branding support for the organization.
Founded in 1975, The ASCAP Foundation is a charitable organization dedicated to supporting American music creators and encouraging their development through music education, talent development and humanitarian programs. Included in these are songwriting workshops, grants, scholarships, awards, recognition and community outreach programs. The ASCAP Foundation is supported by contributions from ASCAP members and from music lovers throughout the United States.www.ascapfoundation.org
To keep up with NYMF, visit the NYMF website at NYMF.org where you can also subscribe to the NYMF Newsletter.
'Like' The New York Musical Festival Facebook page, follow us on Twitter @NYMF, Instagram at @NewYorkMusicalFestival and NYMusicalFest on Snapchat. Join the conversation by using the hashtag #musicalslivehere.
New York Musical Festival (NYMF) nurtures the creation, production, and public presentation of stylistically, thematically, and culturally diverse new musicals to ensure the future vitality of musical theater.
Now in its fourteenth year, the Festival is the premier musical theater event in the world. The preeminent site for launching new musicals and discovering new talent, the Festival provides an affordable platform for artists to mount professional productions that reach their peers, industry leaders, and musical theater fans. More than 97 Festival shows have gone on to productions on and Off-Broadway, in regional theaters in all 50 states, and in more than 20 countries worldwide. Festival alumni have received a wide array of awards including the Tony Award and the Pulitzer Prize. In 2013, NYMF received a special Drama Desk Award in recognition of its work "creating and nurturing new musical theater, ensuring the future of this essential art form."
New York Musical Festival is a 501(c) (3) not-for-profit organization. NYMF is supported, in part, by an award from the National Endowment for the Arts, and by public funds from The New York City Department of Cultural Affairs. For more information, visit www.nymf.org, nymf.org/womenofnote, nymf.org/howthelightgetsin and nymf.org/honestaccomplice.
Founded in 1975, The ASCAP Foundation is a charitable organization dedicated to supporting American music creators and encouraging their development through music education, talent development and humanitarian programs. Included in these are songwriting workshops, grants, scholarships, awards, recognition and community outreach programs. The ASCAP Foundation is supported by contributions from ASCAP members and from music lovers throughout the United States. www.ascapfoundation.org
Photo Credit: Jessica Fallon Gordon