Odenbear Theatre to Present FAITH HEALER Next Month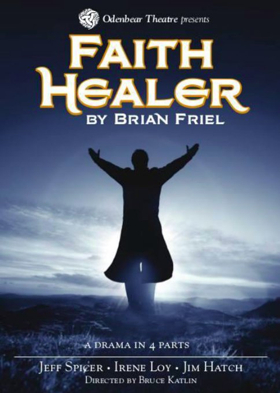 Faith Healer is an Irish drama produced and presented by the Odenbear Theatre Company and is about the life of the faith healer Francis Hardy as monologued through the shifting memories of Hardy, his wife, Grace, and stage manager, Teddy. Each character is seeking absolution of their perceived sins as they review their lives, all the while trying to battle and suppress their internal struggles. Does Frank Hardy possess actual healing powers? Can Grace, his wife, manage to hang on to the thin ribbon of her sanity? And does Teddy, Frank's stage manager, hold the truth about all the years that the trio spent together living out of a dirty van as they crisscrossed Ireland, Scotland and the UK applying Frank's healing skills in pubs and church basements?
The play is directed by Bruce Katlin. The cast consists of Jeff Spicer as Francis Hardy, Irene Loy as Grace, and Jim Hatch as Teddy.
The play consists of four parts, with a monologue making up each part. The monologues are given, in order, by Hardy himself; his wife, Grace; his manager, Teddy, and finally Hardy again." Approximate running time: 2:30 including an intermission.
Performance schedule for "FAITH HEALER" is October 19th-22nd - and the 28th-29th. Thursday, Friday, Saturday at 7:30 P.M. & Sunday at 4:00 P.M. at the Metta Theatre, 1470 Paseo Del Pueblo Norte, Taos, NM 87571.
To make reservations, please email: odenbeartheatre@gmail.com. All seats $20.
Additional performances will take place at the Toolshed in Dixon, NM Nov. 11th @ 7:00PM & Sun Nov. 12th @2PM. Penasco Theatre, Oct. 27th @7:30 PM and at the Steamplant Theatre, Salida, CO Nov. 25th @7:30 pm Nov 26th @ 2pm and at Teatro Paraguas, Santa Fe, NM Dec. 1st & 2nd @7:30 pm.