Now Playing Onstage in Phoenix - Week of 3/09/2014
View All Show Listings for Phoenix
Click Here to View BroadwayWorld.com Phoenix Calendar
LITTLE SHOP OF HORRORS
MOUNTAIN VIEW HIGH SCHOOL
3/12-3/14/2014
A down-and out skid row floral assistant becomes an overnight sensation when he discovers an exotic plant with a mysterious craving for fresh blood. Soon "Audrey II" grows into an ill-tempered, foul-mouthed, R&B-singing carnivore who offers him fame and fortune in exchange for feeding its growing appetite, finally revealing itself to be an alien creature poised for global domination! One of the longest-running Off-Broadway shows of all time, this affectionate spoof of 1950s sci-fi movies has become a household name, thanks to a highly successful film version and a score by the songwriting team of
Howard Ashman
and
Alan Menken
, who redefined the animated musical film with Disney's The Little Mermaid, Beauty and the Beast and Aladdin. Charming, tuneful and hilarious, with tongue firmly planted in cheek, LITTLE SHOP OF HORRORS never fails to entertain. A small cast, band and unit set make the other aspects of production a snap.
Click Here for More Information
THE 25TH ANNUAL PUTNAM COUNTY SPELLING BEE
CACTUS SHADOWS HIGH SCHOOL
3/6-3/15/2014
Six young people in the throes of puberty, overseen by grown-ups who barely managed to escape childhood themselves, learn that winning isn't everything and that losing doesn't necessarily make you a loser.THE 25TH ANNUAL PUTNAM COUNTY SPELLING BEE is a hilarious tale of overachievers' angst chronicling the experience of six adolescent outsiders vying for the spelling championship of a lifetime. The show's Tony Award winning creative team has created the unlikeliest of hit musicals about the unlikeliest of heroes: a quirky yet charming cast of outsiders for whom a spelling bee is the one place where they can stand out and fit in at the same time.
Click Here for More Information
AROUND THE WORLD IN 80 DAYS
Arizona Theatre Company
3/1-3/22/2014
The Temple of Music and Art:
Mark Brown
.
Click Here for More Information
DISNEY'S ALICE IN WONDERLAND JR
HIGHLAND LAKES SCHOOL
3/10-3/28/2014
Join Alice's madcap adventures in Wonderland as she chases the White Rabbit, races the Dodo Bird, gets tied up with the Tweedles, raps with a bubble-blowing Caterpillar, and beats the Queen of Hearts at her own game! Roles are plentiful, including three Cheshire Cats and dozens of other wonderfully wacky characters. Disney's ALICE IN WONDERLAND JR. is a fast-paced stage adaptation of featuring updated dialogue and new arrangements of such classic Disney songs as "I'm Late," "The Un-birthday Song" and "Zip-A-Dee-Doo-Dah."
Click Here for More Information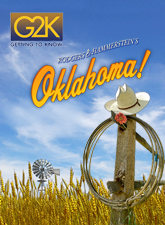 OKLAHOMA!
Hale Centre Theatre - Arizona
2/13-3/29/2014
The 'G2K' Getting To Know Series: Uniquely adapted musicals specifically for youth performers.
Rodgers & Hammerstein
's first collaboration remains, in many ways, their most innovative, having set the standards and established the rules of musical theatre still being followed today. Set in a Western Indian territory just after the turn of the century, the high-spirited rivalry between the local farmers and cowboys provides the colorful background against which Curly, a handsome cowboy, and Laurey, a winsome farm girl, play out their love story. Although the road to true love never runs smooth, with these two headstrong romantics holding the reins, love's journey is as bumpy as a surrey ride down a country road. That they will succeed in making a new life together we have no doubt, and that this new life will begin in a brand-new state provides the ultimate climax to the triumphant OKLAHOMA! In this adaptation for pre-high school students, the content has been edited to better suit younger attention spans, but all the elements that make this show a classic are still in place. You and your students will be enchanted by the timeless story and the dazzling score, while at the same time learning about theater and its production. PLEASE NOTE: All schools wishing to peruse or perform a G2K musical should apply through theMusic by Rodgers, Richard; Book and Lyrics by
Oscar Hammerstein
II; Based on the play GREEN GROW THE LILACS by
Lynn Riggs
; Original Dances by
Agnes de Mille
Click Here for More Information
FIDDLER ON THE ROOF
THEATRE WEST
3/14-3/30/2014
In the little village of Anatevka, Tevye, a poor dairyman, tries to instill in his five daughters the traditions of his tight-knit Jewish community in the face of changing social mores and the growing anti-Semitism of Czarist Russia. Rich in historical and ethnic detail, FIDDLER ON THE ROOF has touched audiences around the world with its humor, warmth and honesty. The universal theme of tradition cuts across barriers of race, class, nationality and religion, leaving audiences crying tears of laughter, joy and sadness.The show features a star turn in Tevye, among the most memorable roles in musical theatre. Original director/choreographer
Jerome Robbins
' staging is legendary, and available from MTI in a comprehensive choreographic guide. Its celebrated score by
Jerry Bock
and
Sheldon Harnick
, features songs loved the world over: "Sunrise, Sunset," "If I Were A Rich Man" and "Matchmaker," to name a few. FIDDLER ON THE ROOF is simply Broadway at its very best.
Click Here for More Information
PIPPIN
PHOENIX THEATRE
3/5-3/30/2014
Once upon a time, a young prince longed to discover the secret of true happiness and fulfillment. He sought it in the glories of the battlefield, the temptations of the flesh and the intrigues of political power (after disposing of his father King Charlemagne the Great). In the end, he found it in the simple pleasures of home and family. PIPPIN is a hip, tongue-in-cheek, anachronistic fairy tale that captivated Broadway audiences and continues to appeal to the young at heart everywhere (the show has become a staple on high school and college campuses). The energetic pop-influenced score by three-time Oscar®-winning composer/lyricist
Stephen Schwartz
(GODSPELL, CHILDREN OF EDEN, and the animated films Pocahontas, The Hunchback Of Notre Dame and The Prince Of Egypt) bursts with one showstopping number after another, from soaring ballads to infectious dance numbers. Featuring a strong ensemble cast and a show-stealing song-and-dance narrator, PIPPIN is equally effective as an intimate, black-box production (as envisioned by the authors) or as original director/choreographer Bob Fosse's splashy, dance-driven spectacle, which included some of the most brilliant staging in Broadway history.
Click Here for More Information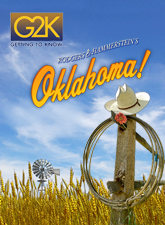 OKLAHOMA!
University of Arizona
3/9-4/6/2014
The 'G2K' Getting To Know Series: Uniquely adapted musicals specifically for youth performers.
Rodgers & Hammerstein
's first collaboration remains, in many ways, their most innovative, having set the standards and established the rules of musical theatre still being followed today. Set in a Western Indian territory just after the turn of the century, the high-spirited rivalry between the local farmers and cowboys provides the colorful background against which Curly, a handsome cowboy, and Laurey, a winsome farm girl, play out their love story. Although the road to true love never runs smooth, with these two headstrong romantics holding the reins, love's journey is as bumpy as a surrey ride down a country road. That they will succeed in making a new life together we have no doubt, and that this new life will begin in a brand-new state provides the ultimate climax to the triumphant OKLAHOMA! In this adaptation for pre-high school students, the content has been edited to better suit younger attention spans, but all the elements that make this show a classic are still in place. You and your students will be enchanted by the timeless story and the dazzling score, while at the same time learning about theater and its production. PLEASE NOTE: All schools wishing to peruse or perform a G2K musical should apply through theMusic by Rodgers, Richard; Book and Lyrics by
Oscar Hammerstein
II; Based on the play GREEN GROW THE LILACS by
Lynn Riggs
; Original Dances by
Agnes de Mille
Click Here for More Information
View All Show Listings for Phoenix
Click Here to View BroadwayWorld.com Phoenix Calendar