Now Playing Onstage in Oklahoma - Week of 7/28/2013
View All Show Listings for Oklahoma
Click Here to View BroadwayWorld.com Oklahoma Calendar
9 TO 5: THE MUSICAL
The Poteet Theatre
7/12-8/4/2013
Pushed to the boiling point by their boss, three female co-workers concoct a plan to get even with the sexist, egotistical, lying, hypocritical bigot they call their boss. They conspire to take control of their company and learn there's nothing they can't do -- even in a man's world. Set in the late 1970s, 9 TO 5: THE MUSICAL is a hilarious story of friendship and revenge in the Rolodex era. Outrageous, thought-provoking, and even a little romantic, 9 TO 5: THE MUSICAL is about teaming up and taking care of business.
Click Here for More Information
URINETOWN THE MUSICAL
Sooner Theatre
8/1-8/4/2013
One of the most uproariously funny musicals in recent years, URINETOWN is a hilarious tale of greed, corruption, love, and revolution in a time when water is worth its weight in gold. In a Gotham-like city, a terrible water shortage, caused by a 20-year drought, has led to a government-enforced ban on private toilets. The citizens must use public amenities, regulated by a single malevolent company that profits by charging admission for one of humanity's most basic needs. Amid the people, a hero decides he's had enough, and plans a revolution to lead them all to freedom! Inspired by the works of
Bertolt Brecht
and
Kurt Weill
, URINETOWN is an irreverently humorous satire in which no one is safe from scrutiny. Praised for reinvigorating the very notion of what a musical could be, URINETOWN catapults the "comedic romp" into the new millennium with its outrageous perspective, wickedly modern wit, and sustained ability to produce gales of unbridled laughter. .
Click Here for More Information
BIG RIVER
Civic Center Music Hall - Thelma E. Gaylord Performing Arts Theatre
8/6-8/10/2013
The legendary antics of Huck and Jim! Based on
Mark Twain
's novel Adventures of Huckleberry Finn, see the legendary antics of Huck and Jim in BIG RIVER. The bluegrass and country style tunes will have you tapping your toes as they journey down the Mississippi.
Click Here for More Information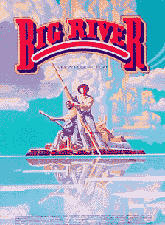 BIG RIVER
Lyric Theatre of Oklahoma
8/6-8/11/2013
Twain's timeless classic sweeps us down the mighty Mississippi as the irrepressible Huck Finn helps his friend Jim, a slave, escape to freedom at the mouth of the Ohio River. Their adventures along the way are hilarious, suspenseful and heartwarming, bringing to life your favorite characters from the novel-the Widow Douglas and her stern sister,
Miss Watson
; the uproarious King and Duke, who may or may not be as harmless as they seem; Huck's partner in crime,
Tom Sawyer
, and their rowdy gang of pals; Huck's drunken father, the sinister Pap Finn; the lovely Mary Jane Wilkes and her trusting family. Propelled by an award winning score from
Roger Miller
, the king of country music, this jaunty journey provides a brilliantly theatrical celebration of pure Americana.Music by
Roger Miller
; Lyrics by
Roger Miller
; Book by
William Hauptman
; Adapted from the novel by
Mark Twain
Click Here for More Information
TOUR: BEYOND THE RAINBOW
History Theatre
7/19-8/11/2013
William Randall
Beard; dir: Anya Kremenetsky, Ron Peluso.
Click Here for More Information
View All Show Listings for Oklahoma
Click Here to View BroadwayWorld.com Oklahoma Calendar