Now Playing Onstage in Louisville - Week of 4/27/2014
View All Show Listings for Louisville
Click Here to View BroadwayWorld.com Louisville Calendar
GOSSAMER
Lexington Children's Theatre
4/18-4/30/2014
Late at night, when stories fill your sleep, the dream-giver is near. Enchanting your slumber with sweet dreams of memories past, they flutter from door to door spreading their shimmering light over the mortal world. But when one young giver encounters a boy fraught with tarnished memories, she must find a way to save the boy from falling victim to impending nightmares. Written by Lois Lowry, author of The Giver, recall the power of the past and the promise of tomorrow with this tender tale of new beginnings.
Click Here for More Information
SHREK
NEWPORT CENTRAL CATHOLIC HS
4/25-5/3/2014
SHREK THE MUSICAL, based on the Oscar® winningDreamWorks film that started it all, brings the hilarious story ofeveryone's favorite ogre to dazzling new life on the stage. Ina faraway kingdom turned upside down, things get ugly when an unseemlyogre "" not a handsome prince "" shows up to rescue a feisty princess.Throw in a donkey who won't shut up, a bad guy with a SHORT temper, acookie with an attitude and over a dozen other fairy tale misfits, andyou've got the kind of mess that calls for a real hero. Luckily,there's one on hand...and his name is Shrek. Full of all-new songs, great dancing and breathtaking scenery, SHREK THE MUSICAL is part romance, part twisted fairy tale and all irreverent fun for everyone!**AVAILABLE FOR LICENSES FOR PERFORMANCES BEGINNING JUNE 2013**
Click Here for More Information
THE ADDAMS FAMILY
Dixie Heights High School
4/30-5/3/2014
Click Here for More Information
THE APPLE TREE
BACK ALLEY MUSICALS
5/1-5/4/2014
THE APPLE TREE is a unique evening of three one-act musicals about men, women and a little thing called temptation from the songwriting team of FIDDLER ON THE ROOF and SHE LOVES ME. The first act, "The Diary Of Adam And Eve," is a quirky, touching spin on the tale of the world's first couple, adapted from
Mark Twain
's Extracts From Adam's Diary. The second act, "The Lady Or The Tiger?," explores the fickleness of love in a rock and roll fable set in a mythical barbarian kingdom. Finally, "Passionella" is based on
Jules Feiffer
's offbeat Cinderella-story about a chimney sweep whose dreams of being a "glamorous movie star" nearly sabotage her one chance for true love.Witty, tuneful and utterly charming, these fast-paced, tongue-in-cheek musical miniatures may be presented separately or in any combination, to fill out a theatrical evening. Each is modest in production requirements and filled with the warmth and humanity that is the hallmark of Harnick and Bock.
Click Here for More Information
LITTLE WOMEN
LAFAYETTE HIGH SCHOOL
5/2-5/4/2014
Based on
Louisa May Alcott
's own family experiences (and novel), LITTLE WOMEN, follows the adventures of Jo, Meg, Beth and Amy March as they grow up in Civil War America. The beloved story of the March sisters is timeless and deals with issues as relevant today as when they were written. Now, this wonderful narrative has been brought to life as an exhilarating new musical filled with glorious music, dancing and heart. LITTLE WOMEN embodies the complete theatrical experience, guaranteeing a night filled with laughter, tears, and a lifting of the spirit. This powerful score soars with the sounds of personal discovery, heartache and hope -- the sounds of a young America finding its voice. In years to come, we are sure that hundreds of productions by schools and theatres throughout the world will make this stage adaptation of the American classic novel a classic musical theatre treasure in its own right.
Click Here for More Information
DISNEY'S PETER PAN JR
BRACKEN COUNTY MIDDLE SCHOOL
5/2-5/4/2014
Click Here for More Information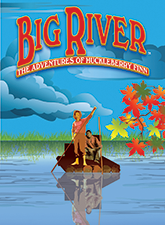 BIG RIVER
Woodford Theatre
4/25-5/11/2014
Twain's timeless classic sweeps us down the mighty Mississippi as the irrepressible Huck Finn helps his friend Jim, a slave, escape to freedom at the mouth of the Ohio River. Their adventures along the way are hilarious, suspenseful and heartwarming, bringing to life your favorite characters from the novel-the Widow Douglas and her stern sister,
Miss Watson
; the uproarious King and Duke, who may or may not be as harmless as they seem; Huck's partner in crime,
Tom Sawyer
, and their rowdy gang of pals; Huck's drunken father, the sinister Pap Finn; the lovely Mary Jane Wilkes and her trusting family. Propelled by an award winning score from
Roger Miller
, the king of country music, this jaunty journey provides a brilliantly theatrical celebration of pure Americana.Music by
Roger Miller
; Lyrics by
Roger Miller
; Book by
William Hauptman
; Adapted from the novel by
Mark Twain
Click Here for More Information
9 TO 5, THE MUSICAL
FOOTLIGHTERS INC.
5/1-5/17/2014
9 TO 5: THE MUSICAL, with music and lyrics by
Dolly Parton
and book by
Patricia Resnick
, is based on the 1980 hit movie Nine to Five.Pushed to the boiling point by their boss, three female co-workers concoct a plan to get even with the sexist, egotistical, lying, hypocritical bigot they call their boss. They conspire to take control of their company and learn there's nothing they can't do -- even in a man's world. Set in the late 1970s, 9 TO 5: THE MUSICAL is a hilarious story of friendship and revenge in the Rolodex era. Outrageous, thought-provoking, and even a little romantic, 9 TO 5: THE MUSICAL is about teaming up and taking care of business.This high-energy show is ideal for a large, mostly female cast. With its jubilant score and easily relatable characters, 9 TO 5: THE MUSICAL is the perfect show for community theaters or high schools.
Click Here for More Information
View All Show Listings for Louisville
Click Here to View BroadwayWorld.com Louisville Calendar