Now Playing Onstage in Hawaii - Week of 4/06/2014
View All Show Listings for Hawaii
Click Here to View BroadwayWorld.com Hawaii Calendar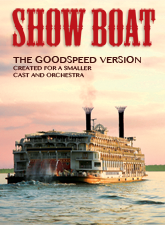 SHOW BOAT (GOODSPEED VERSION)
Diamond Head Theatre
3/28-4/13/2014
Created for a Reduced Cast and Orchestra. Spanning the years from 1880 to 1927, this lyrical masterpiece concerns the lives, loves and heartbreaks of three generations of show folk on the Mississippi, in Chicago and on Broadway (and their life-long friends). The primary plot follows Magnolia, the naive daughter of the show boat captain, as she marries a gambler and moves with him to Chicago. His gambling continues as his debts compound, and soon he deserts her and their young daughter. A subplot concerns the potential arrest of Magnolia's selfless best friend on charges of miscegenation when it's discovered that she is mulatto, and her subsequent downward spiral into despair. The passing of time reunites Magnolia and her now-grown daughter with her family on the show boat as well as with her husband, who eventually returns offering a hopeful second chance at familial fulfillment. This Production Originally produced by
Goodspeed Musicals
,
Michael P. Price
, Executive Director, Directed by
Rob Ruggiero
. Music by
Jerome Kern
; Book and Lyrics by
Oscar Hammerstein
II; Based on the novel `Show Boat` by
Edna Ferber
Click Here for More Information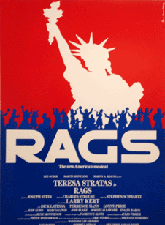 RAGS
Chaminade University of Honolulu
4/4-4/13/2014
With great passion and humor, the story is told of Rebecca, a naive Russian immigrant arriving at Ellis Island with her young son, and their struggle to make a life for themselves in the New World. She goes to work in a sweatshop while searching for her husband who has preceded them to America. When they are finally reunited she discovers that his assimilation is not entirely for the best. His desire to change their name and strip away their ethnic culture so as to fit in with his cronies distresses Rebecca, whose gradual enlightenment leads her into union activities against the very men her husband so hopes to impress. Subplots concern an elderly immigrant, his daughter, and their respective romances, one of which ends tragically. This sweeping saga of awakenings and disappointments, of greed and power, of strength and love is as deeply moving and inspirational a musical as you could hope to present.Book by
Joseph Stein
; Music by
Charles Strouse
; Lyrics by
Stephen Schwartz
Click Here for More Information
MISS SAIGON
UNIV OF HAWAII - HILO
4/10-4/19/2014
A classic love story is brought up-to-date in one of the most stunning theatrical spectacles of all time. In MISS SAIGON,
Alain Boublil
andClaude-Michel Schönberg (the creators of LES MISÉRABLES), along with
Richard Maltby
,Jr., bring Puccini's Madame Butterfly to the modern world in a moving testament to the human spirit and a scathing indictment of the tragedies of war. In the turmoil of the Vietnam War, an American soldier and a Vietnamese girl fall in love, only to be separated during the fall of Saigon. Their struggles to find each other over the ensuing years ends in tragedy for her and a fighting chance for the child he never knew he had. An international sensation, MISS SAIGON is an epic, daring pop opera that is universal in its emotional power even as it deals with controversial, contemporary issues. Its sung-through pop-inflected score gives a multi-ethnic cast of strong pop singers an opportunity to shine, in showstopping numbers like "I Still Believe," "Why God Why?" and "The American Dream." Meanwhile, its fluid cinematic structure gives directors and designers a field day. Raw and uncompromising, MISS SAIGON is an intensely personal story of the losses we suffer and the sacrifices we make in a world gone mad.
Click Here for More Information
THE VERY PERSISTENT GAPPERS OF FRIP
Kennedy Theatre
4/11-4/20/2014
Come get GAPPED! What do you do when hundreds of little orange monsters shriek with delight at the sight of your family's goat? This tuneful, hilarious and wildly theatrical musical for the young at heart is presented by quick-changing actors and a bevy of bright, orange, gleefully-squealing, goat-loving puppets...all accompanied by a toy piano! Based on an acclaimed book, all ages will love this story of how one person with brains and determination can make a difference.
Click Here for More Information
COCKADOODLEDOO
Kumu Kahua Theatre
3/27-4/27/2014
In a small rural town where "nothing interesting happens," a chunk of meteor lands in farmer Templeton's chicken coop and changes everything - including the chickens. His friend Ziggy, to whom he sells a souvenir chunk, undergoes a bizarre transformation and is quarantined by the Feds. But this is only part of Yokomori's surrealistic tale, which echoes Beckett's Waiting for Godot and Ionesco's Rhinoceros, and introduces a host of odd characters including an evil ventriloquist, a masochistic postman, a mercenary wannabe and then some.
Click Here for More Information
GRINDS
Honolulu Theatre for Youth
4/4-5/10/2014
Why do we eat what we eat? Where do we grow what we eat? Why does that even matter? This musical romp through Hawaii's favorite subject mixes humor, history and science to explore our community's relationship with food. Built through extensive conversations with local farmers, chefs and grandmothers, this is essential viewing for anyone who eats.
Click Here for More Information
GRINDS: THE STORY OF FOOD IN HAWAII
Honolulu Theatre For Youth
4/4-5/10/2014
dir:
Eric Johns
on.World Premiere
Click Here for More Information
View All Show Listings for Hawaii
Click Here to View BroadwayWorld.com Hawaii Calendar