Now Playing Onstage in Boise - Week of 8/11/2013
View All Show Listings for Boise
Click Here to View BroadwayWorld.com Boise Calendar
SEVEN BRIDES FOR SEVEN BROTHERS
STARLIGHT MOUNTAIN THEATRE
5/31-8/24/2013
"Goin' courting"ť has never been as much fun as in this rip-roaring stage version of the popular MGM movie, adapted by
Lawrence Kasha
and
David Landay
. Set in Oregon in 1850, SEVEN BRIDES FOR SEVEN BROTHERS tells the story of Millie, a young bride living in the 1850's Oregon wilderness. Her plan to civilize and marry off her six rowdy brothers-in-law to ensure the success of her own marriage backfires when the brothers, in their enthusiasm, kidnap six women from a neighboring town to be their brides. Bursting with the rambunctious energy of the original film, SEVEN BRIDES FOR SEVEN BROTHERS is all boisterous fun and romance that harkens back to the glory days of the movie musical.SEVEN BRIDES FOR SEVEN BROTHERS is a glorious romp suitable for middle school, high school, and community theatre productions. This show's large ensemble is a perfect opportunity to showcase many performers of all types.
Click Here for More Information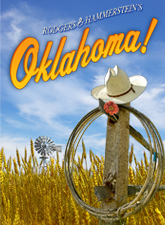 OKLAHOMA!
Starlight Mountain Theatre
6/29-8/24/2013
Rodgers & Hammerstein's first collaboration remains, in many ways, their most innovative, having set the standards and established the rules of musical theatre still being followed today. Set in a Western Indian territory just after the turn of the century, the high-spirited rivalry between the local farmers and cowboys provides the colorful background against which Curly, a handsome cowboy, and Laurey, a winsome farm girl, play out their love story. Although the road to true love never runs smooth, with these two headstrong romantics holding the reins, love's journey is as bumpy as a surrey ride down a country road. That they will succeed in making a new life together we have no doubt, and that this new life will begin in a brand-new state provides the ultimate climax to the triumphant OKLAHOMA!Music by Rodgers, Richard; Book by
Oscar Hammerstein
II; Lyrics by
Oscar Hammerstein
II; Original Dances by
Agnes De Mille
; Based on the play `Green Grow the Lilacs` by
Lynn Riggs
Click Here for More Information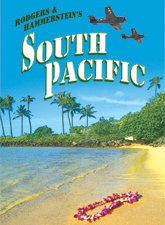 SOUTH PACIFIC
Starlight Mountain Theatre
7/13-8/24/2013
Set in an island paradise during World War II, two parallel love stories are threatened by the dangers of prejudice and war. Nellie, a spunky nurse from Arkansas, falls in love with a mature French planter, Emile. Nellie learns that the mother of his children was an island native and, unable to turn her back on the prejudices with which she was raised, refuses Emile's proposal of marriage. Meanwhile, the strapping Lt. Joe Cable denies himself the fulfillment of a future with an innocent Tonkinese girl with whom he's fallen in love out of the same fears that haunt Nellie. When Emile is recruited to accompany Joe on a dangerous mission that claims Joe's life, Nellie realizes that life is too short not to seize her own chance for happiness, thus confronting and conquering her prejudices.Music by Rodgers, Richard; Lyrics by
Oscar Hammerstein
II; Book by
Oscar Hammerstein
II &
Joshua Logan
; Adapted from the Pulitzer Prize winning novel
Click Here for More Information
DISNEY'S THE LITTLE MERMAID JR
AMERICAN FALLS
Theatre Guild
8/16-8/24/2013
In a magical kingdom fathoms below, the beautiful young mermaid Ariel longs to leave her ocean home to live in the world above. But first, she'll have to defy her father King Triton, make a deal with the evil sea witch Ursula, and convince Prince Eric that she's the girl with the enchanting voice. Adapted from Disney's 2008 Broadway production, Disney's THE LITTLE MERMAID JR. features the hit songs "Part of Your World," "She's in Love," and the Oscar-winning "Under the Sea."
Click Here for More Information
9 TO 5, THE MUSICAL
COEUR D'ALENE SUMMER THEATRE
8/15-8/25/2013
9 TO 5: THE MUSICAL, with music and lyrics by
Dolly Parton
and book by
Patricia Resnick
, is based on the 1980 hit movie Nine to Five.Pushed to the boiling point by their boss, three female co-workers concoct a plan to get even with the sexist, egotistical, lying, hypocritical bigot they call their boss. They conspire to take control of their company and learn there's nothing they can't do -- even in a man's world. Set in the late 1970s, 9 TO 5: THE MUSICAL is a hilarious story of friendship and revenge in the Rolodex era. Outrageous, thought-provoking, and even a little romantic, 9 TO 5: THE MUSICAL is about teaming up and taking care of business.This high-energy show is ideal for a large, mostly female cast. With its jubilant score and easily relatable characters, 9 TO 5: THE MUSICAL is the perfect show for community theaters or high schools.
Click Here for More Information
LES MISERABLES
MUSIC THEATRE OF IDAHO
8/15-8/25/2013
This international smash-hit may be the most popular musical in the world. In 19th century France, Jean Valjean is released from 19 years of unjust imprisonment, but finds nothing in store for him but mistrust and mistreatment. He breaks his parole in hopes of starting a new life, initiating a life-long struggle for redemption as he is relentlessly pursued by police inspector Javert, who refuses to believe Valjean can change his ways. Finally, during the Paris student uprising of 1832, Javert must confront his ideals after Valjean spares his life and saves that of the student revolutionary who has captured the heart of Valjean's adopted daughter. His world-view shattered, Javert commits suicide, and Valjean at last attains the peace he has sought for so long.Epic, grand and uplifting, LES MISÉRABLES packs an emotional wallop that has thrilled audiences all over the world. The sung-through pop opera is ideal for a cast of exceptional singers and overflows with melodies that are already standards. A spectacle on Broadway and in London, LES MISÉRABLES is equally effective with a minimal set; it is its powerful affirmation of the human spirit that has made LES MISÉRABLES a popular masterpiece.
Click Here for More Information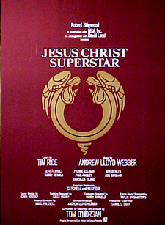 KING RICHARD III
Idaho Shakespeare Festival
8/9-8/31/2013
William Shakespeare
; dir:
Joseph Hanreddy
.
Click Here for More Information
SWEENEY TODD
IDAHO SHAKESPEARE FESTIVAL
7/5-9/1/2013
The rare instance of a musical thriller,
Stephen Sondheim
and
Hugh Wheeler
's chilling, suspenseful, heart-pounding masterpiece of murderous barber-ism and culinary crime tells the infamous tale of the unjustly exiled barber who returns to 19th century London seeking revenge against the lecherous judge who framed him and ravaged his young wife. His thirst for blood soon expands to include his unfortunate customers, and the resourceful proprietress of the pie shop downstairs soon has the people of London lining up in droves with her mysterious new meat pie recipe!Sophisticated, macabre, visceral and uncompromising, SWEENEY TODD nevertheless has a great sense of fun, mixing intense drama with howlingly funny moments of dark humor: audiences find themselves laughing hysterically one moment and gasping in surprise the next.At the show's core is a challenging score of epic proportion with two tasty tour de force roles in Sweeney and his comic female accomplice Mrs. Lovett. Although it has been extremely popular with opera companies and in concert presentation, SWEENEY TODD is equally effective as an intimate chamber musical.
Click Here for More Information
MARY POPPINS
COEUR D'ALENE SUMMER THEATRE
8/15-9/25/2013
Click Here for More Information
View All Show Listings for Boise
Click Here to View BroadwayWorld.com Boise Calendar