Now Playing Onstage in Birmingham - Week of 2/16/2014
February 16
10:02 AM 2014
View All Show Listings for Birmingham
Click Here to View BroadwayWorld.com Birmingham Calendar
SEUSSICAL
ARAB HIGH SCHOOL
2/13-2/22/2014
Now one of the most performed shows in America, SEUSSICAL is a fantastical, magical, musical extravaganza! Tony winners
Lynn Ahrens
and
Stephen Flaherty
(LUCKY STIFF, MY FAVORITE YEAR, ONCE ON THIS ISLAND, and RAGTIME) have lovingly brought to life all of our favorite
Dr. Seuss
characters, including Horton the Elephant, The Cat in the Hat, Gertrude McFuzz, lazy Mayzie, and a little boy with a big imagination--Jojo. The colorful characters transport us from the Jungle of Nool to the Circus McGurkus to the invisible world of the Whos.The Cat in the Hat tells the story of Horton, an elephant who discovers a speck of dust containing Whos, including Jojo, a Who child sent off to military school for thinking too many "thinks." Horton faces a double challenge--not only must he protect the Whos from a world of naysayers and dangers, but he must guard an abandoned egg, left to his care by the irresponsible Mayzie La Bird. Although Horton faces ridicule, danger, kidnapping, and a trial, the intrepid Gertrude McFuzz never loses faith in him. Ultimately, the powers of friendship, loyalty, family, and community are challenged and emerge triumphant.SEUSSICAL is fun for the whole family! Performers of all ages will be excited to portray the characters from the familiar
Dr. Seuss
fables. This musical provides wonderful creative opportunities for set, lighting, and costume design.More Ahrens and FlahertyFor complet
Click Here for More Information
FLIGHT OF THE LAWNCHAIR MAN
Faulkner University Theatre Dept.
2/6-2/22/2014
Click Here for More Information
9 TO 5, THE MUSICAL
AUBURN UNIVERSITY/DEPARTMENT OF THEATRE
2/20-3/2/2014
9 TO 5: THE MUSICAL, with music and lyrics by
Dolly Parton
and book by
Patricia Resnick
, is based on the 1980 hit movie Nine to Five.Pushed to the boiling point by their boss, three female co-workers concoct a plan to get even with the sexist, egotistical, lying, hypocritical bigot they call their boss. They conspire to take control of their company and learn there's nothing they can't do -- even in a man's world. Set in the late 1970s, 9 TO 5: THE MUSICAL is a hilarious story of friendship and revenge in the Rolodex era. Outrageous, thought-provoking, and even a little romantic, 9 TO 5: THE MUSICAL is about teaming up and taking care of business.This high-energy show is ideal for a large, mostly female cast. With its jubilant score and easily relatable characters, 9 TO 5: THE MUSICAL is the perfect show for community theaters or high schools.
Click Here for More Information
AIN'T MISBEHAVIN'
AUBURN UNIVERSITY MONTGOMERY
2/20-3/2/2014
The outrageously prodigious comic and musical soul of 1930's Harlem lives on in this rollicking, swinging, finger-snapping revue that is still considered one of Broadway's best. The inimitable Thomas "Fats" Waller rose to international fame during the Golden Age of the Cotton Club, honky tonk dives along Lenox Avenue, rent parties, stride piano players and that jumpin' new beat, Swing. Although not quite a biography, AIN'T MISBEHAVIN' evokes the delightful humor and infectious energy of this American original as a versatile cast struts, strums and sings the songs he made famous in a career that ranged from uptown clubs to downtown Tin Pan Alley to Hollywood and concert stages in the U.S., Canada and Europe.Assembled under the expert eye of director/lyricist
Richard Maltby
, Jr., AIN'T MISBEHAVIN' is one of the most popular, well-crafted revues of all time. Sometimes sassy, sometimes sultry, with moments of devastating beauty, AIN'T MISBEHAVIN' is simply unforgettable.
Click Here for More Information
TWENTY SEVEN
Alabama Shakespeare Festival
2/14-3/2/2014
The Octagon Stage:
Edward Morgan
.
Click Here for More Information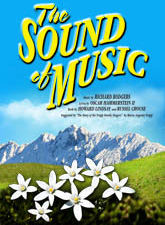 THE SOUND OF MUSIC
Millbrook Community Players
2/20-3/8/2014
The final collaboration between Rodgers & Hammerstein was destined to become the world's most beloved musical. When a postulant proves too high-spirited for the religious life, she is dispatched to serve as governess for the seven children of a widowed naval Captain. Her growing rapport with the youngsters, coupled with her generosity of spirit, gradually captures the heart of the stern Captain, and they marry. Upon returning from their honeymoon they discover that Austria has been invaded by the Nazis, who demand the Captain's immediate service in their navy. The family's narrow escape over the mountains to Switzerland on the eve of World War II provides one of the most thrilling and inspirational finales ever presented in the theatre. The motion picture version remains the most popular movie musical of all time.Music by Rodgers, Richard; Lyrics by
Oscar Hammerstein
II; Book by
Howard Lindsay
&
Russel Crouse
; Suggested by `The
Trapp Family Singers
` by
Maria Augusta Trapp
Click Here for More Information
View All Show Listings for Birmingham
Click Here to View BroadwayWorld.com Birmingham Calendar