Click Here for More Articles on SHAKESPEARE SPOTLIGHT
Photo Flash: Dame Maggie Smith Opens SHAKESPEARE'S DEAD Exhibition at Oxford
Dame Maggie Smith visited the University of Oxford's Bodleian Libraries yesterday to open SHAKESPEARE'S DEAD, the Libraries' summer exhibition. The celebrated actress joined donors and special guests, including renowned playwright Alan Bennett and Lord Patten of Barnes, the Chancellor of the University of Oxford, at the Bodleian's newly-refurbished Weston Library for the official opening of the exhibition, which runs until 18 September. Scroll down for photos from the opening!
SHAKESPEARE'S DEAD adds an unusual twist to this year's celebrations of the 400th anniversary of Shakespeare's death. The exhibition reveals the unique ways in which Shakespeare brings dying, death and the dead to life. Highlights from the Bodleian's collections, such as a copy of the First Folio and some of the earliest printed editions of the Bard's works, are displayed alongside contemporary interpretations including an animated film created from schoolchildren's drawings and a tryptic by contemporary artist Tom de Freston.
During the opening event, the Chancellor of the University, Lord Patten of Barnes presented Dame Maggie Smith with the Bodley Medal, the Libraries' highest honour.
Richard Ovenden, Bodley's Librarian said: 'Dame Maggie Smith is one of the most acclaimed and respected actors of her generation and has won many awards. The Bodleian is delighted to present her with another - the Bodley Medal. As someone who grew up in Oxford and acted with Oxford University Dramatic Society before going on to her stellar international career, we wish to recognise her outstanding contribution to the performing arts.'
Dame Maggie Smith said: 'I feel very honoured to be awarded the Bodley Medal and to join such a distinguished list of previous recipients. It also a great privilege to open this unique exhibition marking the anniversary of Shakespeare's death.'
One of Britain's most celebrated actresses, Smith has led a distinguished and wide-ranging acting career on stage, in film and in television over more than six decades. She has starred in more than 50 films, including Oscar-winning performances in The Prime of Miss Jean Brodie and California Suite, and has earned a vast array of honours including seven BAFTA awards, two Golden Globes and two Emmys. In recent years, Smith is best known for her role as Professor Minerva McGonagall in the Harry Potter films and Violet Crawley, Dowager Countess of Grantham in the television drama Downton Abbey.
No stranger to Shakespeare, Smith made her professional stage debut when she played Viola in an Oxford University Dramatic Society production ofTwelfth Night in 1952. In the following decades she appeared in numerous Shakespeare productions at the Royal National Theatre and the Stratford Shakespeare Festival in Stratford, Ontario, and earned her first Oscar nomination for her performance as Desdemona in the 1965 film version of Othello.
The Bodley Medal is awarded by the University of Oxford's Bodleian Libraries to individuals who have made outstanding contributions to the worlds in which the Bodleian is active including literature, culture, science and communication. Past winners include classicist Mary Beard, physicist Stephen Hawking, stage and film director Sir Nicholas Hytner, novelist Dame Hilary Mantel, and writer and actor Alan Bennett.
SHAKESPEARE'S DEAD runs until 18 September in the Bodleian's Weston Library. Admission is free. The exhibition is accompanied by a programme of free talks and events. For more information, visit www.bodleian.ox.ac.uk/news/2016/apr-14.
A publication by the exhibition curators Professor Simon Palfrey and Professor Emma Smith, SHAKESPEARE'S DEAD, is available to from the Bodleian Libraries shop and from the online shop.
Photo Credit: John Cairns

Richard Ovenden, Maggie Smith and Lord Patten of Barnes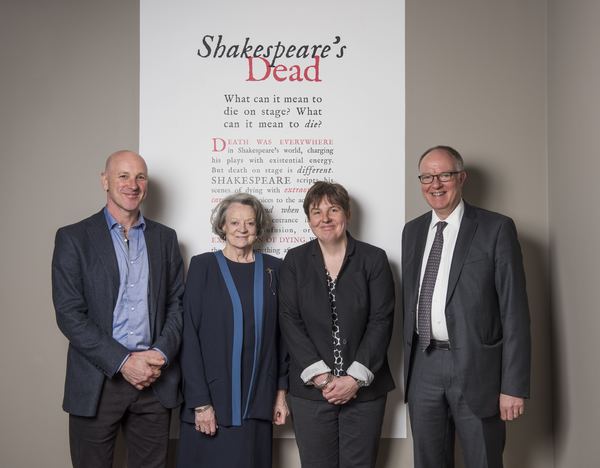 Simon Palfrey, Maggie Smith, Emma Smith and Richard Ovenden

Maggie Smith and Richard Ovenden

Maggie Smith at SHAKESPEARE'S DEAD opening

Lord Patten of Barnes and Maggie Smith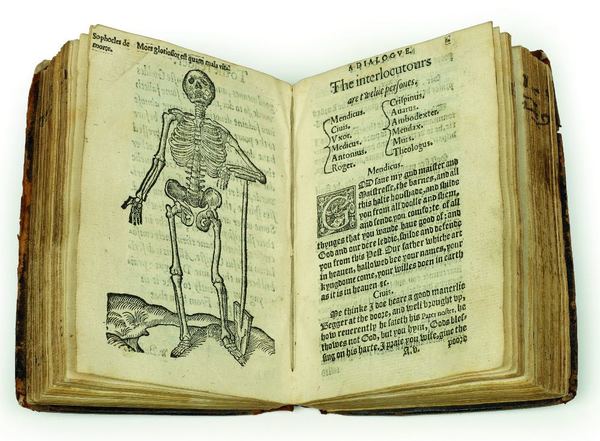 16th Century book about the plague from the exhibition. Credit: Bodleian Libraries, University of Oxford

Shakespeare First Folio, Credit: Bodleian Libraries, University of Oxford