LONG DAY'S JOURNEY INTO NIGHT Leads February's Top 10 New London Shows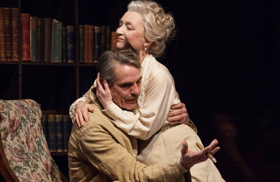 London is never short of temptations, whether splashy West End shows, epic dramas or bold fringe offerings. From O'Neill and flamenco to punk and Pippin, here are some of this month's most eye-catching openings. Don't forget to check back for BroadwayWorld reviews, interviews and features!
1. Long Day's Journey Into Night, Wyndham's Theatre
Eugene O'Neill's semi-autobiographical opus is revitalised in Richard Eyre's vigorous, empathetic revival, now playing in the West End following a hit Bristol Old Vic run. The cast features Jeremy Irons, Lesley Manville, Rory Keenan, Matthew Beard and Jessica Regan. Read our review
Until 4 April. Book tickets here
2. Frozen, Theatre Royal Haymarket
Not to be confused with the all-singing Disney juggernaut, Bryony Lavery's award-winning psychological thriller explores the interwoven lives of three strangers following the disappearance of a child. Jonathan Munby's production stars Suranne Jones (Doctor Foster), Jason Watkins and Nina Sosanya.
Until 5 May. Book tickets here
3. Jubilee, Lyric Hammersmith
Derek Jarman's seminal 1970s punk film - featuring a marauding girl gang, time-travelling Elizabeth I and anarchic culture wars - comes to stage in an intriguing new Chris Goode adaptation. Promising a soundtrack "to die (horribly) for", it also has a cast led by original film cast member Toyah Willcox.
15 February-10 March. Book tickets here
4. Girls & Boys, Royal Court
Carey Mulligan returns to theatre for the first time since starring in David Hare's Skylight back in 2015. She's now tackling Dennis Kelly's new one-woman play, which depicts a passionate relationship that takes a dark and disturbing turn. Lyndsey Turner directs.
Until 17 March. Book tickets here
5. Harold and Maude, Charing Cross Theatre
Another iconic Seventies movie comes to stage: Colin Higgins' idiosyncratic dark comedy about the burgeoning union between a self-destructive young man and a septuagenarian bohemian. Thom Southerland directs a cast that features Sheila Hancock, Bill Milner, Rebecca Caine, Anthony Cable, Joanna Hickman, Samuel Townsend and Christopher Dickins.
19 February-31 March. Book tickets here
6. Flamenco Festival London, Sadler's Wells
Highlights of the 15th anniversary Flamenco Festival, which features some of the world's most incredible talent, include: Maria Pages Compania, who uses flamenco with poetry in a reimagining of Carmen; pioneer Jesus Carmona using ballet-infused moves to interpret famous scores from Spain's most beloved composers; and a gala dedicated to flamenco queen La Chana.
14-25 February. Book tickets here
7. The York Realist, Donmar Warehouse
Robert Hastie revives Peter Gill's influential work about two young men falling in love in 1960s Yorkshire during the mounting of a production of the York Mystery Plays. The cast features Ben Batt, Lesley Nicol, Jonathan Bailey, Matthew Wilson, Katie West, Brian Fletcher and Lucy Black.
Until 24 March. Book tickets here
8. The B*easts, Bush Theatre
Monica Dolan's debut solo play was an Edinburgh Fringe standout, and now gets a welcome transfer to the Bush. This confrontational piece about the sexualisation of children ­- featuring a mother going to extreme lengths to give her child what she wants - examines social pressures and collective responsibility. John Hoggarth directs.
Until 3 March. Book tickets here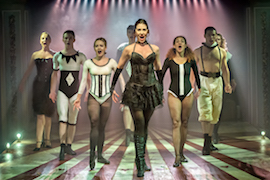 9. Pippin, Southwark Playhouse
Following a strong run at Manchester's Hope Mill - with a Victorian vaudeville troupe telling the story of the prince's search for meaning - Stephen Schwartz's award-winning musical returns to London. Jonathan O'Boyle directs a cast that includes Jonathan Carlton, Genevieve Nicole, Bradley Judge and Mairi Barclay.
23 February-24 March. Book tickets here
10. Iolanthe, London Coliseum
Gilbert and Sullivan's zany satirical fantasy targets peers of the realm, as well as Queen Victoria and leading politicians of the day. Director Cal McCrystal promises a production teeming with chaotic physical comedy and irreverence, and Samantha Price leads a sterling English National Opera cast.
13 February-7 April. Book tickets here
Want more recommendations? Find previous Top 10 lists here
Photo credit: Hugo Glendinning