BWW Review: Bootleg Shakespeare HENRY VI, PART 3 at Taffety Punk is Theater Without a Net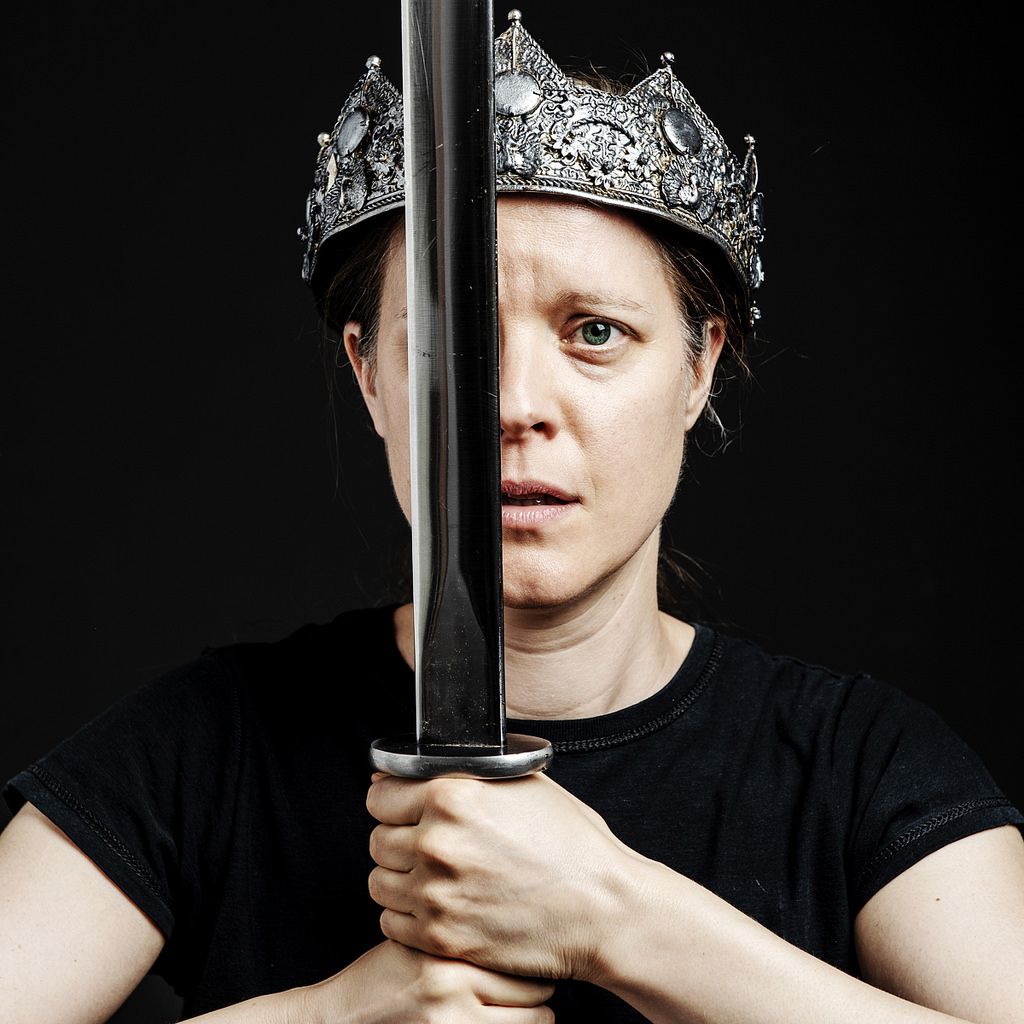 Taffety Punk Theatre Company's Bootleg Shakespeare production HENRY VI, PART 3 is performance without a net - exciting, dangerous, riveting, and raw. Bootleg Shakespeare isn't designed to be polished or perfect, it's designed to be fresh and immediate. And it delivered.
What's more amazing? The actors arrived at 10:00 am Monday with roles assigned and lines memorized. That's it. Working together under the direction of Taffety Punk Artistic Director Marcus Kyd, over the next few hours the 32 actors DIY'ed the production and were on stage in front of an audience at 7:30 pm. All 270 seats in the jewel box Elizabethan-styled theater of the Folger Shakespeare Library were filled with enthusiastic audience members clutching Lancaster's red or York's white roses. There were minimal props, lights, and costumes-but the red and white paper lapel flowers told us exactly what we needed to know when every epic battle scene and every word of Shakespeare's text was performed.
Bootleg Shakespeare is a one-night-only production, but a twelve year tradition. The annual bootleg production?typically features a title that is rarely performed. Audiences and actors alike have seldom had a chance to dig into these texts. After tackling titles such as PERICLES, THE TWO GENTLEMEN OF VERONA, and CYMBELINE, the Taffety Punk bootleggers began the HENRY VI trilogy in 2016 (and plans to complete the history cycle next year with RICHARD III). HENRY VI was chosen because if it is produced it is usually condensed into one show, requiring heavy edits. Here, actors and audience had an opportunity to appreciate the full arc of the play.
HENRY VI, PART 3 is part of Shakespeare's history of the Wars of the Roses, the bloody battle for the throne between the Yorkists and Lancastrians. The play reveals the horror and chaos of armed conflict, as moral codes and family ties are cast aside in the quest for power and revenge.
In the title role of Henry, Esther Williamson ably portrays the quiet and ineffectual king who is easily manipulated by others. When he finds York sitting upon his throne, Henry quickly capitulates and is willing to give away his son's birthright. Henry desires to be a private citizen. One of the most moving scenes of the evening was Williamson's soft Henry watching a battle ensue and history run away from him, framed on one side by the dismay of a son who has mistakenly killed his own father, and on the other side the grief of a father who discovers that in the heat of battle he has killed his son.
Where Henry is quiet and shrinking, his queen, Margaret, is heat and strength. Tonya Beckman delivered a powerful and commanding performance that propelled the show.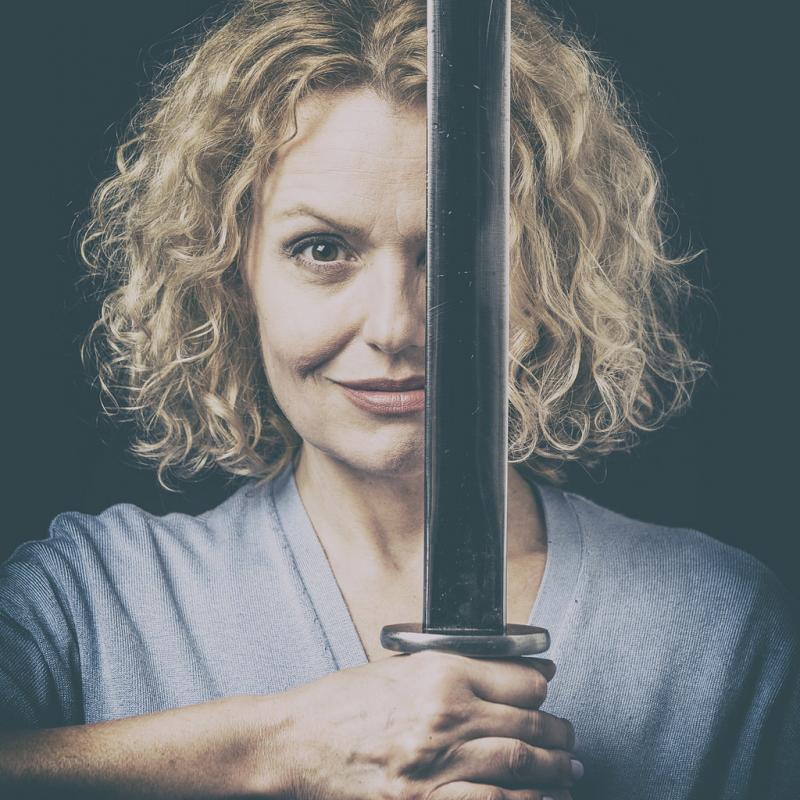 The Yorks push and plot to seize the crown which they contend is their true legacy. Dan Crane as Edward expertly delivered the complicated character who battles and assumes power, then allows his newfound power to blind him to the advice of others. Ego leads him to woo and wed Lady Grey (portrayed by a skillful Erin Sloan), setting off a chain of negative repercussions. Todd Scofield as brother George had especially strong moments in the latter half of the play as he breaks with and rejoins his brothers. Percy Kyd Bruneau as the doomed youngest brother, Edmund, was confident and memorable in the heart-breaking role. Yet the true power-center of the York clan is calculating Richard, played by Kimberly Gilbert with the dangerous stillness and control of a coiled snake ready to strike. The skill of Crane, Scofield, and Gilbert was especially evident in a battlefield scene as the Yorks observed a vision of three suns on the horizon and consider its meaning. (Although production elements were minimal overall, Chris Curtis' lighting beautifully elevated this outstanding scene and others.)
Jamie Beaman had notable authority and gravitas as power-broker Warwick. The scenes featuring the King Lewis of France (Maboud Ebrahimzadeh) and Lady Bona (Jenna Berk) were highlights given the expert comic instincts of the pair.
Kudos to the entire ensemble who delivered a high energy, high impact night of theater. In addition to the actors listed above, the cast included Mickey Abbate, JJ Area, Lise Bruneau, Danny Cackley, Liz Daingerfield, James Flanagan, Patrick Kilpatrick, Marcus Kyd, Jessica Lefkow, Katelyn Manfre, Chelsea Mayo, Katie Murphy, Annaliese Neaman, Stefany Pesta, Donna Reinhold, Paul Reisman, Coraline Ripley, Morgan Sendek, Julia Smouse, Sara Dabney Tisdale, and Erin White-many were double- or triple-cast.
Lorraine Ressegger choreographed the production's many fight scenes to great effect. Ressegger delivered impressive scope and spectacle while ensuring actors' safety-a substantial challenge given the scant rehearsal.
The Bootleg Shakespeare tradition holds a wonderful place in DC's summer theater scene. Like the many free concerts, pay-what-you-can theater performances, and the Shakespeare Theatre Company's annual Free For All, Taffety Punk offers this free performance as a gift to the community and a way to encourage new audiences to build an arts-going habit. With the company's passionate, experimental, and highly collaborative punk roots, Bootleg Shakespeare is also a nice companion to DC's Capital Fringe that happens at roughly the same time. Bootleg Shakespeare is a great expression of Taffety Punk's mission to make theater exciting, meaningful and affordable.
While Bootleg Shakespeare is offered only once a year, Taffety Punk will offer another opportunity to see Beckman and Williamson work together, with PRAMKICKER by Sadie Hasler, running September 12-29. Artistic Director Kyd, who directed the bootleg HENRY, will direct SUICIDE.CHAT.ROOM in the winter, giving audiences a different chance to see the work of Taffety Punk company member Gilbert. In spring, company member Kelsey Mesa directs an adaptation of ANTIGONE.
And, mark your calendars now for Taffety Punk's bootleg RICHARD III, one night only in July 2019!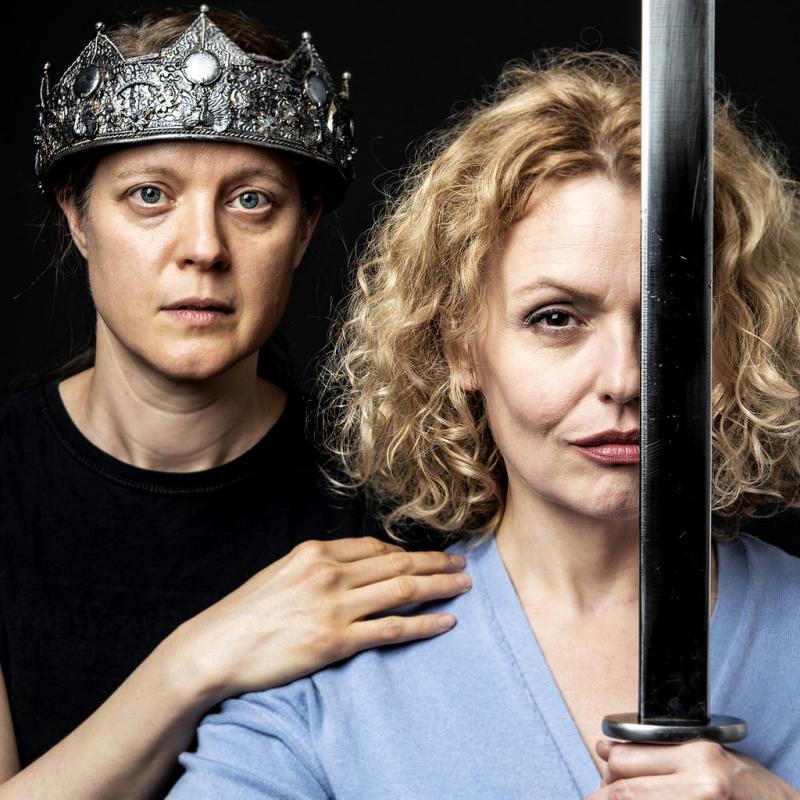 RUN TIME: approximately three hours with one intermission
Taffety Punk Theatre Company's Bootleg Shakespeare performance of HENRY VI, PART 3 ran for one evening on Monday, July 23 at the Folger Shakespeare Library, 201 East Capitol Street, SE, Washington, DC 20003. For more information on Taffety Punk or tickets to the company's future offerings, see their website.
Photos by Teresa Castracane. At top: Esther Williamson as Henry VI. Center: Tonya Beckman as Queen Margaret. Bottom: Esther Williamson as Henry VI, and Tonya Beckman as Queen Margaret, in HENRY VI, PART 3.