Pamela Roberts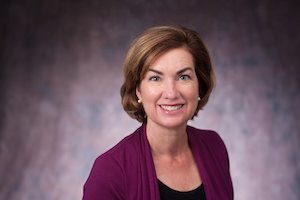 Pam came to Washington for the politics but instead found a home in its cultural community. For more than 20 years, Pam worked behind the scenes in DC's non-profit theatres as a grant writer and fundraiser. She is a graduate of the Medill School of Journalism at Northwestern University and The George Washington University. She is raising her two children to be avid arts enthusiasts.
MOST POPULAR ARTICLES
LAST 365 DAYS
BWW Review: Brilliant BE MORE CHILL at Monumental Theatre Company

July 15, 2019

Jeremy Heere is a socially-awkward, hopelessly uncool student languishing at the bottom rung of the high school's social ladder. "I don't want to be special, I just want to survive," he sings in the opening number of Be More Chill, a show that makes its Washington-area premiere in a wonderfully effervescent and wholehearted Monumental Theatre Company production.
---
BWW Review: OSLO at Round House Theatre

May 1, 2019

Oslo is an amazing against-all-odds story of risk, trust, and diplomacy. It is about overcoming hard-and-fast assumptions. Oslo shows the value in finding common ground and allowing ourselves to hope. This Round House Theatre production is a wonder-a brilliant heartfelt, heart-filling experience.
---
BWW Review: Topical and Significant COLUMBINUS at 1st Stage

April 2, 2019

To mark the 20th anniversary of the deadly shooting at Columbine High School, 1st Stage brings us a columbinus that, tragically, is as frightening, significant, and topical today as ever before. In the two decades since the massacre at Columbine High-the deadliest school shooting at the time-we have now experienced tragedies at Virginia Tech, Sandy Hook, Parkland, and more. columbinus mixes documentary fact with fiction to delve into the alienation, social pressure, intimidation, and rage of adolescent life in high school.
---
BWW Review: Spellbinding Multi-Sensory CONFECTION at Folger Theatre

March 9, 2019

Confection is a spellbinding multi-sensory dance and theater performance that contemplates decadent consumption and the high cost of feeding our appetites. The highly imaginative, gorgeously rendered, thought-provoking Confection is performed by New York's acclaimed Third Rail Projects, considered one of the leading theater companies creating site-specific, experimental artistic performance. The world premiere immersive event is staged in the old-world Tudor splendor of the Folger Library's private Paster and Sedgwick-Bond Reading Rooms. A rare chance to glimpse the curlicued dark wood and ornate plaster lit by candlelight (albeit safe, battery powered candles) is, indeed, icing on the cake.
---
BWW Review: Dark and Unrelenting RICHARD THE THIRD at Shakespeare Theatre Company

February 15, 2019

Richard the Third is one of Shakespeare's most famous villains. Ruthless and astute, savvy and unscrupulous, Richard pursues power with a single-minded and dangerous intensity. In the Shakespeare Theatre Company's production, directed by David Muse, Richard's world is grim, gray, perilous, and unrelenting. Matthew Rauch in the title role is deliciously complex - we, too, are alarmed to find ourselves wooed by his intelligence and charisma even as we are repelled by his treachery and dogged fixation with acquiring power any cost. Shakespeare's tale of villainy, and the Shakespeare Theatre Company's interpretation, asks the audience to venture into a severe and harsh world. It is a dark and fascinating journey, but not for the faint of heart.
---
BWW Review: A new look at TWELVE ANGRY MEN at Ford's Theatre

January 25, 2019

Even after 65 years after Twelve Angry Men was first performed, we sit with the uncomfortable realization that prejudice shapes many of our interactions. The current production at Ford's Theatre is an important message, a provocative reminder, and a great night of theater
---
BWW Review: Rich and Rewarding TALLEY'S FOLLY at Theater J

December 14, 2018

In the midst of DC's December winter holidays, Theater J brings to us … a valentine. "This story will unfold as a waltz, a valentine" we are told in the opening monologue - and in the gifted hands of director Aaron Posner, Talley's Folly delivers the beauty and rhythm of a waltz, and the big beating heart of a valentine. Actors John Taylor Phillips and Erin Weaver are well paired, their emotions ebb and flow like the current of the folly's nearby river.
---
BWW Review: Thought-Provoking and Stunning KING JOHN at Folger Theatre

November 1, 2018

Political legitimacy and enduring human connections are at the forefront of a gorgeous and spare King John at the Folger Theatre. In the assured hands of Helen Hayes Award-winning director Aaron Posner, and with a dynamic and gifted cast, the production makes a powerful case for bringing King John off the shelf and onto the stage far more often.
---
BWW Review: SING TO ME NOW at Rorschach Theatre

October 25, 2018

Sing to Me Now, produced by Rorschach Theatre, is a beautifully rendered and promising new work, carefully balancing weight and humor, performed by a steady and engaging cast. Director Jenny McConnell Frederick capably brings out the best in the world premiere work by Iris Dauterman. Sing to Me Now was first developed thorough Rorschach's inaugural Magic in Rough Spaces New Play Lab last April, and is now more fully-and beautifully-realized.
---
BWW Review: Spooky SUMMERLAND at Washington Stage Guild

October 1, 2018

October is the ideal time to delve into the afterlife and commune with disquieted spirits. Washington Stage Guild presents the DC-area premiere of Summerland, the story of a post-Civil War "spirit photographer" to whom distraught mourners turn for images of their dead loved ones, and of the New York City police officer who is committed to prove he's a fraud.
---
BWW Review: DC-Area Premiere of Fugard's THE PAINTED ROCKS AT REVOLVER CREEK at MetroStage

September 4, 2018

For more than 60 years, Athol Fugard has helped us explore South Africa through his complex, flawed, and empathetic characters. He is one of the most significant voices of our time. Fugard's most recent work, The Painted Rocks at Revolver Creek, makes its DC-area premiere at MetroStage. When Producing Artistic Director Carolyn Griffin slated The Painted Rocks at Revolver Creek as MetroStage's season opener, little did she know that an August tweet would thrust South African farm ownership and race relations firmly back into the world spotlight.
---
BWW Review: Bootleg Shakespeare HENRY VI, PART 3 at Taffety Punk is Theater Without a Net

July 19, 2018

Taffety Punk Theatre Company's Bootleg Shakespeare production HENRY VI, PART 3 is performance without a net - exciting, dangerous, riveting, and raw. Bootleg Shakespeare isn't designed to be polished or perfect, it's designed to be fresh and immediate. And it delivered. What's more amazing? The actors arrived at 10:00 am Monday with roles assigned and lines memorized. That's it. Working together under the direction of Taffety Punk Artistic Director Marcus Kyd, over the next few hours the 32 actors DIY'ed the production and were on stage in front of an audience at 7:30 pm. There were minimal props, lights, and costumes-but the red and white paper lapel flowers told us exactly what we needed to know when every epic battle scene and every word of Shakespeare's text was performed.
---
BWW Review: Thought-Provoking, Site-Specific THE FREDERICK DOUGLASS PROJECT at Solas Nua

May 14, 2018

THE FREDERICK DOUGLASS PROJECT is an innovative and ambitious world premiere musical commissioned by Solas Nua. The production blends two fresh and significant dramatic voices, each with a unique perspective on the same time and themes. Staged on a pier jutting into the Anacostia River, the production gains added resonance in the shadow of Douglass' historic home at Cedar Hill and the bridge that bears his name. The site-specific staging heightens the drama and creates a memorable theater experience.
---
BWW Review: Fun and Richly Stylized CABARET NOIR at Happenstance Theater

April 4, 2018

"A film noir inspired theatrical montage"- the subtitle of Happenstance Theater's CABARET NOIR perfectly encapsulates the richly stylized and wonderfully varied experience. Scandals, pistols, foggy streets, soft shoe, sweet harmonies, and red herrings - this production vividly captures the mood and the moment of those dark, smoky movies. Devised and performed by the Helen Hayes Award-winning ensemble, CABARET NOIR highlights the artistic strengths of the company of six.
---
BWW Review: Poignant World Premiere Musical LIGHT YEARS at Signature Theatre

February 18, 2018

LIGHT YEARS, a world premiere musical at Signature Theatre, is a moving performance with a beautiful score and an introduction to touching and endearing characters. LIGHT YEARS is a deeply personal story of son and father attempting to understand each other. The relationship is firmly grounded in love and respect. Yet the two have profoundly different ideas about pursuing artistic passion versus creating a stable and consistent life. LIGHT YEARS is a production of great heart and promise that deserves to continue to evolve. It is exciting to be privy to new work in creation.
---
BWW Review: Skillful and Fun THE SKIN OF OUR TEETH at Constellation Theatre Company

January 16, 2018

THE SKIN OF OUR TEETH at Constellation Theatre is a thought-provoking, skillfully-rendered reminder that chaos and uncertainty are not unique to our time or to any single time. In the sure directorial hands of Mary Hall Surface, Thornton Wilder's masterpiece is a wild time-traveling, allegorical tragicomedy, without the Pepperidge Farm and Hallmark overtones we've now come to associate with the OUR TOWN playwright.
---
BWW Review: Brave and Memorable SOLDIER POET at Theatre Prometheus

December 16, 2017

Theatre Prometheus' world premiere, SOLDIER POET, is a compelling work, richly rendered. In an intimate theater space with fresh and compelling actors, a persuasive script, and inspired scenic design, SOLDIER POET aptly and successfully reminds us of our shared responsibilities and human connections.
---
BWW Review: TWELFTH NIGHT at Shakespeare Theatre Company

November 23, 2017

The Shakespeare Theatre Company's TWELFTH NIGHT is a fresh look at a familiar story a bit darker with less over-the-top mirth. It is well worth revisiting Shakespeare's comedy for a new take on the familiar story.
---
BWW Review: THE ORIGINALIST Provokes at Arena Stage

July 14, 2017

THE ORIGINALIST at Arena Stage introduces Antonin Scalia as "the most polarizing figure in American civic life." When a liberal Harvard Law grad ("I fall in the flaming category") clerks for the justice, she encounters both maddening combatant and sage mentor.
---
BWW Review: Gripping and Beautiful HUNCHBACK OF NOTRE DAME at Synetic Theater

May 17, 2017

Synetic Theater's 'beautifully disturbing' HUNCHBACK OF NOTRE DAME is gripping storytelling at its best. The wordless production conveys the epic tale with movement, spectacle, connection, and artistry.
---