Latest News on Tonya Beckman
Tonya Beckman News
Review: OUR BLACK DEATH by Taffety Punk Battles for Love at the End of the World
by Morgan Musselman - Sep 25, 2022
Taffety Punk returns to the stage in full force with their production of Our Black Death: Plagues, Turnips, and Other Romantic Gestures, directed by Marcus Kyd is all at once hilarious, shocking, and bittersweet in its exploration of love during a plague.
BWW Feature: The Theatre Lab School of the Dramatic Arts celebrates Thirty Years of Arts Education Excellence
by Elliot Lanes - Jun 16, 2022
This week marks a very important event for DC area arts education. On June thirteenth, The Theatre Lab School of the Dramatic Arts (TTL) held its very first class and co-founders Deb Gottesman, Buzz Mauro and Michael Rodgers never looked back. The organization has changed locations a few times over the years but the quality of the work that Theatre Lab's instructors and administration have given to hundreds and hundreds of students has always remained at the top of its game.
BWW Review: MARYS SEACOLE at Mosaic Theater Company
by Mary Lincer - May 9, 2022
Mary Seacole (1805-1881) had more skills than José Andres; in addition to establishing catering in war zones (Seacole set up a rest stop for British soldiers near the front lines during the Crimean War.), she also provided health care services during Jamaica's 1850 cholera epidemic and Panama's the following year.
BWW Review: COMPULSION OR THE HOUSE BEHIND at Theater J
by Rachael F. Goldberg - Feb 3, 2022
'Compulsion or the House Behind' is a good show, with a strong creative team and an immensely talented cast, but it's also a flawed one. With pacing issues and a shyness about fully facing the questions it raises, it's often a frustrating production. But it's a thought-provoking one for that same reason.
BWW Review: SPRING AWAKENING at Round House Theatre
by Sophie Williams - Jan 30, 2020
Spring Awakening is the classic teen coming of age story, plus death, group mastrubation, nudity, and a failed abortion.
BWW Review: THE CURIOUS INCIDENT OF THE DOG IN THE NIGHT-TIME at Round House Theatre
by Russell Smouse - Nov 27, 2019
'The Curious Incident of the Dog in the Night-Time' at Bethesda's Round House Theatre, tells the story of Christopher, a 15-year-old boy with Aspergers syndrome, whose neighbor's dog is murdered with a pitchfork. Christopher goes on a mission to investigate who killed the dog and he ends up uncovering other people's secrets, as well as his own. He goes on an unintentional mission of self-discovery through London and Swindon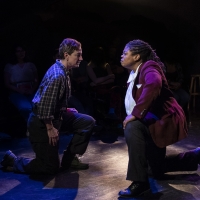 BWW Review: Taffety Punk & Riot Grrrls' THE TRAGEDY OF OTHELLO Offers a Brilliant, Bare-Bones Bard
by Andrew White - Sep 29, 2019
This production of Shakespeare's Othello has revelations galore, performed by an ensemble of actors whose comfort with the language and emotional power keep you riveted. Even if you've seen any number of Othello's beforea?'especially if you've seen a fewa?'the Riot Grrrls interpretation, as staged in the spartan Capitol Hill Arts Workshop space, gives vivid life to characters and speeches that usually get lost in the cavernous main stages across town.
BWW Review: Folger Theatre's LOVE's LABOR'S LOST at the Folger Shakespeare Library
by Hannah Wing - May 7, 2019
Folger Theatre's Love's Labor's Lost, directed by Vivienne Benesch, compliments the uniqueness of this comedy through a delightfully funny cast and production set during the 1930's.

LOVE'S LABOR'S LOST Ends Folger's 2019/20 Season
by A.A. Cristi - Mar 28, 2019
Mind vs. Matter. Game on. Folger Theatre concludes its 2018/19 season of characters that "shake the world" with Love's Labor's Lost, Shakespeare's quick-witted comedy filled with oaths, trickery, and confessions of love. Vivienne Benesch, the 2017 winner of the annual Zelda Fichandler Award, makes her Folger directorial debut.
BWW Review: THE JEWISH QUEEN LEAR at Theater J
by Rachael Goldberg - Mar 21, 2019
If the cultural and historical relevance weren't enough incentive, Theater J's production of 'The Jewish Queen Lear' will make you glad for the current revitalization of Yiddish theater. The play is an emotional journey, with insights into family, power, pride, and love. 'Mirele Efros' is a surprisingly modern play, and 'The Jewish Queen Lear' honors both the past and present in its performance. It's a touching story, a wonderful cast of characters (in both senses of the phrase), and a beautiful production.