UK Tour Of Ian Rankin And Rona Munro's REBUS LONG SHADOWS Extends Into 2019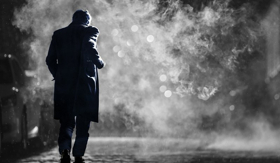 Daniel Schumann, Lee Dean and Cambridge Arts Theatre in association with Birmingham Repertory Theatre today announce an extension to the successful UK tour of Rebus: Long Shadows due to public demand. The production written exclusively for the stage by author of the original novels, Ian Rankin and playwright Rona Munro toured from September to November 2018, and in 2019 will tour to a further five cities - Glasgow from 29 January, then visiting Cardiff, Cambridge and Newcastle, before completing its run in Bath on 9 March.
Ron Donachie joins the cast as John Rebus. He is no stranger to the role having created the title role in all the BBC Radio dramatisations of the Rebus novels. He also played Deputy Chief Inspector Gunner in the Rebus TV series and Ser Roderick Cassell in Game of Thrones. Continuing in their roles are Dani Heron (Angela), Eleanor House (Heather/Maggie), Neil McKinven (Mordaunt), John Stahl (Big Ger Cafferty) and Cathy Tyson (Siobhan Clarke).
Detective Inspector John Rebus is retired but the shadows of his former life still follow him through the streets of Edinburgh. Whisky helped but now he's denying himself that pleasure. But when the daughter of a murder victim appears outside his flat, he's back on the case and off the wagon.
Ian Rankin is the internationally bestselling author of the Inspector Rebus and Detective Malcolm Fox novels, as well as a string of standalone thrillers. His books have been translated into 36 languages and are bestsellers on several continents. Rankin has won multiple awards including four The Crime Writers Association Dagger Awards, and in 2004 received America's celebrated Edgar Award. He is also the recipient of the OBE for services to literature.
Rona Munro has written extensively for stage, radio, film and television. Her theatre credits include The James Plays, Scuttlers, Iron - which won the John Whiting Award, The Last Witch and Little Eagles. Her television credits include Rehab, Bumping the Odds (BAFTA nomination), and Doctor Who; and for film, Ladybird Ladybird and Oranges and Sunshine.
Ron Donachie will play the role of John Rebus. His theatre credits include Oscar Slate: The Trial That Shamed a City, The Beached of St Valery, Broth and The Oddest Couple (Òran Mór), The Iliad, The Crucible, Dark Road, The Man Who Had All The Luck, Six Characters in Search of An Author, Living Quarters and A Streetcar Named Desire (Royal Lyceum Edinburgh), Scenes From The Big Picture (National Theatre), Everything Must Go! (Soho Theatre). His television work includes Game of Thrones, series regular Billie Byrne in Waterloo Road, Vera, Downton Abbey, The Loch, River City and Shameless; and for film Outlaw King, Steel Rain, Filth, Blitz, Made of Honour, Titanic, Jungle Book and Beautiful Creatures.
Dani Heron plays Angela. Her theatre credits include Immaculate Correction (King's Head Theatre), Long Day's Journey Into Night (Citizens Theatre, Glasgow/HOME , Manchester), 306: Day, The James Plays (National Theatre of Scotland), Jumpy, The Venetian Twins (Royal Lyceum Theatre), A Perfect Stroke (Òran Mór/Traverse Theatre), Chariots of Fire (Gielgud Theatre), One Turbulent Ambassador (Lyric Hammersmith) and A Funny Thing Happened on the Way to the Forum (Greenwich Theatre). Her television credits include Armchair Detectives; and for film, I Am Me.
Eleanor House plays Heather/Maggie. Her theatre credits include Passing Places and A Christmas Carol (Dundee Rep).
Neil McKinven plays Mordaunt. His theatre credits include Women in Mind (Birmingham Rep/Dundee Rep), Celestina (Birmingham Rep/Edinburgh International Festival), Of Mice And Men (Birmingham Rep), Gilt, Caledonia (National Theatre of Scotland), A Doll's House (Dundee Rep Theatre), Twelfth Night, The Comedy of Errors, Solstice (RSC), The Breathing House, Glengarry Glen Ross, Dead Funny, The Merchant of Venice, Curse of the Starving Class (Royal Lyceum Theatre), Hamlet (West Yorkshire Playhouse), King Lear (Citizens Theatre, Glasgow), Cosmonauts Last Message...(Lyric Hammersmith), Riddance, The Tree of Knowledge, Wiping My Mother's Arse, Widows, Abandonment (Traverse Theatre), The Drowned World (Bush Theatre), Between Dog and Wolf (Òran Mór), Geoff's Dead Disco for Sale (Live Theatre) and A Family Affair (Theatre Royal Bath). His television credits include Strathblair, The Ship, The Poison Tree, Silent Witness, Shetland, Shameless, Doctors, Case Histories, Single Father, Rebus, A is for Acid, Glasgow Kiss, Degrees of Error, Taggart, The Vet, Scottish Killers: Dennis Neilson and Humans.
John Stahl plays Big Ger Cafferty. His theatre credits include 549:Scots of the Spanish Civil War (Citizen's Theatre, Glasgow), Waiting for Godot (Tobacco Factory Theatre), A Lie of the Mind (Southwark Playhouse), The Winter's Tale (Royal Lyceum Theatre, Edinburgh), Father Comes Home From the War, The Alice Trilogy, The Weir (Royal Court Theatre), The James Plays, Mary Stuart (National Theatre of Scotland), The Crucible, Ghosts (Bristol Old Vic), Much Ado About Nothing, The Globe Mysteries (Shakespeare's Globe), Frankenstein (National Theatre), Memory Cells (Pleasance, London), The Whisky Taster (Bush Theatre), Macbeth (Royal Exchange Theatre) and Blue Eyes and Heels (Soho Theatre). His television credits include playing Rickard Karstark in Game of Thrones. Other credits include Shetland, High Road and Resort to Murder; and for film, Mary Queen of Scots, Victoria and Abdul and Loch Ness.
Cathy Tyson plays Siobhan Clarke. Her theatre credits include The String Quartet's Guide To Sex And Anxiety (Birmingham Repertory Theatre), The Listening Room (Theatre Royal Stratford East), The Importance Of Being Earnest (Curve/Birmingham Repertory Theatre), Red Snapper (Belgrade Theatre Coventry), Radiance: The Passion of Marie Curie (Tabard Theatre), Golden Girls (RSC), The Vagina Monologues (UK tour), Antony and Cleopatra (Hackney Empire), The Merchant Of Venice (Birmingham Repertory Theatre), Pygmalion, Educating Rita (Theatr Clwyd), Stand (Battersea Arts Centre) and Mum's The Word (Albery Theatre). She is a Golden Globe and BAFTA nominated actress, her television credits include series regular Carol Johnson in Band Of Gold. Other credits include Gold, Scully, Always and Everyone, Night & Day, Grange Hill, Bonkers, The Liverpool Nativity, Perfect and Rules Of Engagement; and for film, Together, The Fight, The Marker, ChickLit, Mona Lisa - for which she won the Los Angeles Film Critics' Award for Best Supporting Actress, Priest, The Lost Language of Cranes, The Old Man Who Read Love Stories, Ollie Kepler's Expanding Purple World and Business As Usual.
Robin Lefevre is an award-winning theatre director who has worked extensively in the UK, Ireland and the United States. He directed John Hurt in Afterplay, Arthur Miller's All My Sons, and John Byrne's first play Writer's Cramp. On Broadway his credits include Brian Friel's The Aristocrats which won him the New York Drama Desk Award for Best Director and George Bernard Shaw's Heartbreak House. More recently he has worked on Duet For One at Birmingham Repertory Theatre and on tour, Ladies in Lavender at the Royal and Derngate and The Glass Menagerie at The Gate Theatre in Dublin.