New Season Now on Sale at Wolverhampton Grande Theatre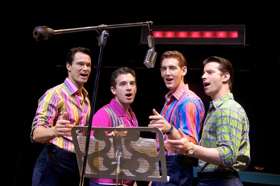 A brand new season of West End musicals, gripping dramas, dynamic dance and one night concerts on sale next week at Wolverhampton Grand Theatre. Season highlights include an on-stage dinner with Christopher Biggins, Tom Chambersin CRAZY FOR YOU, Phil Daniels in DR JEKYLL & MR HYDE, a Grand Theatre production of TURN OF THE SCREW and the return of smash hit musical JERSEY BOYS!
See below for a full line up from the newly announced season.
Autumn 2017
DINNER IN THE SPOTLIGHT on Friday 27 October will give audience members the chance to join Christopher Bigginsas the theatre plays host to an elaborate dinner on stage at the Grand, presented by BBC Midlands Today's Nick Owen. Take your seat for this unique opportunity to get up close and personal with Biggins and more soon to be announced celebrity guests from the world of showbusiness. The evening will begin with pre-dinner drinks and entertainment in the Encore Lounge before a fabulous three-course meal on stage. Sit back and enjoy dinner whilst listening in between courses to our famous guests chat about their life and work within the theatre industry.
HAIRY MACLARY AND FRIENDS, "Out of the gate and off for a walk, went Hairy Maclary from Donaldson's Dairy." On Saturday 28 October anyone with young children will recognise these immortal words instantly as the opening lines of thebook Hairy Maclary from Donaldson's Dairy by Lynley Dodd. Featuring many of the characters from the books like Hercules Morse, as big as a Horse - Bottomley Potts, covered in spots - Schnitzel von Krumm, with the very low tum and Scarface Claw - the toughest tomcat in town. With music, singing and several of your favourite Hairy Maclary stories, this show is a must for the whole family.
Winter/Spring 2018
A VIENNESE STRAUSS GALA on Sunday 21 January will see the 33 Piece British Philharmonic Concert Orchestra feature Johann Strauss' great waltz and polka tunes including By the Beautiful Blue Danube and The Thunder and Lightning Polka as well as a taste of his masterpiece Die Fledermaus. Highlights from the Merry Widow recall the genius of Franz Lehar, which - along with a wealth of operetta favourites from The Student Prince, The New Moon, The Gypsy Baron, The White Horse Inn and many more - make for a truly wonderful night of music for all the family to enjoy with melodies which will live in the heart for ever.
On Wednesday 31 January, THE ROY ORBISON STORY will visit Wolverhampton having been stunning audiences across the globe with Barry Steele's uncanny ability to recreate the vocal talents of rock 'n' roll legend Roy Orbison, Barry and his fabulous cast take you on this specially produced journey back in time. The production also features songs originally made famous by Chris Isaak, Del Shannon, George Harrison, Jeff Lynne, The Spencer Davis Group & The Traveling Wilburys.
Jim Davidson - ON THE ROAD AGAIN promises to be the antidote to this 'PC' world we now live in. Guaranteed to be outrageous and as truthful as ever on Thursday 1 February.
MENOPAUSE THE MUSICAL returns on Monday 5 March starring Cheryl Fergison (EastEnders), Maureen Nolan (The Nolans), Rebecca Wheatley (Casualty) and TV Comedienne Hilary O'Neil (ITV's Copy Cats) this hysterical all-singing, all-dancing comedy is set in a department store, where four women with seemingly nothing in common, meet by chance andmake fun of their woeful lives experiencing 'The Change' and their problems with forgetfulness, mood swings, wrinkles, night sweats and chocolate binges.
Endorsed by Lionel Richie, THE Lionel Richie SONGBOOK on Tuesday 6 March is a brand-new production features a stellar line-up of world class musicians including Jonny Miller from Talon and the awesome talent of Malcolm Pitt as the voice of Lionel Richie in this two hour plus spectacular featuring all the greatest hits, including: Easy, Say You Say Me, Dancing On The Ceiling, Three Times A Lady, Hello, All Night Long and many more.
Join Joe Brown on Thursday 8 March as he incorporates his diverse musical styles into this brand new show that is as unique as The Man himself. Packed with timeless classics, rockabilly, gospel, country, folk and rock 'n' roll, all interwoven with Joe's effervescent delivery and humorous reminiscences, this sensational show is a musical journey not to be missed. With special guest Henry Gross.
SATINDER SARTAAJ returns on Friday 9 March after his sell-out success in 2016. An outstanding poet and singer from India, he has mesmerised audiences across the world. From performing at the prestigious Royal Albert Hall to crowds of over 50,000 people in India this amazing talent is set to grace the Grand Theatre stage once again.
Hot on the heels of their runaway success with All Shook Up, Wolverhampton Musical Comedy Company - MUSCOM bring their brand new production of family musical BARNUM to The Grand Theatre stage from Tuesday 13 - Saturday 17 March. With the highly acclaimed Liam Sargeant as P T Barnum - The Greatest Showman on Earth - the show will combine razzle-dazzle with charm in this joyful and moving musical portrait of the 19th Century's greatest showbiz legend. BARNUM is a colourful, dynamic spectacle with a score that includes Come Follow the Band, the haunting Colours of my Life, the breathtaking Join the Circus and so many more. A cornucopia of clowns, acrobats, jugglers and tumblers will welcome you to the theatre taking you out of yourself and into a world of circus magic! That is why BARNUM is called The Circus Musical - the show for all the family from 9 to 90.
Strictly Come Dancing's Brendan Cole takes to the stage with his sensational guest dancers to wow audiences in his latest spectacular production, Brendan Cole - ALL NIGHT LONG on Tuesday 20 March. An extravagant mix of Latin fever and ballroom magic - with a few surprises in store - this is no ordinary dance show. Live music, stunning special effects and Brendan's own dazzling choreography and charm make this an unforgettable night; join us for the party!
80'S MANIA is Europe's Official 1980's Multi-Tribute Concert on Thursday 22 March. Featuring 25 chart topping pop icons authentically recreated with live band and awesome dancers performing over 35 chart topping smash-hits live in concert.
VERDI: LA TRAVIATA on Friday 23 March is the tragic tale of searing passion and memorable music. This is Verdi's outstanding interpretation of one of the most popular love stories of the 19th century, La Dame aux Camelias. The magnificent production boasts sumptuous sets and costumes.
PUCCINI: MADAMA BUTTERFLY on Saturday 24 March is the heart-breaking story of the beautiful young Japanese girl who falls in love with an American naval lieutenant - with dramatic results. Featuring exquisite sets including a spectacular Japanese garden and fabulous costumes including antique wedding kimonos from Japan. Highlights include the melodicHumming Chorus, the moving aria One Fine Day and the unforgettable Love Duet.
CHAMPIONS OF ROCK - THE SUPREME QUEEN CONCERT SHOW is the UK's authoritative Queen concert show, played absolutely live in a two-hour rock spectacle on Friday 30 March. Join the ultimate celebration of one the biggest bands to have ever graced the stage - Queen. CHAMPIONS OF ROCK, featuring 'Mercury', recreates the magic, fun and showmanship of the bands touring days, as they played to millions of people every year.
THE GREATEST HITS OF MOTOWN - HOW SWEET IT IS on Saturday 31 March combines first class music together with slick choreography, and an amazing band. Truly outstanding, the best Motown experience you will ever have!
Peppa Pig and friends are back in the brand new live show PEPPA PIG'S ADVENTURE! On Saturday 7 and Sunday 8 April. Join Peppa as she gets ready to go on an exciting camping trip to the woods with George and her school friends, including Pedro Pony, Suzy Sheep and Gerald Giraffe. With lunch-boxes packed and Daddy Pig driving the bus, Peppa and friends are excited about their outdoor adventure, full of games, laughter and live music! The happy campers soon settle down to sleep and listen to the gentle pitter patter of rain. Safe and warm inside their tents the excited group can look forward to morning time, when there will be lots of muddy puddles to play in!
Co-produced by Wolverhampton Grand Theatre, Dermot McLaughlin Productions and The Mercury Theatre Colchester,TURN OF THE SCREW from Tuesday 10 - Saturday 14 April is Henry James' famous ghost story rendered in a fresh and thrilling new adaptation by Tim Luscombe. 1840. A young governess agrees to look after two orphaned children in Bly, a seemingly idyllic country house. But shortly after her arrival, she realises that they are not alone. There are others - the ghosts of Bly's troubled past. The Governess will risk everything to keep the children safe, even if it means giving herself up to The Others. Decades later she is confronted by the past, compelled to revisit the terrifying events of her youth and account for what actually happened to her and the innocents under her protection. Retaining its much celebrated ambiguity and letting the audience draw their own conclusions about the events in Bly, this adaptation is faithful to James' much-loved classic.
DR JEKYLL AND MR HYDE stars Phil Daniels from Tuesday 1 - Saturday 5 May. A twisted tale of nerve-jangling horror, this adaptation of Robert Louis Stevenson's classic gothic thriller stars Phil Daniels as the extraordinary Dr Jekyll and Mr Hyde. During one of his audacious experiments trying to separate good from evil in human nature, the kind and gifted Dr Jekyll inadvertently unleashes an alternative personality of pure evil ... the mysterious Mr Hyde. As this sinister figure starts causing terror and havoc in foggy London, Jekyll must race to find a cure for his monstrous alter-ego before it takes over for good. Phil Daniels' extensive and varied credits include Jimmy Cooper in Quadrophenia, Richards in Scum and Kevin Wicks in EastEnders. He has worked with the RSC and NT and has appeared on stage in productions as diverse as Les Miserables and This House. JEKYLL & HYDE is directed by Stephen Unwin, designed by Simon Higlett and adapted by Tony award-winning playwright David Edgar.
CRAZY FOR YOU Starring Tom Chambers (Top Hat and Strictly Come Dancing) and Charlotte Wakefield (Sound of Music, Chitty Chitty Bang Bang) as 'Polly', features a fabulous score from the Gershwin brothers' songbook from Tuesday 8 - Saturday 12 May. CRAZY FOR YOU charts the troubled love story of Bobby, son of a wealthy New York banking family and frustrated Broadway hoofer, and Polly, daughter of the proprietor of a failing theatre in Deadrock, Nevada. Sent to close the theatre down, Bobby falls for Polly and, in the guise of a Hungarian impresario, decides to save the theatre by putting on a show. Mistaken identities, heartbreak, happiness and a wealth of memorable tunes, including I Got Rhythm, They Can't Take That Away From Me, Nice Work If You Can Get It and Embraceable You all feature in this exhilarating celebration of the great Broadway musicals.
Pasha Kovalev from Strictly Come Dancing and his fantastic dancers are back again touring the UK with their completely brand new show on Sunday 20 May. Expect all your favourite dances, stunning costumes, great music, chat and fun for all the family. Pasha won Strictly Come Dancing with Caroline Flack in 2014 and has scored more 10's than any other professional dancer since the series began. This is your chance to watch him live!
Summer 2018
THE DREAMBOYS are without a shadow of a doubt the UK's top male strip show and a returning due to phenomenal demand from their appearance here in June 2017 with a show on Wednesday 6 June 2018. Their showcase is unquestionably the most famous male stripper act the UK has ever produced. With special guest appearances on some of the UK's biggest TV shows, plus massive sold out Worldwide tours, it's no wonder the DREAMBOYS have earned themselves the title of the only male strip group in history to have celebrity status.
BOWIE EXPERIENCE - THE GOLDEN YEARS TOUR will be a breathtaking concert celebrating the music of the world's greatest pop icon, David Bowie on Friday 8 June.
The winner of six Tony Awards including Best Musical, THOROUGHLY MODERN MILLIE from Tuesday 26 - Saturday 30 June is based on the Academy Award-winning film starring Julie Andrews, taking you back to the height of the Jazz Age in New York City, when 'moderns' including a flapper named Millie Dillmount were bobbing their hair, raising their hemlines and rewriting the rules of love. This hilarious musical comedy features spectacular dance routines and great songs, so beat the drum - here comes THOROUGHLY MODERN MILLIE - star casting to be announced soon.
The internationally acclaimed stage sensation, JERSEY BOYS is working its way back to Wolverhampton from Tuesday 28 August - Saturday 8 September! This smash hit musical has won 57 major awards worldwide, including the Olivier Award for Best New Musical. JERSEY BOYS tells the true life story of four boys from the wrong side of the tracks who wrote their own songs, invented their own unique sound, and sold 100 million records worldwide. Featuring hit after legendary hit including Beggin', December 1963 (Oh What A Night), Can't Take My Eyes Off You, Walk Like A Man, Bye Bye Baby, Big Girls Don't Cry and many more, JERSEY BOYS is a story full of heart, humour and 'sheer musical razzmatazz' (The Sunday Express) you simply will never forget.
Tickets are on sale exclusively to Friends Of The Grand at 10am on Monday 10 July and from 10am onMonday 17 July for public sales. Tickets can be purchased by calling 01902 42 92 12, in person at the Box Office or online at grandtheatre.co.uk. Become a Friend of the Grand by calling the Box Office or online at grandtheatre.co.uk/support to take advantage of priority booking for the best seats.