London Classic Theatre Announces 2020 Season Celebrating Their 20th Anniversary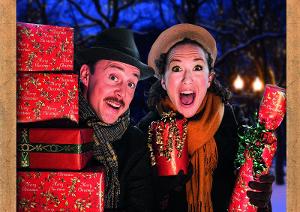 London Classic Theatre today celebrate 20 years as an unsubsidised, independent production company working in the UK and Ireland. Since 2000 the company has transitioned from one of the success stories of the London Fringe to its current position as one of the UK's leading touring companies, producing 41 tours and visiting over 250 venues. Today the company announces their 2020 season.
Kickstarting the season is Alan Ayckbourn's comic study of social climbing, Absurd Person Singular, opening at the Devonshire Park Theatre, Eastbourne on 25 February before touring to 24 venues, running until 19 July.
Following this is a production of Bernard Slade's seventies rom-com, Same Time, Next Year which will open at Malvern Festival Theatre on 2 September before touring to venues including Yvonne Arnaud Guildford, Theatre Royal Winchester, Oldham Coliseum, Theatre Royal Bury St Edmunds and the Ashcroft Playhouse in Croydon. Full details of the tour will be announced shortly.
Artistic Director Michael Cabot said today 'This is a hugely significant milestone for us, I first decided to set up LCT as a touring company and never envisaged that we would still be going strong twenty years later. Starting the company our aim was to bring high quality classic drama to venues and audiences across the UK and Ireland. We've been lucky to work with some extraordinary talent over the years, many of whom are the actors and designers from our 'core company', they have underpinned this adventure and it's a matter of great pride that many of them have return to work for us. We have never received any subsidy but have been determined not to let that affect the scale or ambition of the work we do. The incredible support we've received from a huge range of venues is what help us grow as a company, we look forward to this next chapter and the new challenges that our third decade will undoubtedly bring.'
Absurd Person Singular
Written by Alan Ayckbourn
Directed by Michael Cabot; Set design by Simon Scullion; Costume design by Kate Lyons
Lighting design by Andy Grange
25 February - 19 July
Press Night: Thursday 5 March, 7.45pm, New Wolsey Theatre, Ipswich
Three married couples. Three kitchens. Three Christmas parties.
Sidney Hopcroft, a small-time tradesman, persuades wife Jane to throw a party hoping to find favour with a bank manager and local architect. As celebrations begin, class differences and naked ambition combine to hilarious effect as, one by one, the characters seek refuge in Jane's kitchen.
Over the next two years, the Jacksons and Brewster-Wrights take turns to host festivities. But Sidney's star has begun to rise and roles are increasingly reversed as the cracks in the other couples' marriages begin to show.
Alan Ayckbourn's comic masterpiece of social climbing in 1970s suburbia fuses a potent mix of farce and black comedy.
Alan Ayckbourn is an award-winning playwright. Theatre credits include Absurd Person Singular (Evening Standard Best Comedy Award), The Norman Conquests (Evening Standard Best Play Award and Tony For Best Revival Of A Play), Bedroom Farce, Just Between Ourselves (Evening Standard Best Play Award), A Chorus of Disapproval (Olivier Best Comedy Award and Evening Standard Best Comedy Award), Woman in Mind, A Small Family Business (Evening Standard Best Play Award), Henceforward (Evening Standard Best Comedy Award), Man Of The Moment (Evening Standard Best Comedy Award), House & Garden and Private Fears in Public Places, among others.
Same Time, Next Year
Written by Bernard Slade
Directed by Michael Cabot; Set & Costume design by Bek Palmer; Lighting design by Andy Grange
2 September - 28 November
Press night: Thursday 17 September, 7.45pm, Yvonne Arnaud Guildford
Doris and George meet in 1951, a chance encounter in a Californian hotel that leads to a passionate one-night stand. Both are married to other people but, aware that this might be the start of something, they promise to meet 12 months later. So begins a romantic love affair that lasts 25 years.
The play charts their lives through the ups and downs of parenthood, career highs and lows as well as the shifting fashions and morals of the passing decades.
Bernard Slade paints a bittersweet, nostalgic and very funny portrait of two likeable protagonists who find themselves in the most unusual of long-term relationships.
One of the world's most widely staged plays, Same Time, Next Year was originally produced on Broadway in 1975. It ran for four years, winning a Tony Award for lead actress Ellen Burstyn, who later recreated her role in the successful film of the same title opposite Alan Alda.
Bernard Slade (1930 - 2019) was an award-winning screenwriter and playwright. Previous theatre credits include Same Time, Next Year, Tribute, Romantic Comedy, Special Occasions, Same Time, Another Year, An Act of the Imagination, Fatal Attraction, Return Engagements and You Say Tomatoes. His television credits include The Partridge Family, Trying Time, Good Heavens, The Girl with Something Extra, Bridget Loves Bernies, The Flying Nun, The Courtship of Eddie's Father, Bewitched and Love on a Rooftop.
---
London Classic Theatre is run by husband and wife team Michael Cabot and Kathryn Cabot.
Michael Cabot is the founder and Artistic Director of London Classic Theatre. He has directed all forty-one LCT productions since their touring debut in 2000, including No Man's Land, My Mother Said I Never Should, Private Lives, Hysteria, The Birthday Party, Waiting for Godot, Absent Friends, Entertaining Mr Sloane and Equus. His freelance work as director includes three recent collaborations with award-winning playwright Henry Naylor, The Collector (Arcola Theatre), Angel and Borders (Edinburgh Festival Fringe).
Kathryn Cabot is an actress and producer. She began working as programmer and assistant producer for LCT in 2014. She has programmed the company's tours of No Man's Land, My Mother Said I Never Should, Private Lives and Hysteria. In 2016, she established her own independent production company, producing the first national tour of Henry Naylor's The Collector. Absurd Person Singular is her fifth tour as producer for LCT.