David Benson & Jack Lane Star in DAD'S ARMY RADIO SHOW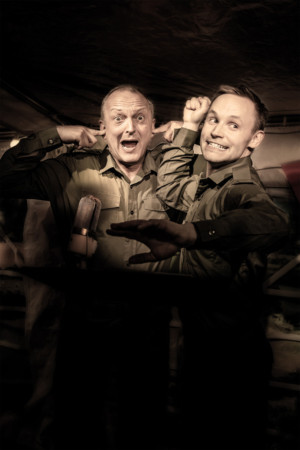 Two acclaimed actors play 25 characters in this brilliant staging of three classic Dad's Army radio episodes based on favourite scripts from the original TV series. Dad's Army Radio Show celebrates 50 years of Jimmy Perry and David Croft's quintessential sitcom, which won the Best One-Liner accolade in a poll of comedians conducted by digital channel Gold, with the immortal words "Don't tell him, Pike" from The Deadly Attachment episode.
Dad's Army Radio Show will run for a week at Wilton's Music Hall from Tuesday 22 January to Saturday 26 January, 2019 prior to a 20-date UK tour - full details to be announced.
Wilton's Music Hall press night: Tuesday 22 January at 7.30pm.
This London run coincides with news that three long-lost Dad's Army episodes wiped by the BBC - Under Fire, A Stripe for Frazer and The
Loneliness of the Long Distance Walker - are to be remade with an all-star cast by Gold in 2019.
Double Fringe First Award winner David Benson (star of Think No Evil Of Us: My Life With Kenneth Williams and Boris: World King) and Jack Lane (Wisdom Of A Fool) present a selection of classic radio episodes, based on the BBC Radio 4 radio adaptations created by Michael Snoad and Harold Knowles, featuring favourite lines, cherished characters and great feats of vocal impersonation!
The featured episodes are:
Mum's Army
Captain Mainwaring allows women into his platoon but rumours begin to circulate that he has become personally involved with one of the new members. 1st shown on TV: 20 November, 19709. 1st radio broadcast: 29 April 1975.
The Deadly Attachment
The platoon is ordered to guard the crew of a sunken U-Boat until help arrives from HQ. This is delayed, and the platoon must guard their Nazi prisoners through the night. 1st shown on TV: 31 October, 1973. 1st radio broadcast: 4 May 1976.
Round And Round Went The Great Big Wheel
The platoon is assigned "special duties" as a new weapon is tested near Walmington-on-Sea. However, their mission takes an unexpected turn... 1st shown on TV: 22 December, 1972. 1st radio broadcast: 20 April 1976.

Creative Team
Director Owen Lewis
Sound Design Tom Lishman
Producer James Seabright
David Benson
David burst onto the theatre scene in 1996 with his first solo show, Think No Evil of Us - My Life With Kenneth Williams, winning raves from the critics, sell-out houses and a prestigious Scotsman Fringe First Award. A national UK tour commenced in 1997 and ended up with a three-week West End run at the Vaudeville Theatre. Alongside his self-created solo shows, covering subjects as diverse as Frankie Howerd, Samuel Johnson, Princess Diana's funeral and culminating in his award-winning, searing drama, Lockerbie: Unfinished Business, Benson seizes on every opportunity to share his versatility with audiences. He starred as London Mayor Boris Johnson in the 2015/16 Edinburgh Fringe smash hit Boris: World King. His performance as Frankie Howerd in Martyn Hesford's BBC Radio 4 drama Frankie Takes A Trip won him a Best Actor nomination in the BBC Audio Drama Awards. He appeared in over 1,000 performances of The National Theatre's acclaimed comedy hit One Man 2 Guvnors at the NT and in the West End. On TV, he played Noel Coward in Goodnight Sweetheart, and he was a Liberace hologram in the feature film, BladeRunner 2049.
Jack Lane
Jack started his theatrical career backstage and in film projection but soon found himself at home on stage. In 2010 Jack founded Engine Shed Theatre Company and went on to co-adapt three episodes and two Christmas specials of the classic BBC sitcom, Steptoe and Son which met with approval from the original writers Ray Galton and Alan Simpson. Jack took the role of Albert Steptoe while producing and designing the productions. In 2015 Jack premiered Wisdom of a Fool, his self-penned one man play based on the life and career of comedy icon, Norman Wisdom. The play opened to critical acclaim and was endorsed by Wisdom's estate before embarking on an extensive UK tour. Theatre includes: A Christmas Carol (The Capitol), Dad's Army Radio Hour (West End & UK Tour), Great Britain (ASM, Theatre Royal, Haymarket) Gretel and Hansel, Cue for a Song, Steptoe & Son, From Turner To Houston, National Theatre Connections, Steptoe & Son Christmas Special, The Wizard of Oz, Aladdin, Peter Pan, Saucy Jack and the Space Vixens, Confusions, Annie (The Capitol) and Max Bialystock in The Producers (The Hawth).
LISTINGS INFO
James Seabright presents
Dad's Army Radio Show
Based on the classic BBC sitcom by
Jimmy Perry and David Croft
Performed by David Benson and Jack Lane
Directed by Owen Lewis
Sound design by Tom Lishman
Tuesday 22 January to Saturday 26 January, 2019
nightly at 7.30pm
Thursday & Saturday matinee at 3.00pm
Press Night: Tuesday 22 January at 7.30pm
Running time: 1 hour 40 minutes
(plus 20 minute interval)
Wilton's Music Hall
1 Graces Alley
(pedestrian access only)
London E1 8JB
Box Office:
020 7702 2789 (Mon-Fri, 11am-6pm)
online www.wiltons.org.uk
Ticket prices:
Full price £15.50-£25.00
Concessions £13.50-£23.00
More Hot Stories For You