Casting Announced for the World Premiere of Howard Brenton's THE SHADOW FACTORY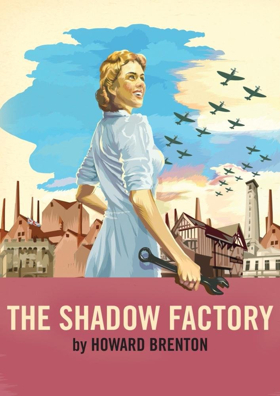 Director of Nuffield Southampton Theatres, Samuel Hodges, today announces casting for the theatres inaugural production at NST City - the world première of Howard Brenton's The Shadow Factory. Hodges directs David Birrell (Fred/Hugh), Catherine Cusack (Lil/Sylvia), Lorna Fitzgerald (Jackie Dimmock), Hilton McRae (Lord Beaverbrook) and Daniel York (Len Gooch). Further casting to be announced. The Shadow Factory opens on 15 February, with previews from 7 February, and runs until 3 March.
This world première will open Southampton's brand-new theatre, NST City, conceived by NST's director Samuel Hodges and 59 Productions - the Tony Award-winning artists behind the video design of the London 2012 Olympic Opening Ceremony.
Alongside the production, the company will mount The Shadow Factory Exhibition, giving audiences the opportunity to step into the stories behind The Shadow Factory in an installation featuring the visually stunning moving set designed by 59 Productions.
NST City is part of Studio 144, Southampton's new £30m city centre arts venue situated in the heart of the city centre. This new venue will include a flexible 450 seat main house theatre, a 133 seat studio, screening facilities, rehearsal, workshop spaces and bar and restaurant managed by Southampton 's 2017 Business of the Year winner, Mettricks. NST City will transform NST's ability to show high quality professional work from local, national and International Artists and allow the programme to include dance, film and music. This includes a new pop-up music collective, The Space Between Collective, to accompany leading rock and pop acts from around the country; a brand-new dance programme will see the world-renowned Hofesh Shechter Company perform in Southampton for the first time and the nascent film programme will feature an event cinema strand, including NT Live screenings. The bar and restaurant, Tyrrell's, will be themed on the 1950s former department store Tyrrell & Green which occupied the same site. NST will run the new city centre venue alongside its existing theatre on the University of Southampton's Highfield Campus.
The Shadow Factory tells the story of Southampton's courage in 1940 during The Battle of Britain. Southampton is home to our only hope of victory: the Spitfire. But when the Luftwaffe drops 2,300 bombs in three devastating raids, the city goes up in flames and the Woolston Supermarine Spitfire factory is destroyed. From the ashes, a story of chaos, courage and community spirit emerges. Lorna Fitzgerald makes her stage debut as Jackie Dimmock.
Howard Brenton has written over 50 plays. His most recent credits include Miss Julie (The Theatre By The Lake & The Jermyn Street Theatre), Paul (National Theatre), In Extremis (Shakespeare's Globe and tour retitled Eternal Love), Never So Good (National Theatre), Anne Boleyn (Shakespeare's Globe, plus revival and tour, winner of the WhatsOnStage Best Play Award and UK Theatre Awards Best Touring Production), 55 Days (Hampstead Theatre), #aiww: The Arrest of Ai Weiwei (Hampstead Theatre), The Guffin (one act play, NT Connections), Drawing The Line (Hampstead Theatre), Doctor Scroggy's War (Shakespeare's Globe), Ransomed (one act play, Salisbury Playhouse), Lawrence After Arabia (Hampstead Theatre) and The Blinding Light (Jermyn Street Theatre). Versions of classics include The Life of Galileo and Danton's Death (National Theatre) and Goethe's Faust (RSC). Other adaptations include The Ragged Trousered Philanthropists (Liverpool Everyman and Chichester Festival Theatre) and Dances of Death (Gate Theatre). For television, he wrote 13 episodes of the first four series of the BBC Television Drama Spooks (winner of the BAFTA Best Television Drama Series 2003).
David Birrell plays Fred/Hugh. His theatre credits include Wind in the Willows (UK tour), Sweeney Todd (West Yorkshire Playhouse/Royal Exchange Theatre), The Death of King Arthur (Sam Wanamaker Playhouse), Peter Pan, A Midsummer Night's Dream, Ragtime (Regent's Park Open Air Theatre), The Last Days of Troy (Royal Exchange/Shakespeare's Globe), Company (Sheffield Crucible), Passion, Grand Hotel (Donmar Warehouse), Spamalot (West End), Oh! What A Lovely War (National Theatre), The Gates of Paradise, The Jewess of Toledo, The Venetian Twins, Love's Labour's Lost, Moby Dick, The Tempest, Murder in the Cathedral, Hamlet, Columbus, Romeo and Juliet (RSC); and for television, Holy Flying Circus, Buried and Angels.
Catherine Cusack plays Lil/Sylvia. For theatre her credits include A Parting from the Body, Fragile, Factory Girls (Arcola Theatre), The Seagull (UK tour), All That Fall (Jermyn Street Theatre and New York), Bingo (Chichester Festival Theatre/revived Young Vic), The Two Character Play (Jermyn Street Theatre/USA), The Early Bird, The Gigli Concert (Finborough Theatre), What Fatima Did (Hampstead Theatre), Uncle Vanya (Wilton's Music Hall), The Venetian Twins (Watermill Theatre) Our Lady of Sligo (National Theatre), Measure for Measure (ETT), Prayers of Sherkin (The Old Vic), Mrs Warren's Profession (Lyric Hammersmith) and Phaedra's Love (Gate Theatre). For television her credits include The Last Days of Anne Boleyn, Jonathan Creek, Ballykissangel and Cadfael; and for film, Finding Neverland, Conspiracy of Silence, Boxed and The Lonely Passion of Judith Hearne.
Lorna Fitzgerald plays Jackie Dimmock. She is perhaps best known for her role as Abi Branning in EastEnders. Having played this role since 1996, Fitzgerald makes her final screen appearance as Abi this Christmas. Other credits for television include The Golden Hour, According to Bex and Cherished. This production marks her professional stage debut.
Hilton McRae plays Lord Beaverbrook. Theatre credits in the West End include Les Liaisons Dangereuses (Ambassadors Theatre and Broadway), 1984 (Playhouse Theatre), End of the Rainbow (Trafalgar Studios, Olivier Award nominee for Best Supporting Actor), My One and Only (Piccadilly Theatre), Mamma Mia! (Prince Edward Theatre), Les Miserables (Palace Theatre) Miss Saigon (Theatre Royal, Drury Lane) Rabbit (Trafalgar Studios) and Piaf (Piccadilly Theatre). Other theatre credits include Uncle Vanya (Almeida Theatre), The Cocktail Party (The Print Room), The Kreutzer Sonata (The Gate/La MaMa New York), Timon of Athens, Caroline or Change (National Theatre), The Danton Affair, Troilus and Cressida, As You Like It, Total Eclipse, Much Ado About Nothing, The Innocent, Anthony and Cleopatra, Captain Swing, The Churchill Play, The Merchant of Venice, Factory Birds and Bandits (RSC) The Oresteia Trilogy (Fisher Centre, New York) and The Front Page (Donmar Warehouse). For television, credits include Injustice, Zen, Red Riding Trilogy - 1983, The Execution of Gary Glitter, Frances Tuesday, Murder City, Baby Father, Serious & Organised, Deacon Brodie, King of Hearts, First Take, To Each His Own, Roll Over Beethoven, Poppyland, Forever Young. For film, credits include Darkest Hour, Denial, The Sense of an Ending, Macbeth, Far From the Madding Crowd, Mansfield Park, Return of the Jedi, Secret Rapture, Greystoke and The French Lieutenant's Woman.
Daniel York plays Len Gooch. Theatre includes The Merchant of Venice, The Country Wife, Moby Dick, Snow In Midsummer, Dido Queen of Carthage (RSC) Welcome Home Captain Fox! (Donmar Warehouse) The World of Extreme Happiness (National Theatre), Our American Cousin, We Know Where You Live, P'yongyang (Finborough), Une Tempete (Gate Theatre), Porcelain (Royal Court), The Magic Fundoshi (Lyric Studio, Hammersmith), Hamlet (Riverside Studios), Sun is Shining (King's Head/Battersea Arts Centre/off Broadway), The Changeling (Southwark Playhouse), Branded (Old Vic Theatre) and Turandot (Hampstead Theatre). For television his credits include Whitechapel, Moving On, Waking the Dead, Peggy Su!, Chambers, Supper at Emmaus, A Fish Named Tao; and for film, Scarborough, The Receptionist, Rogue Trader, The Beach, Faraway, Act of Grace and Doom.
Samuel Hodges is Director of The Shadow Factory and of Nuffield Southampton Theatres (NST). His productions for NST includes Dedication - Shakespeare and Southampton, following The Glass Menagerie in 2015. Previously he founded the HighTide Festival Theatre in 2007 and was the Artistic Director for five years, during which time he produced over 25 new plays, co-producing with the National Theatre, The Old Vic and the Bush Theatre, amongst others. Between 2012 and 2014, he ran the Criterion Theatre in London's West End, for whom he curated a late-night programme and a one-off summer season of new work to celebrate the London Olympics.
59 Productions is the multi award-winning company of artists behind the video design of the Opening Ceremony of the London 2012 Olympic Games and War Horse, the design and creative direction of the record-breaking David Bowie is exhibition, and video design of Christopher Wheeldon's celebrated stage adaptation of An American in Paris (Tony Award in 2015). Led by directors Leo Warner, Mark Grimmer, Lysander Ashton and Richard Slaney, 59 Productions are world-leading specialists in design for stage and live events. They are the go-to team for generating creative and technical ideas to realise ambitious artistic projects across a range of disciplines: from architectural projection mapping to exhibition design, VR experiences to events, theatrical design to technical consultancy. In 2017, 59 Productions began producing its own theatrical work, opening its first full scale production, Paul Auster's City of Glass (HOME, Manchester, Lyric, Hammersmith). Current and upcoming projects also include, Oslo (Lincoln Center, National Theatre and currently Harold Pinter Theatre), The (R)evolution of Steve Jobs (Santa Fe Opera), Marnie (The Met Opera & ENO), Reflections (a four-day projection-mapping event to mark the twentieth anniversary of the Guggenheim Museum Bilbao) and A Perfect Harmony (specially-commissioned as the centrepiece of the weekend-long celebrations for the re-opening of Washington's Freer|Sackler museums in October 2017).
Studio 144, Southampton's ambitious new venue for theatre, visual art and film brings two world-class arts organisations - Nuffield Southampton Theatres and John Hansard Gallery, part of the University of Southampton - into the heart of the city centre for the first time, together with media and film specialists City Eye.