Get Ready to Rock with ROCK OF AGES at the Dunfield Theatre Cambridge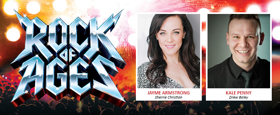 Brush up your air guitar skills, dig out the acid wash jeans, and tease your hair to new heights! With big chords, big hair, and an even bigger heart, the ultimate arena-rock love story Rock of Ages explodes onto the stage at the Dunfield Theatre Cambridge for four weeks only from October 11 to November 5.
"Rock of Ages is a goofy tribute to the '80s hard rock scene - it's packed with incredible classic rock tunes, fun characters and some hilarious, albeit crass, comedy that epitomizes the hard-living lifestyle of the time," says Mustakas. "This is definitely an opportunity to leave the kids at home and rock out to the music of your youth."
This totally awesome '80s musical will have audiences yearning for vintage concert t-shirts, leather pants, hot pink scrunchies and anything spandex, as it transports them back to the nefarious Sunset Strip in Hollywood circa 1987. Small town girl Sherrie Christian arrives in the big city with even bigger stars in her eyes. She quickly gets a nasty taste of what the underbelly of L.A. has to offer when her suitcase is stolen right outside of the world-famous Bourbon Room club. Luckily, she's saved by city-boy and aspiring singer Drew Boley, who works at the legendary bar. The pair have an instant connection, and Drew gets Sherrie a job as a waitress. Lycra, lace and liquor flow freely at the scintillating strip club, a place where bad-boy rock star Stacee Jaxx takes the stage and scantily-clad groupies line up to turn their fantasies into reality.
But the rock and roll fairy tale is about to end when industrial developers convince Hollywood's mayor that it is time to clean up the area's wild reputation. Suddenly, the iconic club is in danger of being demolished and transformed into just another capitalist mall plaza! Can Drew, Sherrie and the gang save the strip - and themselves - before it's too late? Only the music of hit bands Styx, Journey, Bon Jovi, Whitesnake and more hold the answer.
Featuring 28 classic rock tunes like "Don't Stop Believin'," "We Built This City," "The Final Countdown," "Here I Go Again," "Harden My Heart," "Can't Fight this Feeling," and more, Rock of Ages is a full throttle, hold on to your shoulder pads, musical love letter to the glam rock era. However, as the production is a tongue-in-cheek tribute to the classic rock scene, it includes behavior associated with that culture - like explicit language, the mention of casual drug use, and sexual innuendo. Rock of Ages is loud, crass, playfully suggestive and ultimately geared to adult audiences.
Mustakas himself leads the creative team of this cranked-up crowd-pleaser as Director. He is joined by Choreographer Robin Calvert, Music Director Konrad Pluta, Set Designer Samantha Burson, Costume Designer Adrienne Vranckaert and Lighting Designer Jeff JohnstonCollins.
A rock solid cast has been assembled to ensure that audiences are amped up to the max! Vancouver's Kale Penny makes his Drayton Entertainment debut as Drew Boley, the bus boy with a heart of gold who dreams of making it big. Penny played the role for the Vancouver Arts Club wining rave reviews. He has also appeared in You're a Good Man, Charlie Brown and Million Dollar Quartet on the West Coast.
No stranger to the Drayton Entertainment stages, leading lady Jayme Armstrong takes on the role of naive Sherrie Christian, an aspiring actress who sees the strip as her chance for fame. She recently appeared as Millie in Thoroughly Modern Millie and Lina Lamont in Singin' in the Rain.
Fresh from his praised performance as the title character in Joseph and the Amazing Technicolor Dreamcoat, Jamie McKnight brings his soaring tenor voice and washboard abs to the role of cocky rock mega-star Stacee Jaxx belting out hits like "Wanted Dead or Alive", "Paradise City", "Rock You Like a Hurricane" and more.
Broadway performer Aaron Walpole makes his Drayton Entertainment debut as Lonny, co-owner of The Bourbon Room - a role he played to great acclaim in the Toronto production in 2010. A former Canadian Idol semi-finalist, Walpole has built a very successful stage career appearing in Les Misérables and Jesus Christ Superstar on Broadway and on the national tour of Kinky Boots, among other shows. Seasoned actor Mark Harapiak takes on the role of Dennis Dupree, Lonny's business partner. Audiences may recognize him as Ruben in Joseph and the Amazing Technicolor Dreamcoat, and Bill Austin in Mamma Mia!, among other major roles.
Kristen Peace is Justice Charlier, the owner of the nearby "gentleman's club" Venus who befriends Sherrie, and veteran actor Victor A. Young is businessman Hertz Klinemann with Gregory Pember as his son Franz. All three actors have appeared in numerous Drayton Entertainment productions; Peace and Young played King Arthur and the Lady of the Lake in Spamalot and Pember appeared as Robertson Ay in Mary Poppins, among other notable roles. Both Young and Pember will appear in Beauty and the Beast this holiday season as Maurice and Lefou.
Dani Jazzar, Ayrin Mackie, Anthony MacPherson, Jade Repeta, Brent Thiessen, Jennifer Thiessen and Christine Watson round out the wicked cast playing a variety of roles.
Written by Chris D'Arienzo with arrangements by Ethan Popp, Rock of Ages is one of the most successful jukebox musicals of all time playing for over seven years on the Great White Way and holding the record as the 27th longest running show in Broadway history. It premiered in Los Angeles in 2006, debuted off-Broadway in 2008 to critical acclaim and quickly moved to Broadway in 2009 garnering five Tony Award nominations. A feature film starring Julianne Hough, Russell Brand, Paul Giamatti, Catherine Zeta-Jones, Alec Baldwin and Tom Cruise was produced by Warner Bros. in 2012.
Rock of Ages runs at the Dunfield Theatre Cambridge from October 11 to November 5. Tickets are $46 dollars for Adults and $27 dollars for Youth under 20 years of age. Tickets for groups of 20 or more and select Discount Dates are $37. HST is applicable to all ticket prices. Tickets can be purchased online at www.draytonentertainment.com, in person at the Box Office or by calling 519-621-8000 or toll free at 1-855 DRAYTON (372-9866).
More Hot Stories For You