Driftwood Theatre Announces New Cast Member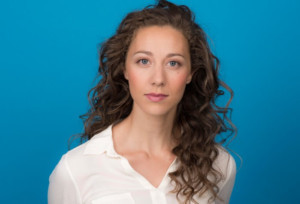 Driftwood Theatre is pleased to announce that Sochi Fried is joining the company of Rosalynde (or As You Like It) for the summer 2018 Bard's Bus Tour. Sochi Fried will be taking the role of Rosalynde.
Sochi Fried's selected credits include Measure for Measure (Shakespeare Bash'd), Crossing Delancey (The
ALLIANCE THEATRE
, Georgia), and Blood Weddings (Modern Times Stage Company/ Aluna Theatre). Rosalynde will be her Driftwood debut. Set in 1918, Rosalynde takes place when Canadian women were finally granted the right to vote in federal elections. When circumstances force Rosalynde, played by Sochi Fried, from her home in the city, she flees into the unknown wilds of the forest where she sets out on a journey of identity, self-discovery and love - learning that to carve her own path, she needs to break the rules. Directed by D.
Jeremy Smith
, the Rosalynde ensemble includes Geoffrey Armour (Festival Players) as Touchstone,
Caroline Gillis
(Innocence Lost) as Jacques, Ximena Huizi (Theatre Inamorata) as Celia, Megan Miles (Hart House Theatre) as Charles, Phebe, and Audrey, Ngabo Nabea (Classical Theatre Project) as Orlando, Derek Kwan (Mr. Shi and His Lover) as Oliver, and Silvius, and Eric Woolfe (Eldritch Theatre) as Duke Frederick, Duke Senior, and Corin. Rosalynde incorporates live music, physical performance, and puppetry designed by production designer Sheree Tams and puppeteer and cast member Eric Woolfe. The creative team also includes musical director/composer Tom Lillington, lighting designer Michael Brunet, dramaturge Myekah Payne, and stage manager Kelsey Rae.
Driftwood Theatre presents
ROSALYNDE
(or, As You Like It)
July 13 - August 12, 2018
All performances begin at 7:30pm except
Thursday, July 26 at Parma Park at 6:30pm All performances Pay What You Can (PWYC) admission
or Free, as indicated below
See website for inclement weather policies for each show SCHEDULE
Friday, July 13 at Todmorden Mills
*Preview
67 Pottery Rd, Toronto, ON
- PWYC Saturday, July 14 at Parkwood Estate
*Opening Night
270 Simcoe Street North, Oshawa, ON
- PWYC Sunday, July 15 at Visual Arts Centre of Clarington
143 Simpson Avenue, Bowmanville, ON
- PWYC Tuesday, July 17 at Celebration Square
405 Dundas Street West, Whitby, ON
- FREE Wednesday, July 18 at Leacock Museum
50 Museum Drive, Orillia, ON
- PWYC Thursday, July 19 at Civic Centre Park
200 King Street West, Kitchener, ON
- PWYC Friday, July 20 at Ingersoll Cheese Museum
290 Harris Street, Ingersoll, ON
- PWYC Saturday, July 21 at First Ontario Performing Arts Centre
250 St Paul Street, St. Catharines, ON
- PWYC Sunday, July 22 at Esplanade Park,
1 The Esplanade, Pickering, ON
- PWYC Tuesday, July 24 at the Outdoor Plaza at the Burlington Performing Arts Centre
440 Locust Street, Burlington, ON
- PWYC Wednesday, July 25 at
Thorn Lodge Park
2405 Homelands Drive, Mississauga, ON - PWYC Thursday, July 26 at Parma Park
6:30pm Start Time
99 Parma Court, Toronto, ON - FREE Friday, July 27 at Oakdale Park
350 Grandravine Drive, Toronto, ON
- FREE Saturday, July 28 at Amos Waites Park
2441 Lake Shore Boulevard West, Etobicoke, ON
- FREE Sunday, July 29 at Little Avenue Memorial Park
22 Little Avenue, Toronto, ON
- FREE Tuesday, July 31 at Guild Park and Gardens
201 Guildwood Parkway, Scarborough, ON
- FREE Wednesday, August 1 and Thursday August 2
955 Lake Shore Boulevard West
, Trillium Park Ontario Place
Toronto, ON - FREE Friday, August 3 at Kawartha Settler's Village
85 Dunn Street, Bobcaygeon, ON
- PWYC Saturday, August 4 at Memorial Park
9 Matthew Street, Marmora, ON
- PWYC Sunday, August 5 at Peterborough Museum & Archives
300 Hunter Street East, Peterborough, ON
- PWYC Tuesday, August 7 at Springer Market Square
216 Ontario Street, Kingston, ON
- PWYC Wednesday, August 8 at Allen Macpherson House
180 Elizabeth Street, Napanee, ON
- FREE Thursday, August 9 at Trent Port Marina
15 Creswell Drive, Trenton, ON
- PWYC Friday, August 10 at Victoria Park
138 Division Street, Cobourg, ON
- PWYC Saturday, August 11 at
Riverwood Park
4170 Riverwood Park Lane, Mississauga, ON - PWYC Sunday, August 12 at Scugog Shores Museum
16210 Regional Road, Port Perry, ON - PWYC For more information please call 844-601-8057
or visit
driftwoodtheatre.com/bards-bus-tou