Click Here for More Articles on OPERA - CANADA
BWW Review: Canadian Opera Company's ARABELLA Sparkles in Every Way
Swanky sets, shimmering voices, sumptuous costumes - it all sparkles when met with sublime Strauss. The Canadian Opera Company presents the Canadian premiere of ARABELLA, a lyric comedy by Richard Strauss. A co-production with Santa Fe Opera and Minnesota Opera, ARABELLA is sung in German with English surtitles, the libretto by Hugo von Hofmannsthal still resonating humorously against Strauss' score. Director Tim Albery has created a fine production, where every detail brims with elegance.
A family in dire financial constraints attempts to find a wealthy suitor for their beautiful daughter, Arabella (Erin Wall). Unable to afford two daughters marrying, Arabella's sister, Zdenko (Jane Archibald) is persuaded to relish in her tomboyishness, her family passing her off as a young boy. Zdenko's close friend and object of her affection, Matteo (Michael Brandenburg), obsesses over his mad love for Arabella. In an attempt to prevent Matteo from committing suicide, Zdenko forges letters "from Arabella", the prose flowing naturally from her own love for Matteo.
Unimpressed by the selection of suitors her family has lined up, Arabella resolves that she will wait for the right man, vowing to only marry for love. Well, love comes, in the form of a mysterious traveller, Mandryka (Tomasz Konieczny) - but it all may not be as simple as Arabella imagined.
ARABELLA's grand, pristine set, by designer Tobias Hoheisel, invokes awe the moment it is met with light. Encompassing the space is Albery's artistic vision - filling even the silences left throughout Strauss' score. Librettist Hofmannsthal's work has certainly seen better days (Hofmannsthal died before he was able to edit Arabella's second and third acts), but Albery masterfully prys all of its available comedy and drama. Albery's characters are all struggling, internally. Arabella with how to love, Zdenko with how to embrace her innate femininity, their father with his desperation for wealth, Matteo with love that exists only in ink. This push and pull of struggle, dances with Strauss' score.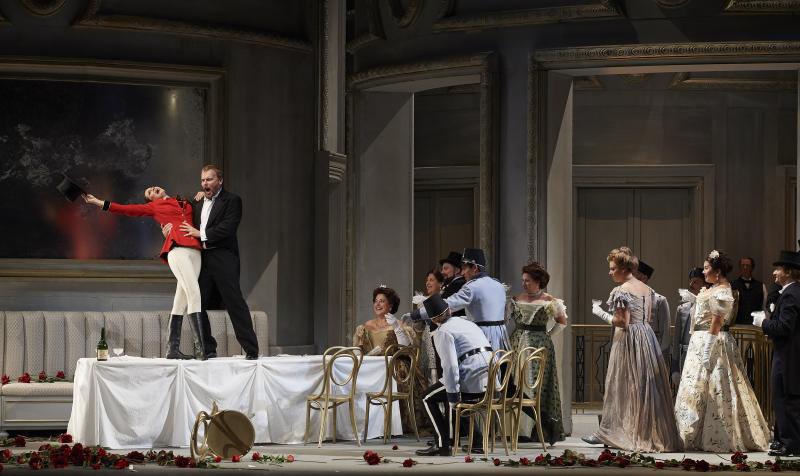 Previously performing the title role in Santa Fe in 2012 and at the Metropolitan Opera in 2014, Erin Wall is sensational in the opera's Canadian debut. Her voice crescendos into a silky, sweeping sound - ideal for Strauss' lush score. In an ensemble of anxious, spirited characters, Wall's Arabella is certain and secure - aiding her grounded sound, as it travels through Strauss' gorgeous, long lines. Bass-baritone Tomasz Konieczny, in his COC debut, is the perfect match for Wall. With his burly, wall of sound, Konieczny is an absolute pleasure to watch. He never stops acting. Konieczny's enormous stage presence, along with his exceptional voice was very well-received - he must come back for more.
As Zdenko, Jane Archibald sings with a diamond-like brilliance, her acting chops matching the luxury all around her. Even "as a boy", Archibald is sensitive, her voice free to soar, with wonderful control. One of the many highlights of the evening, Claire de Sévigné's marvelous, light coloratura as The Fiakermilli was a welcome variation in sound.
In opera, the music comes first. The level of artistry, the extraordinary musicality of the artists on that stage - this is what makes this production, outstanding. Coupled with Albery's vision and an impressive team of designers, ARABELLA is allowed to truly shine.
---
ARABELLA, presented by the Canadian Opera Company runs through October 28th at the Four Seasons Centre for the Performing Arts.
For more information and to purchase tickets, visit http://www.coc.ca/PerformancesAndTickets/1718Season/Arabella.aspx
(main photo credit: Erin Wall as Arabella in the Canadian Opera Company's new production of Arabella, 2017, photo: Michael Cooper)