Photo Flash: Sneak Peek at Stageworks Theatre's TAMPAWORKS, Opening Tonight
TampaWorks is an evening of short plays set in Tampa Bay area locations. This year's TampaWorks is totally a Stageworks production. Playwrights from all over central Florida submitted scripts. The submissions were evaluated by a panel of judges, who chose eight short plays for the production. The production is being sponsored in part by Tucker/Hall, The Tampa Chamber Of Commerce and The Tampa Downtown Partnership. All Artists participating will receive an honorarium so are basically donating a substantial portion of their time and talents. BroadwayWorld has a sneak peek at this year's productions below!
Join these interesting characters at Stageworks June 6-9 Thurs-Sat @ 8PM Sun @3PM. All tickets $20. Call for general seating and information: 813-251-8984 or 813-727-2708.
GHOSTS OF HYDE PARK Matt Cowley
Matt writes and produces Radio Theater with WMNF, and is the host of Soundstage, WMNF's radio theater show. He is the sound designer and foley artist for the Radio Theatre Project Live. His radio plays have been syndicated nationally and won a Gold Medal for Best Regularly Scheduled Comedy Program at the New York Festivals. He is a member of the StageWrights playwriting group, and is the Web Manager for WMNF Community Radio and the president of Yeti Media.
HIT AND RUN (tied for first) Jack Gilhooley
New Dramatis alumnus,
Jack Gilhooley
has won 2 National Endowment for the Arts awards (Individual Artist and International to Centaur Theatre, Montreal), 2 Fulbright Guest Artist Fellowships (Spain and Ireland), a NY Foundation for The Arts grant, 2 Puffin Foundation awards, 4 Florida
Arts Council
Fellowships, Pilgrim Project, Carnegie Fund, PEN, Canada Council, Sarasota County
Arts Council
Ageless Creativity awards and the first ever John Ringling Fund Artists' Fellowship. He has been a guest playwright at The Eugene O'Neill Conference, Yaddo, MacDowell, Millay, Albee, Djerassi, and Hawthornden Castle (Scotland) Colonies and The
Tyrone Guthrie
Institute (Ireland). His plays have been performed and/or developed at
Joseph Papp
's Public Theatre, Asolo, Indiana Rep, The Folger (D.C.), Long Wharf, ACT/San Francisco,
Mark Taper Forum
, Shubert (Phila.), Theatre of The First Amendment, Victory Gardens,
Culture Project
, Manhattan Theatre Club, 59E59 Theatres,
Samuel Beckett
Theatre, Circle Rep,
Nat Horne
Theatre,
South Street Theatre
and on various other stages, colleges and universities. His works have been presented with the help of 5 Ford Foundation Development Endowments
NO TIES Martin Tucker
Dr. Tucker taught English and American Literature at Long Island University (both the Brooklyn Center and the C.W. Post campuses). He is now Professor Emeritus, having retired ten years ago from full-time teaching.
Served as Editor-in-Chief of the prize-winning literary journal, CONFRONTATION for 42 years. He retired from this position two years ago. Among his works, he published four collections poetry and six works of literary criticism, among them a study of Sam Shepard and the widely-praised LITERARY EXILE IN THE TWENTIETH CENTURY. Was editor of more than 20 volumes of a literary encyclopedia. His fiction, essays, poetry and reviews have appeared in THE NEW YORK TIMES BOOK REVIEW, THE NATION, THE NEW REPUBLIC, THE COMMONWEAL, CHICAGO JEWISH FORUM, WEST AFRICA REVIEW, RESEARCH IN AFRICAN LITERATURES, EPOCH, BOULEVARD, NEW LETTERS, and elsewhere. .
A program of his one-act plays was produced in London, and is a former Longjohn Award winner.
He published the first book-length study in the United States of African Literature in English, AFRICA IN MODERN LITERATURE (New York, Frederick Ungar Company, 1967). He was a recipient the Chancellor's Award from Long Island University, a distinction given only six times in the history of the university. Received honors and grants from New York University, Long Island University, Virginia Center for the Creative Arts, Phi Beta Kappa, The MacDowell Colony, and PEN American Center.
He is 85 years old.
GEO-MUGGLED Joie Marsh
Joie Marsh is happy to return to StageWorks. Last year she performed in the TampaWorks' play Remembering Billy and is thankful for the opportunity to present her first play, Geo-muggled here this year. Joie holds a degree in Theatre Performance from Florida Southern College and has been seen in local productions such as Red Pepper at Venue Theatre, Angel Street at Pelican Players, Sealed for Freshness at Carrollwood Players, and most recently Almost, Maine with Showcase Arts Foundation Inc.
GASPARILLA QUEEN Dewey Davis-Thompson
Dewey Davis-Thompson currently has several plays in production in the Tampa Bay region including Gasparilla Queen at StageWorks in Tampa, Ganymede at the Studio@620 and Cosmic Significance: Atlantis on WMNF 88.5 FM.
CUSTOMER SERVICE Philip Hall
Philip Hall is the author and composer of musicals, 10-minute plays, and full-length plays. He won last year's Nantucket Short Play Festival, and has been a runner-up for the Humana Festival's Heideman Award and the New Play Network's SMITH prize. His musical Life On The Mississippi will receive a mainstage production at Workshop Theatre Company in New York this October. He lives on Longboat Key and is married to quilt artist Leslie A. Hall.
GUITAR MAN (tied for sixth) Lloyd Wilson
Lloyd Wilson
's in Lorain Ohio in the shadow of a historic Lake Erie Lighthouse during a nor'easter storm--hence, "The Lighthouse Keeper Trilogy" would also be born. He is married to his muse, Janet, and they have two sons. In the 70's he was Art Director at The Journal, a newspaper in the Great Lakes region.Lloyd designed murals at Cedar Point amusement park in Ohio and wrote articles for Sign Craft. A novella about his grandfather, a charter captain lost on Lake Erie during a fierce nor'easter, was the catalyst for the "Keeper Trilogy." He's adapted the trilogy into a stage play; "The Last Keeper." He trained Disney Studio artists and wrote, produced and directed the comedy/mystery, "Fear on the Cusp." As a member of a New York Times bestselling author's writing/acting group, Lloyd realized his calling--stage and screenplays. From 2001 to the present, being the moderator of literary groups in Tarpon Springs FL, and creator of the "Knight Writers Society" where he's shared decades of writing experience with aspiring authors. He's completed an original screenplay entitled; "Viagra Finale" Lloyd, and producer/wife, Jan, active members of the FMPTA, are taking their newest dramedy, "Fragile Fate" throughout, Florida.
PLAY ME Janet Scaglioni
Her credentials are impressive, but her passion is persuasive. Dr. Janet Scaglione's engaging and theatrical style has been applauded by local and national audiences from business, industry, education, and government. Janet continues to evolve as an educator-activist, performer, composer, and playwright. Janet is a native of Tampa, Florida, married to her high school sweetheart and recovering mother of five. She recently left her career at USF, to pursue her artistic endeavors and to found The Broad's Way, LLC.
The first edition of TampaWorks took place in June, 2012. It was a production of the Stagewrights playwriting group and its sponsoring organization, Stageworks Theatre. In the fall of 2011, long-time member Ed Stevens proposed that Stagewrights for the first time undertake a group project. After much discussion, it was decided to use local settings for the plays, reasoning it would encourage attendance at the event without significantly limiting the playwrights' style or subject matter. It was also decided to make the production a fundraiser for Stageworks and that most of the participants would donate their time and talents. Performances took place June 8-9, 2012, to full houses and an enthusiastic response.


Noelle Muniz, Slake Counts and Joseph Parra in Ghosts of Hyde Park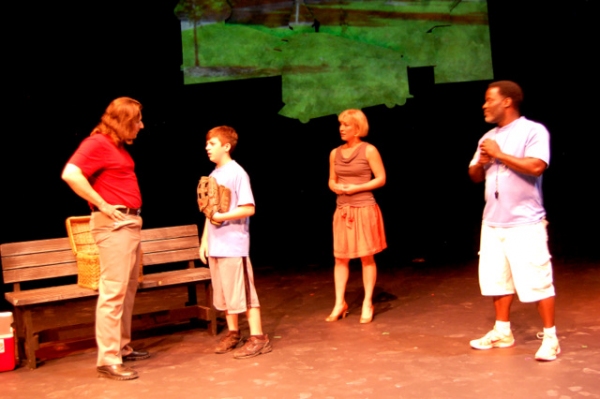 Tim Guerreri, Josh Corjay , Joanna Sycz, Josh Goff in "Hit and Run"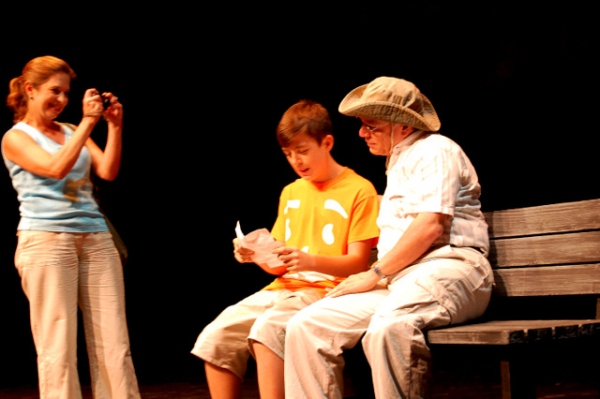 Suzy Devore, Josh Corjay, Bob Gonzalez in "Geo-Muggled" in TampaWorks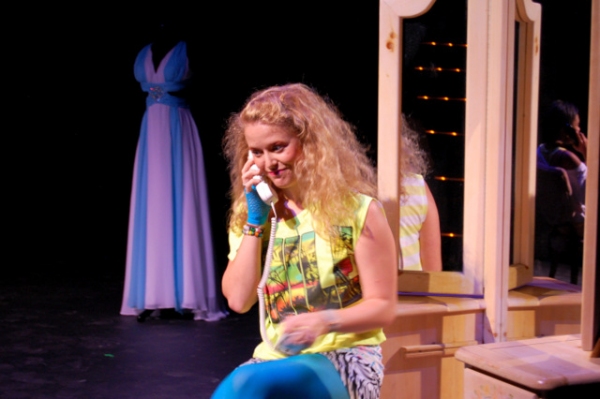 Rachel Butterfield in "Gasparilla Queen"

More Hot Stories For You