BWW Previews: INNOVOCATIVE THEATRE'S THE HUNDRED DRESSES SHINES LIGHT ON BULLYING at Stageworks Theatre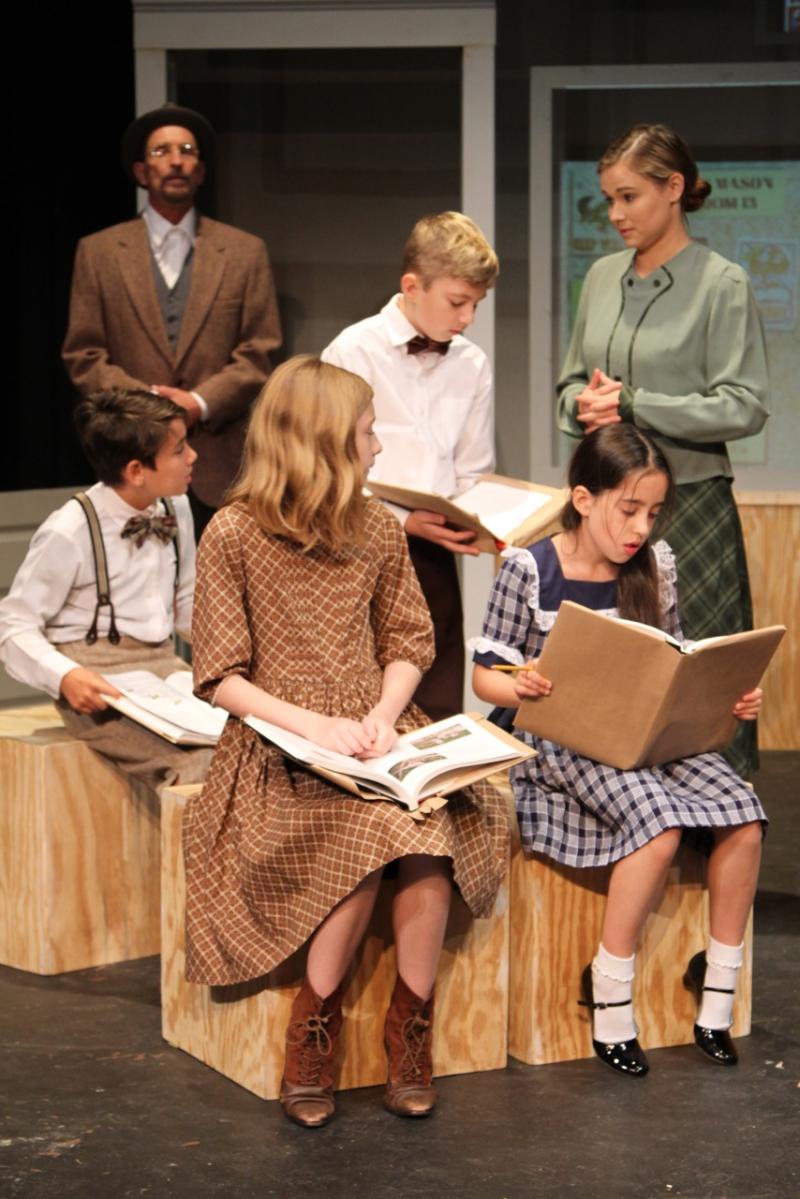 In a time where bullying is a national crisis, leading to children as young as nine years old taking their own lives, Innovocative Theatre's production The Hundred Dresses is opening at Stageworks Theatre on August 4. Sadly, this play is as timely today as when Eleanor Estes wrote the book in 1944.
Set during the Great Depression in 1938, The Hundred Dresses is a play by based on the true experiences of the book author about a poor Polish girl named Wanda Petronski who is bullied by her classmates because she is different.
The play showcases a cast of 10, of which 6 are young people from ages 10 to 14, and is an appropriate production for ages six and up.
"This play is a good way to start a conversation about bullying," said director Dawn Truax. "I hope people who see this question what would they do if they were in the main character's show."
Featuring Georgia Grenon (Maddie), Madison LeVine (Peggy), Alyssa Black-Diamond (Cecile), Emery Wynne (Wanda), Alec Anderson (Willie), Preston Maeda (Jack), Blake Smallen (Jake), Larry Corwin (Mr. Petronski/Mr. Svenson) Madeleine Krebs (Ms. Mason), and Staci Sabarsky (Shelly Reeves), Wanda's story is told through the eyes of Maddie, whose best friend Peggy leads the other students in the bullying of Wanda. Maddie must make a grown-up decision about bullying.
The theatre company's use of videos and projections give a modern, timely feel to an old story and also capture a storybook feel. Vague architectural pieces on stage lend to the distressed backdrop of the Depression era, but Dawn made sure the kids' costumes were colorful and vibrant.
"When I first read the play, I kept thinking Norman Rockwell. I wanted as much space and activity out of the kids, so I didn't want to clutter up the set with a lot of set pieces so that they would have room to move," said director Dawn. "We're using many beautiful projections to designate the location as opposed to sets. Eight scenes in each act transition to another scene. We're using block pieces to be anything, depending on what the scene is - furniture in one and a pile of rocks in another scene. The Depression is always in the background and the kids know that, but in their everyday life, it's all about what they're dealing with."
Dawn said that the show speaks to the power of having empathy for another person, especially as the youngster who gets bullied is an immigrant.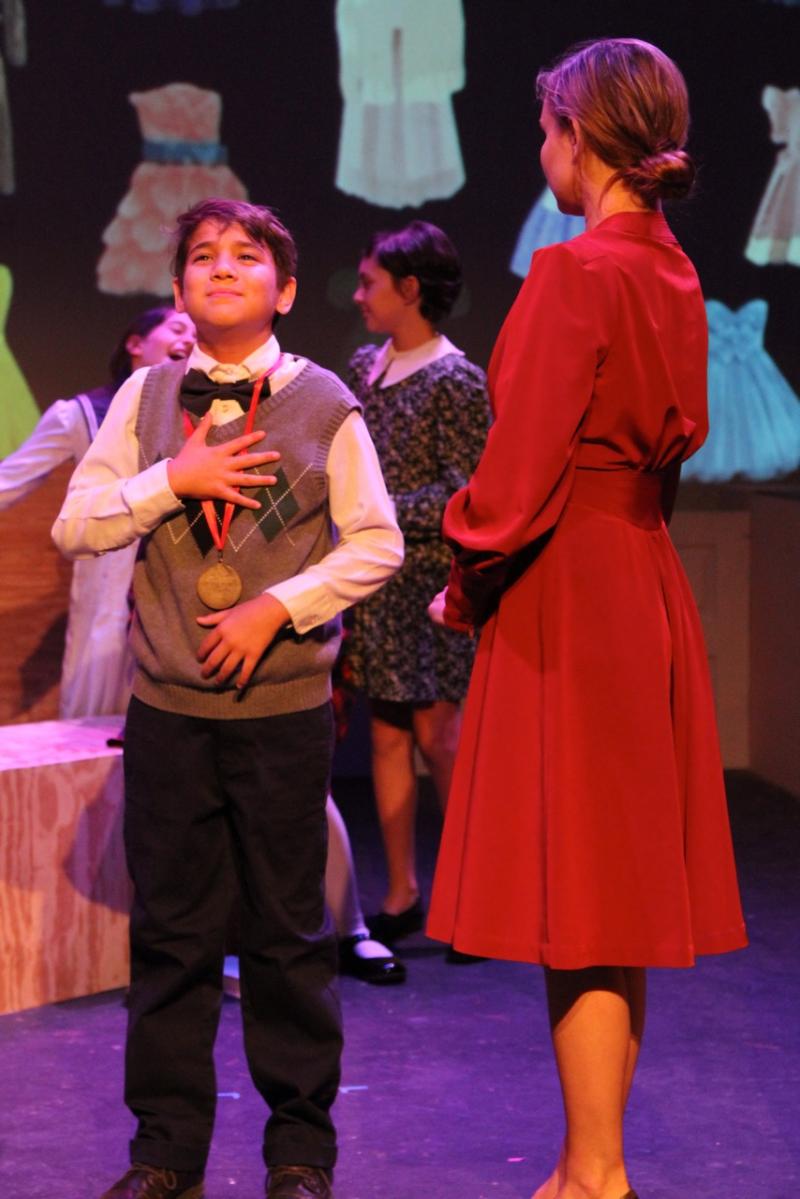 "(The show) is anti-bullying. That's the simplistic answer, but I believe that it's much more complicated psychological drama going on there about how status and personalities intermingle to foster this picking a victim and harassing a victim, whether the kids participate or not and what level that they participate."
Actress Madison Levine who portrays Peggy, the most popular girl in school, said, "The most fun part of playing Peggy is discovering new things about the character. Peggy does some bad stuff, so the whole rehearsal process I have been discovering new reasons why she does these things. It's quite interesting thinking about why this character who isn't a "bad kid" acts out and treats some people very poorly without realizing it. Peggy is not a character to be hated. She is a character to empathize with. The message of the show is a challenge to the audience: Don't be a bystander. Understand and recognize when something bad is happening and make a change. The play also shows the audience how racial and class discrimination can happen even amongst kids based on what they hear their parents say."
Dawn said, "Bullying and the solution isn't simple, but I think it starts with cultivating empathy and just one person being willing to stand up and say something can stop a lot of kids in their tracks. The best thing theatre can do is spark empathy."
Madison added, "When the audience leaves the show I want them to talk about so many things - what young actors can do and accomplish even with less experience, the technical aspects such as the incredible projections, the great lighting and sound, the beautiful and time period-appropriate costumes, and the flawless scene changes done by the cast and I want the audience to talk about the commitment to the characters that each actor has given. Most importantly, I want the audience talk about what the show taught them about bullying, racial, and class discrimination so that from the youngest kid to the oldest adult, we will all be up-standers and stop bullying."
Innovocative Theatre's production of The Hundred Dresses runs Friday, August 2 through Sunday, August 11 at Stageworks Theater, at 1120 E. Kennedy Blvd., West Building #151, Tampa. Shows are Friday, August 2 at 7 p.m.; Saturday, August 3 at 3 and 7 p.m.; Sunday, August 4 at 3 p.m.; Friday, August 9 at 7 p.m.; Saturday, August 10 at 3 and 7 p.m.; Sunday, August 11 at 3 p.m.
Post-matinee performance talkbacks will feature experts and activists in the field including Dr. Oliver T. Massey from University of Southern Florida's Child and Family Studies Department and the Hillsborough County Anti-Bullying Advisory Committee and Cameron Burris, MSW, from The Centre for Women, Inc. on August 4. Psychiatrist Dr. Marketa Wills will join executive director Freddy Barton from Safe and Sound Hillsborough on August 10.
Tickets are $20 adult/$15 students--general admission, available at http://stageworkstheatre.org. For more information, visit http://innovocativetheatre.org or Facebook at https://www.facebook.com/InnovocativeTheatre.