Review Roundup: FOOTLOOSE at The Muny; What Did The Critics Have To Say?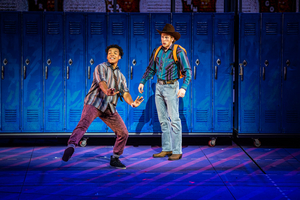 Kick off your Sunday shoes with this 80s favorite! Based on the 1984 Academy Award-nominated blockbuster hit, Footloose shows how a little teenage rebellion and a love of music can open hearts and transform a town. Featuring chart-topping hits, including "Let's Hear It for the Boy," "Holding Out for a Hero" and the Grammy-nominated title track "Footloose," this four-time Tony Award-nominated dancing-sensation will have the entire family burning and yearning to cut loose!
This rad cast features Jeremy Kushnier (Rev. Shaw Moore), Mason Reeves (Ren McCormack) McKenzie Kurtz (Ariel Moore), Heather Ayers (Vi Moore), Darlesia Cearcy (Ethel McCormack), NaTasha Yvette Williams (Lulu Warnicker), Aaron Kaburick (Wes Warnicker), Khailah Johnson (Rusty), Maggie Kuntz (Urleen), Katja Rivera Yanko (Wendy Jo), Andrew Alstat (Chuck Cranston), Eli Mayer (Willard Hewitt), Florrie Bagel (Betty Blast), Rebecca Young (Eleanor Dunbar), Patrick Blindauer (Coach Dunbar), Ben Nordstrom (Cowboy Bob) and Jerry Vogel (Principal Clark). A burning, yearning ensemble completes this cast, including Maya Bowles, Francine Espiritu, Abbey Friedmann, Rohit Gopal, Kaylee Guzowski, Kennedy Holmes, Zachary Daniel Jones, Graham Keen, Kelly MacMillan, Lena Owens, Whit Reichert, Antonio Rodriguez, Jonathan Savage, Trevor Michael Schmidt, Gabi Stapula, Christopher Tipps and Zoe Vonder Haar. The company is also joined by the Muny Kid and Teen youth ensemble.
Let's see what the critics have to say!
Calvin Wilson, St. Louis Post-Dispatch: Although it's nice to be reacquainted with "Almost Paradise" and the title tune, the collaborations between composer Tom Snow and lyricist Pitchford come across most impressively. Of particular note is "Somebody's Eyes," an ode to small-town paranoia. But "Let's Hear It for the Boy" has lost none of its charm. Reeves is winningly charismatic as Ren. Kurtz lends sass and spunk to Ariel. And Kushnier brings subtlety and nuance to the domineering Moore. Production values are first-rate, including the music direction by Andrew Graham and the choreography by Jessica Hartman. "Footloose" is as good as musicals based on movies get.
Mark Bretz, Ladue News: In its serendipitous fashion, The Muny has cast Broadway's original Ren, Jeremy Kushnier, in the role of the well-intentioned but restrictive minister. Kushnier is convincing in the part, making it complex rather than one-dimensional, with some well-executed assistance from Heather Ayers as Moore's loving wife Vi, who is sympathetic to the children's cause. Mason Reeves brings plenty of energy and personality to the rambunctious and troubled Ren, showing off lots o' good moves on the dance floor. He pairs well with McKenzie Kurtz as the feisty and troubled Ariel, who showcases her powerful voice on the rock anthem, Holding Out for a Hero.
Tanya Seale, BroadwayWorld: The Muny's turntable stage and digital screens are utilized to their fullest in this production, with Greg Emetaz's video design displaying landscapes that nicely depict flat farmland and surrounding spaces. Tim Mackabee's scenic design offers many beautiful surprises such as the Burger Blast diner with its neon lights and colorful interior as well as Reverend Moore's country church with hints of ancient stained glass, uncomfortable pews, and musty hymnals inside a pristine white chapel.