Review: FOOTLOOSE at The Muny is a Timeless Smash Hit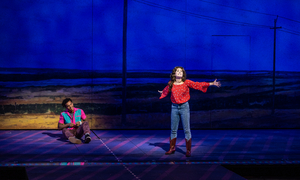 Sunday shoes are being kicked off right and left in Footloose at The Muny right now, as Christian Borle, the two-time Tony Award winner who has been in 11 Broadway shows, makes his musical theatre directing debut. In this four-time Tony Award-nominated adaptation of the 1984 movie by the same title, you'll find actors of all shapes and colors (insert heart-eye emojis for days!) who fill the stage again and again with dynamic dancing to songs you'll remember from the past and play on "repeat" for days to come.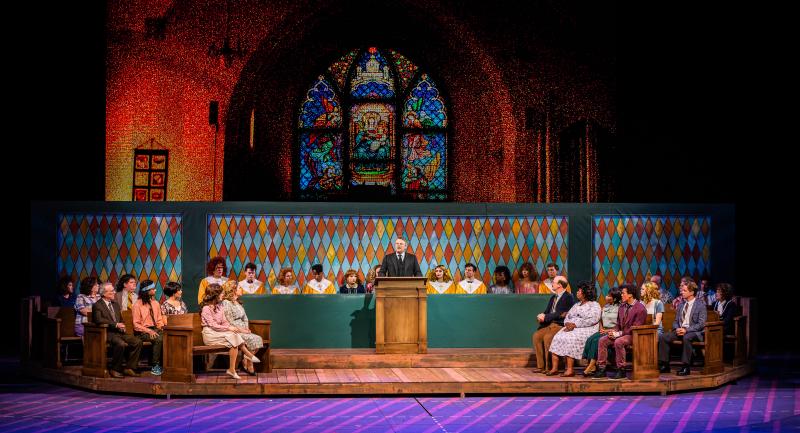 Footloose is the story of the residents of Bomont, a fictitious American small town that has universally banned the act of dancing following a catastrophic car crash in its recent past when four teens died returning from a dance in a nearby town. Bomont's residents, under the authority of their pastor, Reverend Shaw Moore (Jeremy Kushnier), are seemingly comfortable with the restriction, buying into the argument that no good has ever come from a dance. When Ren McCormack (Mason Reeves) and his mom Ethel (Darlesia Cearcy) move to town from Chicago to start a new life, however, things get complicated. Not only can Ren not believe there's a law against dancing (of all things!), his progressive upbringing and carefree temperament clash with the imposed ethics of Bomont's residents. As he challenges the norms, he finds himself fired from his new job, kicked off the wrestling team, and cold-shouldered by most of the adults in town, including the influential Reverend Moore. Even worse, many of the teens eye him with curiosity, including Ariel (McKenzie Kurtz), the smoking-hot, badass-red-cowboy-boots-wearing preacher's daughter. Ariel, who already has a penchant for bad boys like hooligan Chuck Cranston (Andrew Alstat), dreams of graduating and leaving this suffocating town, so tensions between Ariel and her father are thick. Her mother Vi (Heather Ayers) tries to bring a bit of levity and support to them both, but that never seems to satisfy anyone.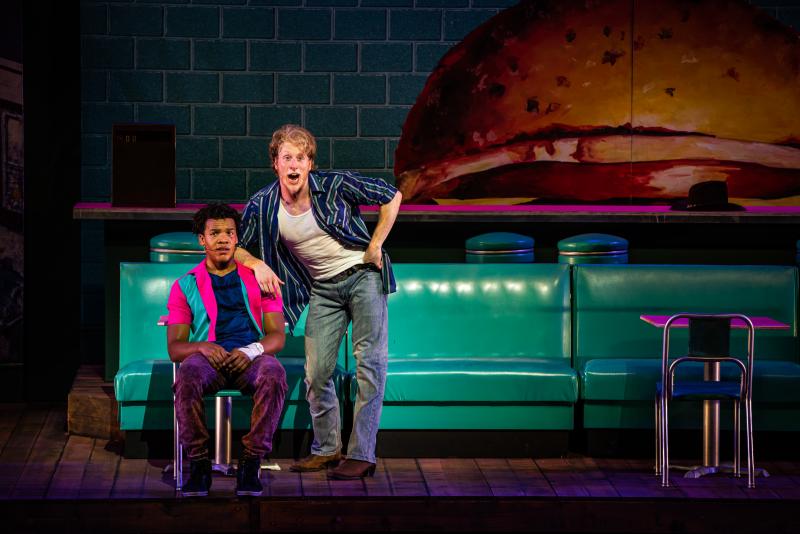 After a run-in in the high school hallway, Willard Hewitt (Eli Mayer)-the most unlikely person to befriend Ren-takes Ren under his wing, and the two begin enlightening one another in ways that speak to the very definition of friendship. Meanwhile, the teens in town begin working together to support Ren as he takes action to repeal the local ordinance banning dancing. With Ariel's help, Ren presents a solid case for dancing with evidence from the Bible, but ultimately his motion to repeal the ordinance is denied with a unanimous NO. It's not until Ren makes himself completely vulnerable with Ariel's father in a heart-to-heart about fathers and their sons that Ren achieves acceptance from Reverend Moore, who facilitates a reverse decision that allows the teens to hold a dance for all the town to enjoy. This is a story about finding pleasure in the mundane, friendship, family, unfathomable loss, and reclamation. It is a timeless tale that rings as true now as it did with its 80s inception.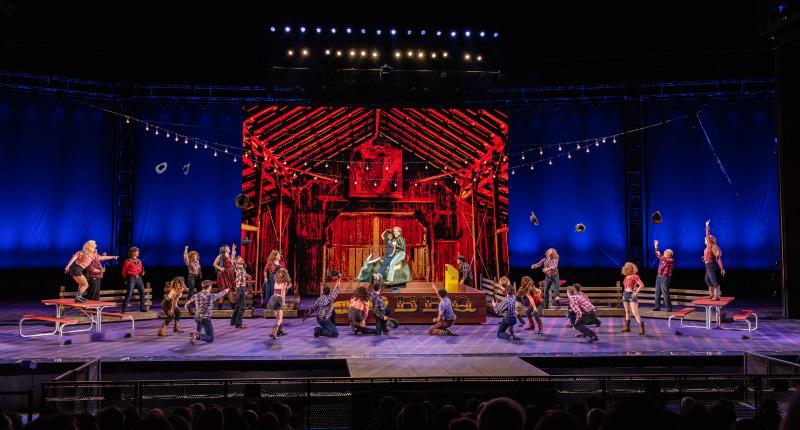 Speaking of the 80s, this musical features smash hits such as a spirited version of "Holding Out for a Hero," performed charmingly by Ariel and her girlfriends Rusty (Khailah Johnson), Urleen (Maggie Kuntz), and Wendy Jo (Katja Rivera Yanko), and a haunting version of "Somebody's Eyes" where, again, as the teens educate Ren on life in a small town, the ladies shine. Willard and Ren's guy friends get their turn too, in a particularly entertaining "Mama Says." And of course, there's everyone's favorite, "Let's Hear It For the Boy," where a delightfully funny scene plays out as even awkward Willard learns to dance. This one elicits big laughs and delivers a great, big finish. Just following, as the show has picked up considerable momentum, "Almost Paradise" is almost a tearjerker with beautiful blending harmony as Kurtz and Reeves play out a touching scene by the train bridge comparing the difficulties with each of their dads. The best part of this show might just be the finale though, with every company member belting "Footloose" and taking a turn at displaying their own funky-fresh dance moves. As expected, this show brings outstanding choreography by Jessica Hartman, and the stage is full-to-the-brim with perfectly synchronized jumps and moves that, in the end, will land everyone in the audience on their feet, too.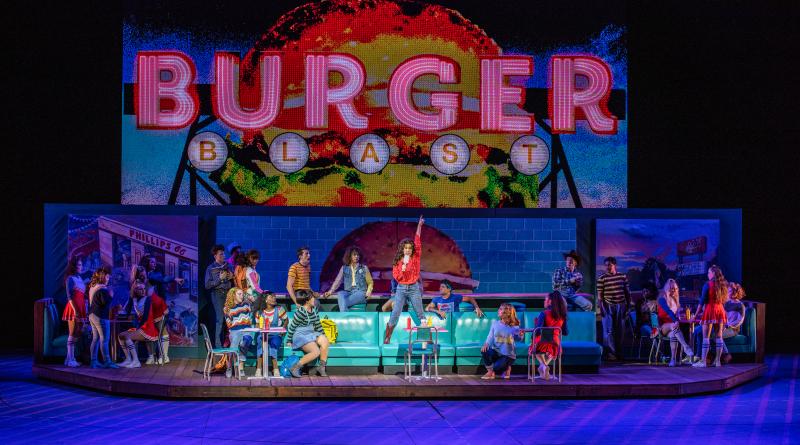 The Muny's turntable stage and digital screens are utilized to their fullest in this production, with Greg Emetaz's video design displaying landscapes that nicely depict flat farmland and surrounding spaces. Tim Mackabee's scenic design offers many beautiful surprises such as the Burger Blast diner with its neon lights and colorful interior as well as Reverend Moore's country church with hints of ancient stained glass, uncomfortable pews, and musty hymnals inside a pristine white chapel.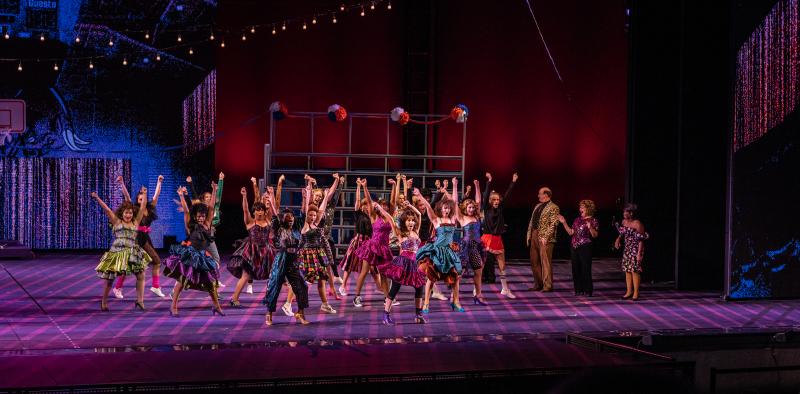 There are oodles of long mullets and colossal curly perms - all amusingly true to the time period - much thanks to Kelley Jordan's wig design, and Leon Dobkowski's costumes work wonderfully to evoke a solid place in time. Ariel's red boots, skin-tight jeans, and red tops most noticeably are powerful symbols of her pent-up frustration with her circumstances.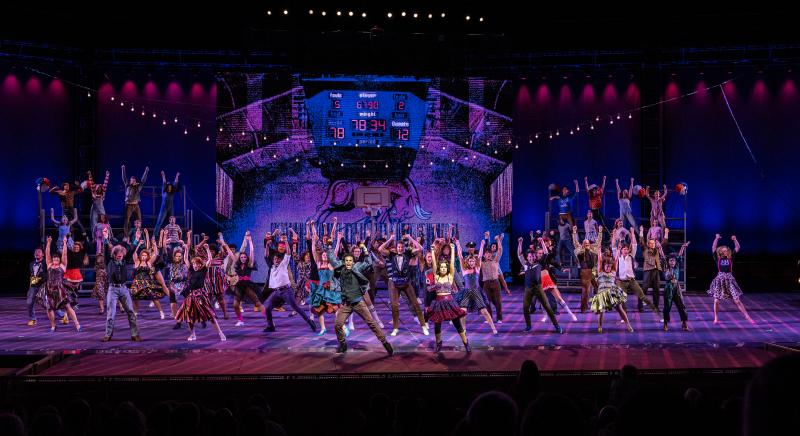 Kudos to this entire company, which includes many musical theatre college students and Muny teens as well as Muny Intensive teens, for performing so enthusiastically and flawlessly in more than 90-degree heat. With all the robust singing and strenuous dancing, one might expect much less that what you will see here. If they can do it, you surely can do it, so grab a cold bottle of water and scoot your boots on over to The Muny through July 24, where you can cut loose and see Footloose, with music by Tom Snow and lyrics by Dean Pitchford with additional music by Eric Carmen, Sammy Hagar, Kenny Loggins, and Jim Steinman. For more information and tickets, https://muny.org/footloose/.