UN DÍA COMO HOY: ONCE UPON A MATTRESS se estrenaba en Broadway
El musical basado en el cuento de la Princesa y el Guisante subía el telón en 1959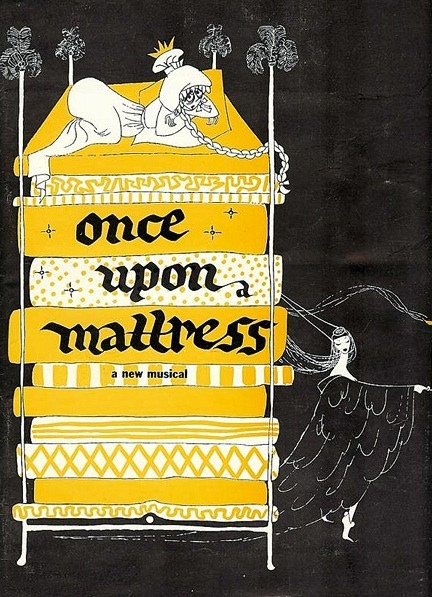 Tal día como hoy en 1959 el, entonces conocido como, Alvin Theatre (hoy el Neil Simon Theatre), subía el telón por primera vez para escenificar ONCE UPON A MATTRESS.
El musical basado en el cuento de la Princesa y el Guisante estaba dirigido por George Abbott y coreografiado por Joe Layton. Entre el elenco se encontraban nombres como Carol Burnett como la princesa Winnifred, Joseph Bova como el príncipe Dauntless, Jane White como la reina Aggravain y Jack Gilford en el papel del rey Sextimus.
Tras 244 representaciones y dos nominaciones a los premios Tony, ONCE UPON A MATTRESS cerraba sus puertas. Sin embargo, en agosto de 1990 se anunciaba el tour nacional de la obra, que contaría con Dody Goodman en el papel de Winnifred, Fritzi Burr interpretando a la reina y Buster Keaton en la piel de el rey.
Londres no tardó en poner en marcha su propia producción y en septiembre de 1960 Jane Connell era Winnifred, Robin Hunter el príncipe Dauntless, y Milo O'Shea el rey. La productora discográfica EMY grabó un álbum de estudio del musical.
Más tarde, en 1996 Broadway presentaba un revival protagonizado por Sarah Jessica Parker como Winnifred, acompañada por David Aron Baker como Dauntless, consiguiendo la nominación al premio Tony a mejor reposición de una obra en 1997.
Las adaptaciones televisivas no se quedaron atrás, ya que en 1964, cinco años después de su estreno en Broadway, la CBS presentaba en frente de una audiencia en vivo esta adaptación que contaba con Burnett, Bova, Gilford, y White como parte del elenco original. Debido a la duración de 90 minutos, varios números musicales fueron omitidos durante la emisión.
En 1972, la CBS de nuevo emitía ONCE UPON A MATTRESS, esta vez en color, contando, una vez más, con Burnett, Gilford y White como parte del cast. Se les unieron, en esta ocasión, Ken Berry como el príncipe Dauntless y Bernadette Peters en el papel de Lady Larken.
Finalmente el 2005, la ABC emitía, como parte de la serie THE WONDERFUL WORLD OF DISNEY, esta tercera adaptación televisiva, que se comercializó en DVD dos días después. El elenco estaba formado por Burnett como la reina, Denis O'Hare, de nuevo, como Dauntless, Tom Smothers como el rey Sextimus, Tracey Ullman como la princesa Winnifred, Zooe Deschanel como Lady Larken, y Matthew Morrison como Sir Harry. Esta versión se puede ver actualmente en la plataforma Disney+ con el título en español ÉRASE UNA VEZ UN COLCHÓN.
ONCE UPON A MATTRESS profundiza en el clásico cuento de la princesa Winnifred y la prueba del guisante, impuesta por la reina para determinar la veracidad de la sangre real de la joven, con el fin de casarla con su hijo, el príncipe Dauntless. La princesa Winnifred se aliará con el bufón, el rey y Sir Harry para poder vencer a la reina.