UN DÍA COMO HOY… INTO THE WOODS se estrena en Broadway
El clásico de Sondheim y Lapine cumple 34 años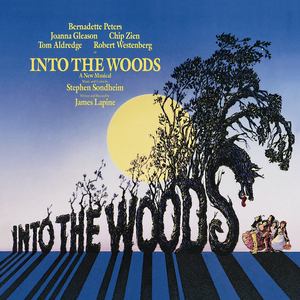 Érase una vez... en un teatro de Broadway llamado Martin Beck Theatre, se estrenaba el musical INTO THE WOODS en 1987 un día como hoy con un reparto de lujo, un libreto excelente de mano de James Lapine y una partitura que permanecería en el imaginario colectivo desde entonces como una de las grandes obras maestras de Stephen Sondheim.
Bernadette Peters (la bruja), Joanna Gleason (la esposa del panadero), Chip Zien (el panadero), Kim Crosby (Cenicienta), Ben Wright (Jack), Danielle Ferland (Caperucita Roja), Chuck Wagner (Príncipe de Rapunzel), Merle Louise (Madre de Cenicienta/Abuela/Gigante), Tom Aldredge (Narrador/Hombre misterioso), y Robert Westenberg (Lobo/Príncipe de Cenicienta) formaron el reparto de la primera producción el Broadway, dirigida por el propio James Lapine, que permanecería en el imaginario colectivo gracias a una grabación que se haría tres años después, se emitiría por televisión e incluso se editaría en formato doméstico, para de este modo grabarse a fuego en la mente de cualquier aficionado al Teatro Musical que se precie.
Cuatro años después, el musical cruzó el charco y se estrenó en el Phoenix Theatre de Londres con una producción completamente renovada dirigida por Richard Jones que añadía la canción Our Little world, que quedaría para el resto de producciones que vendrían después.
Julia McKenzie (Bruja), Ian Bartholomew (Panadero), Imelda Staunton (esposa del Panadero), Clive Carter (Lobo/Príncipe de Cenicienta), Nicholas Parsons (Narrador), Jacqueline Dankworth (Cenicienta), Richard Dumpsey (Jack), Ann Howard (Madrastra de Cenicienta), Patsy Rowlands (Madre de Jack), Tessa Burbridge (Caperucita Roja), John Rogan (Hombre misterioso), Mark Tinkler (Príncipe de Rapunzel), Clive Carter (Príncipe de cenicienta/Lobo) y Eunice Gayson formaron el reparto de esta inquietante producción en el que el juego de luces y la puesta en escena producían daban a la historia una sensación misteriosa y lúgubre.
No sería hasta 2002 que el musical volvería a Broadway, esta vez en el Broadhurst Theatre, en una nueva producción de James Lapine que se había estrenado en el Ahmanston Theatre de Los Ángeles ese mismo año, donde se pudo ver por un período limitado de dos meses.
Esta nueva producción incluyó Our little world, siendo la primera vez que se oía en Broadway esta canción, y contó con un reparto formado por Vanessa L. Williams (Bruja), John McMartin (Narrador), Stephen DeRosa (Panadero), Kerry O'Malley (Esposa del panadero), Gregg Edelman (Príncipe de Cenicienta/Lobo), Christopher Sieber as (Príncipe de Rapunzel/Lobo), Molly Ephraim (Caperucita Roja), Adam Wylie (Jack), y Laura Benanti (Cenicienta). Judi Dench pre-grabó su participación como el gigante, lo cual repetiría años después para la producción de Regent's Park.
Y del Atlántico al Mediterráneo, INTO THE WOODS tuvo su propia versión catalana producida por Dagoll Dagom y titulada BOSCOS ENDINS en 2008.
La ciudad condal acogió esta cuidada producción que contaba con un reparto formado por Ferran Frauca (Narrador), Gisela (Ventafocs), Marc Pujol (Jan), Josep Maria Gimeno (Forner), Annabel Totusaus (Fornera), Clara del Ruste (Madrastra/Àvia de la Caputxeta Vermella), Anna Ventura (Florinda), Laura Ventura (Lucinda), Teresa Vallicrosa (Mare d'en Jan), Anna Moliner (Caputxeta Vermella), Mone (Bruixa), Sergi Albert (Pare de la Ventafocs/Príncep de Rapúnzel), Maria del Mar Maestu (Mare de la Ventafocs/Rapúnzel), Ferran Castells (Home Misteriós/Lacai) y Carlos Gramaje (Llop/Príncep de la Ventafocs).
En 2010 llega a Regent's Park Open Air una nueva producción que moderniza el vestuario y algunos personajes, y da un nuevo punto de vista en cuanto al narrador se refiere. Además de Judi Dench como el gigante, la producción contaba con Hannah Waddingham (Bruja), Mark Hadfield (Panadero), Jenna Russell (Esposa del Panadero) y Helen Dallimore (Cenicienta). Esta producción se transfirió al Central Park Delacorte Theater con un vestuario renovado en 2012 con un reparto formado por Amy Adams (Esposa del Panadero), Donna Murphy (Bruja), Dennis O'Hare (Panadero), Chip Zien (Hombre misterioso/Padre de Cenicienta), Jack Broderick (Narrador), Gildeon Glick (Jack) y Jessie Mueller (Cenicienta).
Dos años después, en 2014, llega la versión cinematográfica dirigida por Rob Marshall y protagonizada por Anna Kendrick (Cenicienta), Daniel Huttlestone (Jack), James Corden (Panadero/Narrador), Emily Blunt (Esposa del Panadero), Christine Baranski (Madrastra), Meryl Streep (Bruja), Tammy Blanchard (Florinda), Lucy Punch (Lucinda), Tracey Ullman (Madre de Jack), Lilla Crawford (Caperucita), Simon Russell Beale (Bakers Father), Johnny Depp (Lobo), Billy Magnussen (Príncipe de Rapunzel), Chris Pratt (Príncipe de Cenicienta) y Mackenzie Mauzy (Rapunzel).
Producida por Disney, la película recortaba algunas de las partes más crudas de la obra original y algunas canciones, pero manteniendo su guion reflexivo y su esencia transgresora. Stephen Sondheim escribió la canción She'll be back para Meryl Streep que, aunque acabó recortándose de la película, pudimos disfrutar en los extras del bluray.
Muchas han sido las versiones de este clásico a lo largo de los años, y muchas las interpretaciones distintas que se le han dado a este texto que transgrede las épocas y que seguro que seguirá reflejando nuestra sociedad y nuestras contradicciones en muchas producciones que vendrán.
¡Muy feliz cumpleaños, nos vemos Into the Woods!