BWW Review: Popular AUNTY MERLE - THE MUSICAL Leaps Forward in Concept, but Falls Back in Its Execution at the Baxter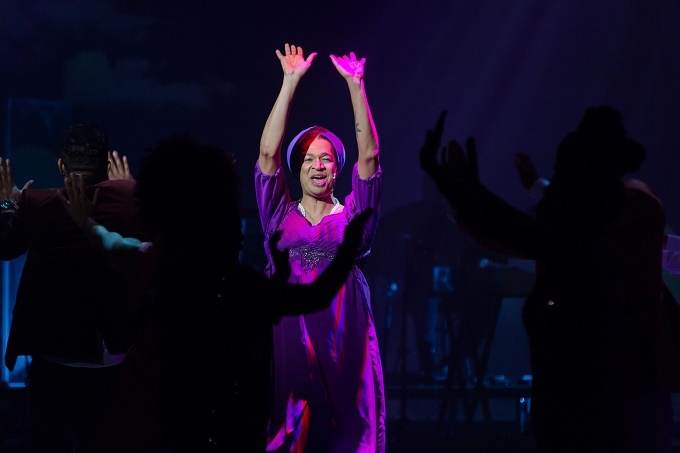 There is a great deal about AUNTY MERLE - THE MUSICAL that deserves to be recognised. Most importantly, it is a homegrown musical created primarily by people of colour with numerous roles for people of colour. It attempts to connect with contemporary South African social dynamics and issues using a medium that not only has broad appeal but which can also give voice to ideas in an often unexpected and effective ways. Conceptually, AUNTY MERLE - THE MUSICAL leaps forward into a realm of theatre-making possibilities. In execution, it falls back on the antiquated idea that making a musical requires only the cobbling together of dialogue, songs and jokes into the slightest of stories, ignoring almost every development made both locally and abroad in the artistry and craft of this theatrical form during the past century.
Insofar as its plot is concerned, AUNTY MERLE - THE MUSICAL resembles most closely musicals like HELLO, DOLLY! and the many other diva-focused musicals like it. Several narratives revolve around and depend upon the strong central character whose name is emblazoned on the marquee outside the theatre. In this case, the story concentrates mostly on Aunty Merle's daughter, Abigail (a sassy Tarryn Lamb), and her engagement to Alan (a white-bread performance by Stephen Jubber), whose prospective mother-in-law describes him as "a good-looking white chap." The conflict predictably focuses on the question of whether the marriage will still happen by the time the curtain falls, and AUNTY MERLE - THE MUSICAL packs in all the expected jokes about inter-racial marriage. Alan's surname, for example, is "White" and the gag about Alan wanting to make Abigail a "White" is tired by the time one has finished reading it in the programme. The audience is in stitches nonetheless.
The main thing that stands in the way of a "White" wedding is a scheme hatched by Nambitha (Zandile Madliwa, whose sizzling vocals help to disguise the character's flatness), the daughter of Aunty Merle's employed helper, Lydia (played by Tankiso Mamabolo in the standout turn of the night). Nambitha holds a grudge against Abigail because Lydia was more present in the life of her employer's daughter than that of her own, so she recruits Abigail's ex-boyfriend Denver (a swaggering Loukmaan Adams), who has a secret from the past that will be able to halt the wedding in its tracks. Even though the revelation of this secret turns out to be something of a non-event, it creates enough problems for Aunty Merle to solve throughout the show. She also has time to involve herself in the coming out of her son, Carl (a sympathetic Roberto Kyle), who is thrust out of the closet by their neighbour, Soraya (Carmen Maarman, in a performance showing a keen comic flair ) - and the marriage woes to which Lydia is subjected when her husband has an affair.
While there is a great deal going on in AUNTY MERLE - THE MUSICAL, it lacks - unlike any other musical in this subgenre of the form - an emotional journey for its central character. Aunty Merle manipulates the show's narrative strands like a puppeteer pulling the strings of so many marionettes, but Marc Lottering subjects his warmly played creation to no such process of character development. At curtain up, she is Belgravia Road's most beloved, most tolerant and most involved citizen. By the time the curtain falls almost three hours later, nothing has changed or threatened her position. At a time when musical comedies of this scale run at an average of 2 hours and 20 minutes, including interval, three hours is a long running time for a show that comprises a lot of activity and no dramatic action. By the time Aunty Merle is singing about love, hope, tolerance and the power of being yourself at the end of AUNTY MERLE - THE MUSICAL, it is not a moment she has earned through experience.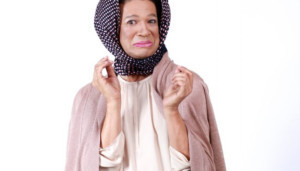 Indeed, the main problem with the writing of AUNTY MERLE - THE MUSICAL is that its creators seem unsure of the what the show is about beyond being a showcase for this justifiably loved character. Lottering's book for the musical needs more focus. Its multiple narrative strands need to be woven into something greater. And when it does connect with contemporary social issues, it needs to do better than making use of a legitimate post-apartheid emotional struggle - in this case, the disruption that Nambitha feels in her life because of her mother's job at Aunty Merle's home and the injustices that go part and parcel with it - as the motivation for a petty revenge plot. Moreover, the entire idea that Nambitha was only able to achieve this level of awareness by going to study overseas sits strangely in the very theatre centre that was instrumental in birthing THE FALL, a play that revealed the profound activism ignited by students studying at our local universities over the past couple of years.
The defence, no doubt, will be that this is just a musical, a form geared towards simplistic, lowbrow entertainment, as several slapdash meta-theatrical lines in AUNTY MERLE - THE MUSICAL imply. A couple of these throwaways preface the musicals numbers written for the show, and all of them are evidence of a narrow and dated view of musical theatre practice.
Lottering and Lamb's songwriting for AUNTY MERLE - THE MUSICAL shows merit, with catchy musical hooks and some witty lyrics, but the integration of the book and score in pursuit of a seamlessly whole dramatic experience is rudimentary. The songs simply follow one after the other at regular intervals between scenes, either consolidating emotional moments already established by the book or serving as comic diversion, with little attempt to use motifs and reprises to shape the narrative or develop character. As such, the score does not rise to the challenge of driving the plot forward; when something does shift in a song, it is often through Lara Foot's blocking or Grant van Ster's musical staging or choreography.
Van Ster's work on the production reveals a skill for using movement as language that is often unseated by choreography prizes technically difficulty or wild acrobatics over storytelling. He has the talent to be a significant voice in this form in South Africa. By contrast, Foot's direction keeps things going, but her work is broad and functional. Her staging holds the show together, but it fails to mould the production into something uniquely memorable or embrace the kind of coup de theatre that goes hand in hand with musicals of this scope and size.
With the stage split in half down centre stage, Patrick Curtis's set design does not help this vital aspect of directing musical theatre. Mannie Manim's lighting design and Birrie le Roux's costume designs, however, speak to their wealth experience of working in their respective fields in the genre. In his role as musical director, Alistair Izobell has created vibrant arrangements of Lottering and Lamb's songs for the dynamic onstage eight-strong band, also eliciting natural vocal performances from the cast.
A considerable element of the creation of new musicals is the editing process. As detailed in the programme notes, Lottering recognises that Aunty Merle resonates with audiences and knows that there is greater scope for showcasing the character beyond his comedy shows. It is this goodwill towards Aunty Merle as well as the production's solid conceptual foundation that will make it one of this Christmas season's biggest hits on local stages. But if AUNTY MERLE - THE MUSICAL is to have any reason to exist other than as a commercial exercise, it needs work before its almost inevitable return or spinoff, work grounded in principles articulated by Stephen Sondheim as tenets for lyric writing, but which are, as I have mentioned in reviews of new musicals before, useful guidelines for all aspects of theatre-making in this form: "Content Dictates Form / Less Is More / God Is in the Details / all in the service of / Clarity / without which nothing else matters."
AUNTY MERLE - THE MUSICAL runs until 20 January on Monday through Fridays at 20:00, with Saturday performances taking place at 16:00 and 20:30. Ticket prices range from R100 - R160, with bookings online through Computicket, by phone on 0861 915 8000, or in person at any Shoprite Checkers outlet. For discounted block bookings, fundraisers or charities contact Sharon Ward on 021 680 3962 or Carmen Kearns on 021 680 3993.