Review: CALLING US HOME Is A Home-Grown Production To Be Proud Of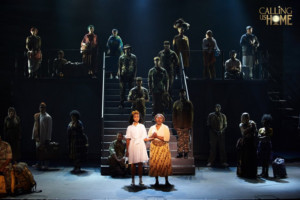 With an international tour in its future, CALLING US HOME is a production South Africa can be very proud to send to overseas audiences. The entirely original South African musical showcases the excellence of local talent while presenting a story that will resonate globally. Incredible musicality, heart-wrenching storytelling, and phenomenal technical execution make CALLING US HOME a musical to be remembered.
Beginning in Africa with the outbreak of war looming, local villager Grace (Lynelle Kenned) travels to America in search of a better life away from the battle. The gentle opening overture is in stark contrast to the energetic and frantic Winds of War, and clever musical dichotomy rears its heads throughout the following 2 hous. With other
troubles brewing in the American metropolis, storylines and characters weave through each other as Grace falls in love with Spaniard Rafael (Richard Gau). What follows is a tale of courage, hope and spirit supported by a goosebump-inducing musical score.
Lynelle Kenned can definitely be classified as one of the darlings of South African musical theater. Her crystal-clear soprano always deserved the enthusiastic applause from an otherwise timid Sunday matinee audience; as each of her notes was approached with musical delicacy. The same can be said of co-star Richard Gau. The chemistry between the two is believable (albeit the speed of their love story might not be) and Gau stands firm as the romantic lead. The confidence, enthusiasm and talent this young actor brought to the Artscape Theater is like a breath of fresh air.
Supporting actors and ensemble members were also strong in their own rights. Narrator Nelson (Musanete Sakupwanya) grows on you throughout the show, lovable Lindiwe (Edith Plaaitjies) draws you in from her first solo, and best friend Ben (Cameron Botha) plays unrequited lover very well. A particular scene stealer and memorable takeaway was
Danielle Bitton, Rafael's sister Isabella, whose smaller physique is made up for in incredible vocals and an emotionally-compelling performance. One can tell Bitton truly throws herself into character for every performance and - no matter the audience size - gives her all.
Another mention should go to choreography, which was particularly ambitious in CALLING US HOME. It could be said that Grant van Ster and Shaun Oelf broke musical-cum-opera boundaries with demanding dance moves that were coupled with an equally demanding score. Van Ster and Oelf made the best of what they could with their 20+ ensemble and work towards individuals' strengths. While singing, the use of either major or minor movements has to be commended.
As her international debut directing a musical, it comes in handy that Magdelene Minnaar is a well-respected performer and long-standing player in the arts herself. She shows with CALLING US HOME that she has a great understanding of the space she is working with as well as the actors. She is thoughtful towards each cast member - none becoming wallflowers - and brings out the most in both the acting and singing of her leads. The minimal but skillful set design and use of unique projections was also highly effective.
A better consideration towards scene changes, however, could have been taken into account as big numbers sometimes ended with applause, followed by a few strings of dialogue, followed by a very silent and slightly awkward scene change. With that being said, a handful of quiet seconds amongst a heart-driven production lends itself to moments of reflection. One becomes invested in a trajectory of storylines that it's nice to have those silences to relax in your seat and digest what unfolded before you.
It's a pity that South African audiences sometimes shy away from local productions. We like to stick to our Phantoms and Marias; but with only a week left of their run on local soil, CALLING US HOME is a proudly South African musical so evidently extensively rehearsed, thoughtfully produced and brazenly accomplished, make sure not to miss it.
Photo credit: Oscar O'Ryan
---
CALLING US HOME runs from Tuesday - Sunday and ticket prices range from R150 - R450 and can be booked online at online.computicket.com and www.artscape.co.za or by calling the Artscape Box Office on (021) 410 9838. For group bookings of 10 or more tickets, please contact Artscape Theatre Centre's ticketing office on (021) 410 9838. School block bookings for 10 or more students for Wednesday School Matinees (24th of October at 15:00) are R100. For more information on these tickets, email info@shymusic.co.za.