Lindsay Kruger
Lindsay is a born and bred South African who lives in Cape Town after studying English, Media and Art, and Teaching at Stellenbosch University. She fell in love with musical theatre when she first saw the film version of The Phantom of the Opera in 2004. After studying drama in high school, she focused more on singing at university singing with the Stellenbosch University Choir for 5 years. By day she works from home as a student manager and freelance writer, and at night she is involved in the local community theatre scene as a chorus girl and karaoke queen.

MOST POPULAR ARTICLES
LAST 30 DAYS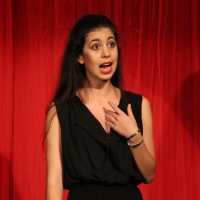 BWW Feature: The Mirth and Merit of New Musical Theatre in Cape Town
Posted: Sep. 26, 2019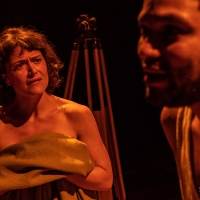 BWW Review: Fugard's STATEMENTS Grips Audiences With Stellar Acting and Powerful Storytelling
Posted: Sep. 23, 2019


LAST 365 DAYS

BWW Review: Paradoxical THE NOSE Comically and Artistically Ascends into Absurdity
Posted: Dec. 5, 2018



BWW Interview: Reviewing Democracy and Exploring Humanity in KUNENE AND THE KING with John Kani
Posted: Feb. 28, 2019



BWW Review: LANGARM Glides Its Way Into the Hearts of Audiences at The Fugard Theatre
Posted: Dec. 6, 2018



BWW Review: MICHAEL JACKSON HISTORY SHOW at Artscape Opera House Hits All The Right Notes
Posted: Jan. 18, 2019


BWW Interview: Earl Gregory on Entering the Land of Lola in Upcoming KINKY BOOTS
Posted: Apr. 25, 2019


BWW Feature: 9 Shows To Look Forward To in South Africa in 2019
Posted: Jan. 8, 2019


BWW Review: The Wait is Finally Over - CHICAGO's Fervent Return to Artscape Opera House
Posted: Mar. 18, 2019


BWW Interview: Godfrey Johnson on Bringing Nijinsky to Life in VASLAV at The Fugard Theatre

October 21, 2019

Vaslav Nijinsky stands as one of the most celebrated, yet also controversial great male dancers of the 20th century. Bringing the spirit and life of Nijinsky to the Fugard stage this month, Godfrey Johnson chats with BroadwayWorld about the triple Fleur du Cap Theatre Award nominated production VASLAV.
---
BWW Feature: The Mirth and Merit of New Musical Theatre in Cape Town

September 26, 2019

This isn't any ordinary Saturday night party. Under the guise of 'Annie's Party', patrons are invited to take an unreserved seat and listen to short numbers that tie to each of Annie's party guests. From scorned lovers to pigeon murderers, you're not only introduced to kooky characters, but also have jumped into the world of music from New Musical Theatre (with some GREAT COMET OF 1812 thrown in for good measure).
---
BWW Review: Fugard's STATEMENTS Grips Audiences With Stellar Acting and Powerful Storytelling

September 23, 2019

Trying to persevere under a law designed to oppress, Athol Fugard's STATEMENTS AFTER AN ARREST UNDER THE IMMORALITY ACT explores the affect on individuals and relationships when personal and emotional freedom is out of your control. The success of this production is evidenced by its five Kanna Award nominations at the KKNK festival, and is now brought to the intimate setting of Fugard's Studio Theatre for local audiences to get lost in.
---
BWW Review: Dynamic Duo Lights Up Theatre On The Bay with Award-Winning A NIGHT AT THE MUSICALS

September 19, 2019

As part of their world tour, drag artists Le Gateau Chocolat and Jonny Woo opened A NIGHT AT THE MUSICALS at Theatre on the Bay on Wednesday night. True to its description, the pair of these international and award-winning performers jam-pack their musical showcase with 'hilarious hijinks and shady shenanigans' that is only outshone by unforgettable outfit choices.
---
BWW Review: Be Transfixed By The Heart-Racing Beats of STOMP at Artscape Opera House

September 11, 2019

STOMP opened at the Artscape Opera House this week to uproarious applause as performers took to the stage in what was nothing short of a mesmerizing production. Described as 'a unique combination of percussion, dance and physical comedy', STOMP is an energetic and electrifying event that even the stiffest of theatergoers would get a thrill seeing.
---
BWW Interview: Greg Karvellas on Directing Acclaimed Production of His Favorite Fugard Play

September 10, 2019

As The Fugard Theatre's Artistic Director since November 2018, Greg Karvellas has an impressive number of productions behind his name. His latest offering - STATEMENTS AFTER AN ARREST UNDER THE IMMORALITY ACT by Athol Fugard - comes to The Fugard Studio Theatre this month, following an esteemed run at the KKNK Festival. Karvellas chats to BroadwayWorld about directing this powerful 'fever dream of a play'.
---
BWW Review: CTCB's Sublime Staging of SLEEPING BEAUTY at Artscape Opera House

August 20, 2019

One could easily have mistaken the Artscape stage for the 19th century grandeur of the Bolshoi Theatre - as Cape Town City Ballet's production of SLEEPING BEAUTY was nothing short of captivating on its opening night this past weekend.
---
BWW Review: BURN THE FLOOR at Baxter Theatre Centre Shows Off Outstanding International Talent

August 14, 2019

Celebrating its 20th anniversary and making South Africa its last stop on their global tour, BURN THE FLOOR cha-cha'd its way onto the Baxter Theatre's stage earlier this month where it has been igniting audiences with vibrant dance numbers, glitzy costumes, and live musical accompaniment. An international sensation since the early 2000s with a Broadway and West End run behind its name, what BURN THE FLOOR lacks in cohesion, it makes up for in effortless energy.
---
BWW Interview: Jessica Driver on Her Journey to Landing A Lead in the Upcoming ROCK OF AGES

August 8, 2019

The iconic ROCK OF AGES bursts onto the Montecasino Teatro stage later this year bringing the 80s alive and boasting top local talent. This production celebrates the rock musical's 10th Broadway anniversary this year, with newcomer Jessica Driver celebrating her first lead role as small-town rockstar wannabe Sherrie.
---
BWW Review: Louis Viljoen's THE HUCKSTERS An Intense Slice-of-Life at Alexander Bar

July 30, 2019

A production that aims to 'intrigue and unsettle', THE HUCKSTERS has achieved this with an award-winning team behind it presenting a brutally honest script and an engrossing performance. Louis Viljoen's latest dark comedy delves into the relationship and psyches of complex characters that unashamedly caused Monday's sold-out audience to sigh out the weight of an unforgettable production at curtain call.
---
BWW Review: 1940s Nostalgia in the Charming Rendition of SOUTH PACIFIC at Artscape Opera House

July 23, 2019

The latest Rodgers & Hammerstein offering from Cape Town's G&S Society was welcomed at Artscape Opera House this past weekend with standing ovations. SOUTH PACIFIC is described as an 'epic musical romance' and this latest revival of the classic breathes technicolor life into a legendary theatrical think piece.
---
BWW Review: SPRING AWAKENING at Artscape Arena an Ambitious Offering of Award-Winning Musical

July 18, 2019

From the same team that brought URINETOWN - THE MUSICAL to Artscape last year, Waterfront Theatre School invites audiences to immerse themselves in the haunting harmonies and hint of fanaticism in SPRING AWAKENING.
---
BWW Review: Why Cape Town Can't Stop Talking About KINKY BOOTS at The Fugard Theatre

July 16, 2019

Bursting at the seams with professionalism, passion and unbridled provocation, KINKY BOOTS at the Fugard Theatre has welcomed full audiences since its debut over a month ago and, from just 5 minutes into the show, it's easy to see why. The Harvey FiersteinCyndi Lauper hybrid production has garnered multiple awards in its prime, and this original South African rendition deserves equal accolades.
---
BWW Review: Incomparable THE STORYTELLER OF RIVERLEA Immortalizes South African Wordsmith at Baxter Theatre Centre

June 17, 2019

VAN WYK: THE STORYTELLER OF RIVERLEA weaves in and out of South African writer Chris Van Wyk's life and thoughts while paying homage to his artistic, political and familial contributions. Combining humor with home truths, I couldn't get enough of this infectious down-to-earth persona that Zane Meas and Christo Davids expertly presented at the Baxter Theatre Centre this month.
---
BWW Interview: From Rocky to Brad to Frank - Craig Urbani's Third Take in THE ROCKY HORROR SHOW

June 12, 2019

With its announcement late last month, South Africa is shivering with anticipation over THE ROCKY HORROR SHOW's arrival to Artscape and Montecasino later this year. Leading man Craig Urbani chats to BroadwayWorld South Africa about his history with Richard O'Brien's beloved rock 'n roll musical, and how he's approaching the fantastical Frank N. Furter.
---
BWW Review: (B) at Baxter Theatre Centre An Intriguing Insight Into the Concept of Dance

June 10, 2019

The second offering of the Flemish Dance Season at the Baxter Theatre was a contemporary performance blurring the lines of boxing and dance; but leaving no confusion to the level of skill presented on stage.
---
BWW Review: Combining Centuries of Musicianship in REQUIEM POUR L. at Baxter Theatre Centre

June 5, 2019

Les ballets C de la B opened the Flemish Dance Season at the Baxter Theatre this week with REQUIEM POUR L. - a captivating take on Mozart's Requiem that combines reworked vocals, instruments and movements to present a unique piece of art.
---
BWW Review: MACBETH's Tragic Tale of Ambition Hauntingly Staged at Theatre on the Bay

May 24, 2019

Dark costuming, pervading background bass and smoke in the air, the ominous presentation of MACBETH at Theatre on the Bay matches its subject matter expertly. Abrahamse and Meyer have brought forth a hauntingly engaging tragedy whose main character's mad quest for kingship is paralleled in the flow of this production.
---
BWW Review: ORDINARY DAYS A Heartfelt Return to Baxter Theatre Centre

May 22, 2019

Immersive as a musical escape from everyday life while also shimmering with an unpretentious approach to modern-day society, ORDINARY DAYS at the Baxter Flipside Theatre puts the worries and ideals we politely hide to others and ourselves on display through piano melodies and harmony.
---
BWW Review: OFFBEAT BROADWAY 5's Cheeky Take on Hit Musicals at Theatre On The Bay

May 6, 2019

The Offbeat Broadway franchise continues with its fifth installment of the popular musical theatre tribute/take-off. OFFBEAT BROADWAY 5 returns to Theatre on the Bay with its original three highly talented performers at the forefront, a well-respected director at its helm, and a repertoire of delightfully entertaining musical numbers from a variety of shows.
---
1