Travesties - 2018 - Broadway Tickets, News, Info & More
Now nominated for FOUR TONY AWARDS including Best Revival of a Play, Best Actor in a Play (Tom Hollander), Best Director of a Play (Patrick Marber) and Best Sound Design of a Play (Adam Cork).
Roundabout's dazzling new production of Travesties, Tom Stoppard's Tony Award-winning Best Play, has arrived - and The New York Times says it's "ridiculously entertaining." An artist, a writer and a revolutionary collide in this "giddy, head-spinning triumph" (Entertainment Weekly), a kaleidoscopic thrill-ride through the worlds of art and revolution in 1917 Switzerland...and in the maze of one man's memory.
This "knock-the-wind-out-of-you magnificent revival" (New York Magazine) is "an uproarious work of art, impeccably directed by Patrick Marber" (Newsday). 2017 Olivier nominee Tom Hollander leads the cast, and he is "marvelous" (Time Out New York).
Travesties. New York Stage Review says it's "possibly the only perfect production now occupying a Broadway theater. Get there fast."
Video preview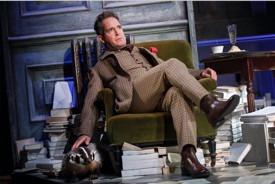 Photo preview
Schedule
Running Time: Two hours and 30 minutes, with one intermission
Featured Reviews For Travesties
'Travesties' Broadway Review: Tom Stoppard's Brainy Comedy Finds Its Heart - Deadline
Tom Stoppard's Tony-winning 1974 play Travesties, stuffed thick as a English gentleman's armchair, its ideas on art, war, patriotism and purposeful nonsense fashioned into a nonstop tourney of wit and erudition, has often been called a brainteaser, but brain tickler comes so much closer to the jubilant staging presented by Broadway's Roundabout Theatre Company.
'Travesties' review: Tom Hollander leads Roundabout revival on Broadway - New York Daily News
Broadway's spry revival of "Travesties" is guaranteed to work your gray matter. Its author is brainy British playwright Tom Stoppard; that's how he rolls. The happy bonus of the brightly acted Roundabout production at the American Airlines Theater is how often the 1974 comedy engages one's smile muscles.