Travesties - 2018 - Broadway
Now nominated for FOUR TONY AWARDS including Best Revival of a Play, Best Actor in a Play (Tom Hollander), Best Director of a Play (Patrick Marber) and Best Sound Design of a Play (Adam Cork).
Roundabout's dazzling new production of Travesties, Tom Stoppard's Tony Award-winning Best Play, has arrived - and The New York Times says it's "ridiculously entertaining." An artist, a writer and a revolutionary collide in this "giddy, head-spinning triumph" (Entertainment Weekly), a kaleidoscopic thrill-ride through the worlds of art and revolution in 1917 Switzerland...and in the maze of one man's memory.
This "knock-the-wind-out-of-you magnificent revival" (New York Magazine) is "an uproarious work of art, impeccably directed by Patrick Marber" (Newsday). 2017 Olivier nominee Tom Hollander leads the cast, and he is "marvelous" (Time Out New York).
Travesties. New York Stage Review says it's "possibly the only perfect production now occupying a Broadway theater. Get there fast."
Video preview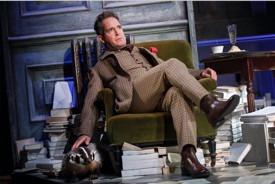 Photo preview
Schedule
Running Time: Two hours and 30 minutes, with one intermission
Featured Reviews For Travesties
Travesties - TimeOut NY
The facets of Stoppard's jewellike play are overwhelmingly, even ostentatiously brilliant; the Irish Joyce is introduced in a scene that is written as a series of limericks. Yet in Patrick Marber's well-judged and high-spirited revival, which the director first staged in London in 2016 (with Hollander and McDonald), the result is inviting rather than snobbishly exclusive, and the structural and verbal dazzle are offset with subtle suggestions of elegy. Even if you can't solve it all as you watch, it's a pleasure to engage with a production that does Travesties full justice.
Review: Screwball Eggheads Tear Up the Library in 'Travesties' - New York Times
Senility is a joy ride in the exultant, London-born revival of Tom Stoppard's "Travesties," which opened on Tuesday night at the American Airlines Theater. This account of a clash of three cultural titans - James Joyce, Vladimir Lenin and the Dadaist poet Tristan Tzara - in Zurich during World War I is related decades later by an ancient witness (one Henry Carr, of the British Consulate). His recollection is, to put it kindly, capricious.