Click Here for More Articles on TRAVESTIES
BWW Exclusive: Stoppard's TRAVESTIES- The Honorable Also-Ran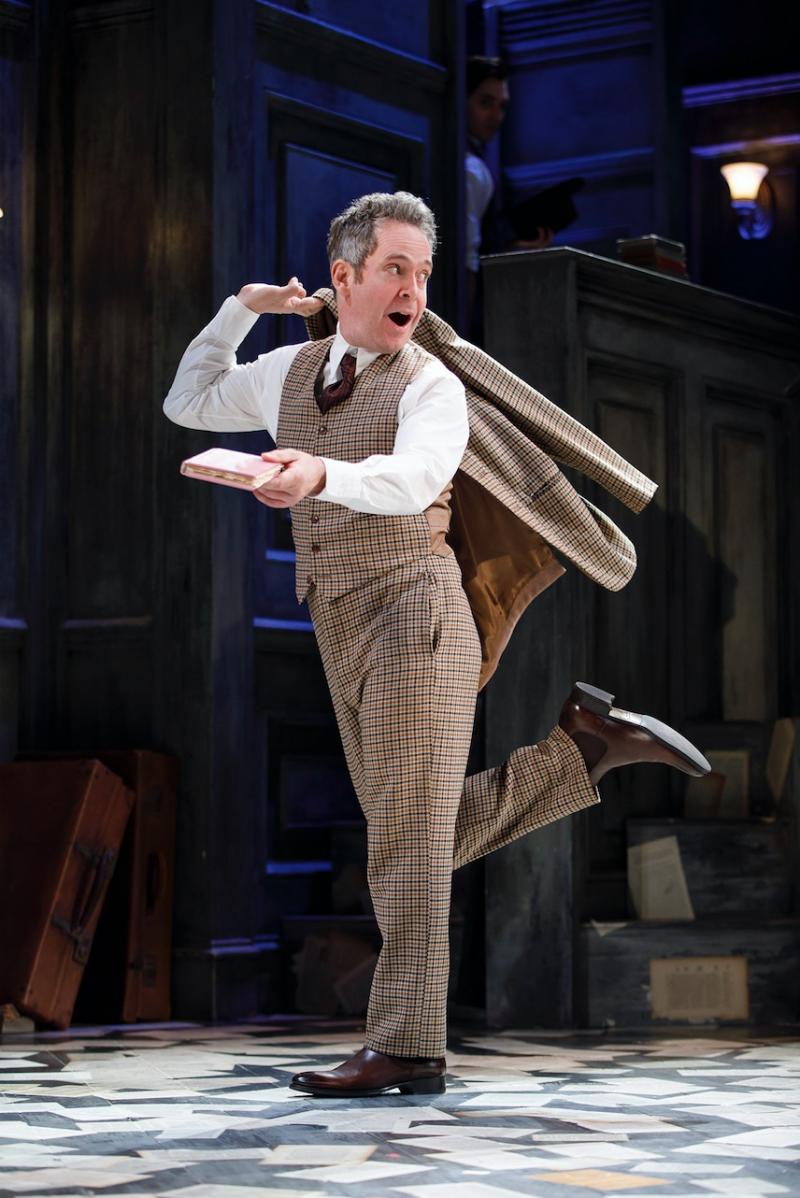 The most honorable of the honorable mentions in 2018's Tony race will likely turn out to be Travesties, Tom Stoppard's 1974 tragifarce which took top Tony honors for Best Play and Best Actor (John Wood) in 1976 and is now putting up a game bid for Best Revival, Best Actor (Tom Hollander) and Best Director (Patrick Marber).
It arrived in that bundle from Britain, which is annually dropped on Broadway's doorstep rather late in the season and radically revises the order of front-runners.
The one this spring was particularly outsized because it also had to accommodate Travesties' titanic competitors, both of which came in two-part installments: Angels in America and Harry Potter and the Cursed Child. They make this year's Tony race look like last year's Olivier race in London; indeed, and again, the lead actors in all three-Hollander, Angels' Andrew Garfield and Harry Potter's Harry Potter, Jamie Parker-are three-fifths of the Best Actor nominees under Tony consideration.
Parker was swept in with Potter's unprecedented nine-Olivier win, but a similar slam-dunk on these shores is not something you'd like to put a lot of pounds on.
If there just were a category for Wittiest and Most Erudite, or Cleverest Conceit, then Travesties would be the only horse leaving the starting gate. The play was written close to a half-century ago when Stoppard was still in the school-boy stacks, trying to find some playfully theatrical way to flash his considerable intellect on the stage.
By then, he had already won the first of his four Tonys (more than any other playwright) for Rosencrantz and Guildenstern Are Dead. It replayed Hamlet through the bewildered eyes of his two best buds. Similarly, the well-named Travesties that followed recycled-often verbatim, with some of the same names--The Importance of Being Earnest when it wasn't short-circuiting cerebrally as historical footnotes.
The young and scholarly Stoppard unearthed a fascinating, even fantastic tidbit of information that triggered Travesties. He found three about-to-be revolutionaries (in politics, in art and in literature) occupying the same space at the same time, waiting out World War I in that simmering hotbed of neutrality, 1917's Zurich, Switzerland.
It was here that Vladimir Lenin learned of the toppling of the tsarist regime and made a beeline back to Russia to put his Bolshevik party in power-here that poet Tristan Tzara, the father of Dadaism, introduced the world to his freethinking philosophy which flew in the face of existing axioms of art-here that James Joyce dashed off his stream-of-consciousness masterwork, Elasticated Bloomers (mercifully re-titled at the last moment Ulysses), which upended the literary world.
Whether these three actually crossed paths is not known, but they definitely didn't weave themselves into the crazy quilt of interplay that Stoppard has concocted here.
No matter. The disclaimer is built into the play, it being the faulty, utterly unreliable memoir of another actual resident of Zurich at that time, one Henry Carr, a second-string English consular staffer who overdressed to the nines. Joyce cast Carr in an amateur production of Oscar Wilde's Earnest that he mounted in his spare time.
They had a petty falling-out and ended up in the law courts: Carr sued Joyce for the cost of the trousers he wore as Algernon, and Joyce countersued, eventually winning his case and getting in an extra dig by naming one of the more unpleasant characters in Ulysses after Carr. It was Carr's solitary claim to fame until Travesties came along.
At the beginning and end of the play, we find this ridiculously fastidious fashion-plate doddering around in a drab dressing gown, dicing with dementia as he reminisces about his glory days in Zurich, padding them out with patches of Earnest. He's center stage in his version, almost do-si-doing with this trio of world-changers but unable to fathom how they achieved iconic status when they dressed so badly.
"This is a big use of the word travesty," contends Hollander. "It's a travesty that Henry Carr misremembers everything. As an old man in the 1950's, he's still in the same Zurich apartment he had in 1917, which was the greatest and most exciting time of his life. He looks back on it--slightly raging, slightly romantic-at these people he met who he thought were rather mediocre at the time-Lenin, Joyce, Tristan Tzara-yet they became immortal because of their art or their politics. They're all dead, and Henry Carr-who is insignificant in every way-is still alive and gets to tell the tale. I suppose history is always written by the survivors."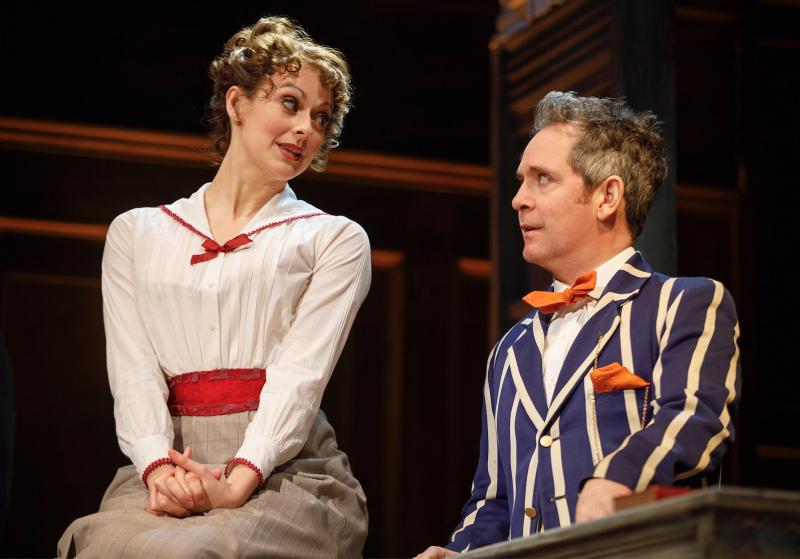 With so many entrance and exit ramps, it was a hard mind for an actor to climb into. As for how he got there, Hollander doesn't subscribe to any one method, or Method: "I kinda woke up, and there it was. I think that's the answer. I tend to find, when I read a character, either it comes out of my mouth or it doesn't. If it doesn't, there's not much I can do. I've definitely been miscast, but luckily history doesn't recall."
That's not the case here. His is bravura work, dipping and diving through a zippy vaudeville of Joycean limericks, Wildean epigrams, Shakespearean sonnets (with lute accompaniment by Lenin) and, of course, dazzling Stoppardian wordplay.
At one point, a fan of Lenin's and a fan of Joyce's (wearing the Wildean names of Cecily and Gwendolen) break into the music-hall routine, "Mister Gallagher and Mister Shean." At another, a disco ball descends and twirls, lending some much needed glitter to Carr's dreary flat. This is not the easiest vehicle to stay on top of.
Yet, for all the fast and furious comedy-which is kinda constant-Hollander manages to find poignant underpinnings to the character, notably when he recalls the horror of the battlefield: "I was there in the mud and blood of a foreign field, unmatched by anything in the whole history of human carnage." Then, with dime-spinning swiftness, the clotheshorse in him comes out and clomps on that sentiment with a sartorial aside that trench-warfare "ruined several pair of trousers" for him.
This is Hollander's second brush with Broadway. He was "Bosie" to Liam Neeson's Oscar Wilde in David Hare's The Judas Kiss 20 years ago. Mostly, he's made his mark in movies (the priggish preacher in Pride and Prejudice) and TV series (the amoral fixer in The Night Manager), 89 screen credits in all. Travesties is his best job to date.
The other performance brought over from the Menier Chocolate Factory and West End productions of Travesties in London is Peter McDonald's studious James Joyce. It's not the first time the actor and the character have rubbed up against each other: "I did Joyce's only play, Exiles, once at the National Theater, and I played his brother, Stanislaus, in Nora, a film with Susan Lynch and Ewan McGregor. To me, Joyce is probably one of the most influential theater director-writers in my life. I always come back to him. It's like stepping back into a whirlwind of what he meant and what he was trying to do. He never lets you get to the bottom of it. I loved how he celebrated the commonplace, how he struggled and blazed a trail to transpose common, non-heroic life into high art. That's why he felt his role was an alchemist."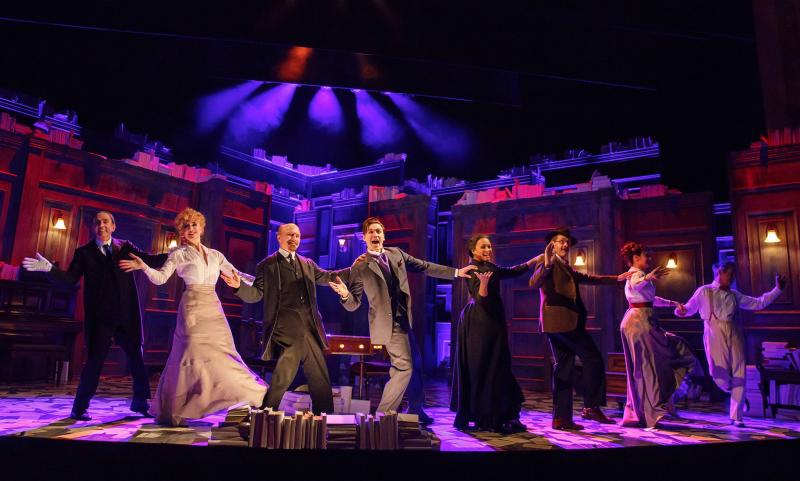 Another thing McDonald loves is continuing his stage chemistry with Hollander. "It's a virtuoso performance he's giving," he duly notes. "I just go out there and play with him. He's one of those actors. You can change it up any way you want, throw the line at him a different way and he'll grab it and throw it back to you in a different way."
There's a lot of line-throwing in this play, he says. "It's quite a killer experience compared to most plays. It goes so fast. The moment it comes out of the gate, it just doesn't stop. The audience is laughing at the last jab, just as they're getting hit with the next one. There's a giddiness and an elation they're able to follow in some crazy way. Because you're being led through a demented mind, we don't have to cross t's. You get the flow. Actually, you understand this jumping from moment to moment."
Dan Butler, who began his career in acting as that stuttering towhead singing the praises of "Gary, Indiana" in The Music Man, has somehow eerily evolved into the spitting image of Lenin. Such things, he doesn't question: "That's what's so great about what actors do. These things come out of nowhere. It's almost like dream interpretation--like, where the hell did that come from? I just say yes and go with it."
He, too, has praise for Hollander. "Tom is magnificent in the role. I appreciate his energy on stage, but, as a human being at the helm of the show, he is a lesson in generosity and class of how any lead should be of being welcoming and respectful."
The person who has had the longest history with Travesties is, as perhaps it should be, Marber, himself a playwright of considerate note (Closer, After Miss Julie) but here functioning solely as a director. He first encountered it as a school production.
"The older kids put it on. They were 17and 18, and I was 14, but, when you're that age, the older kids seem like adults. They were so glamorous doing this sexy play, and I thought, 'Now, that's the world I want to be in.' It was a very inspiring evening in the theater where I didn't understand what I had just seen but I just loved it."
Fast-forward a couple of decades. "When my first play, Dealer's Choice, opened in 1995 at the National Theater, Stoppard was on the board there, and he was a supporter of that play, then of Closer in 1997, and we kinda became pals. Not only is he one of my idols-someone I studied at school and college-but he's also one of our greatest living playwrights, To hang out with him and work on this play with him has been one of the most memorable experiences-and pleasures!-of my life."
This particular meeting of minds came about by chance. Shopping around for a Travesties director, Stoppard rang up Marber to get his take on someone who'd helmed a revival of Dealer's Choice. He gave the guy passing marks but post-scripted that, if it didn't work out, he'd love a shot at it himself. It didn't, and he got his wish.
When he sat down and read his favorite play of childhood, Marber felt the first pangs of "be careful what you wish for." These were allayed a little when he read the original 1973 version of the play and found, between the two, things to retain and things to cut. Stoppard not only concurred but produced a new draft for this revival.
"Time and this play have caught up with Tom. He wrote it when he was the age of young Henry Carr, and now, for the revival, he is 80 and the age of old Henry Carr.
"He said something that opened up the whole play for me. He called it a misremembered memory play, a memory play remembered by an amnesiac. If you've ever experienced a relative losing their memory, you'll understand the emotional pull of the play and the terrible tragedy of time in this production."
Photo Credit: Joan Marcus
Related Articles